Vermont Catholic Charities operates three level III residential care facilities which are all licensed by the State of Vermont.
Make our home, your home.
Vermont Catholic Charities' mission is to provide residents with a safe, caring and homelike environment, in which every person can enjoy a pleasant living experience rooted in Christian dignity and a family oriented lifestyle. Homes provide private rooms and suites to individuals who require mild to moderate supervision and oversight with daily activities. The exceptional staff provides individualized care that you or your loved one requires to maintain the ultimate level of independence.
Locations
Rutland
St. Joseph Kervick Home

57 private rooms and suites
Contact information: 802-775-5133
Burlington
St. Joseph's Residential Care Home

41 private rooms and suites
Contact information: 802-864-0263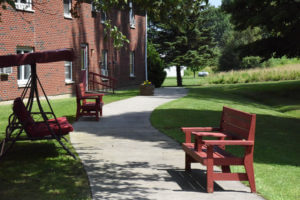 Derby Line
Michaud Memorial Manor

33 private rooms and suites
Contact information: 802-873-3152
Catholic Charities' homes provide:
Nursing care delivered with compassion
Staff is available 24/7 providing care.
Nursing oversight for healthcare
Individualized medication management
Compassionate care is taken with activities of daily living.
Transportation to and from medical appointments
Dining with a homelike flair
Healthy, well-planned meals
Nutritious snacks throughout the day
Staying Engaged and Active
Activities Manager plans group and individualized programs.
Activities include exercise and social programs – music, crafts, Bingo, exercise.
Special events including barbeques and picnics
Outings to local stores and community events
Religious services
Other Services available
Housekeeping and laundry services
Life line devices to summon staff in emergency situations
Beauty shop onsite
Our focus on individualized care is all about establishing relationships with residents, getting to know their preferences and interests and helping them live as comfortably and actively as possible in their new surroundings.