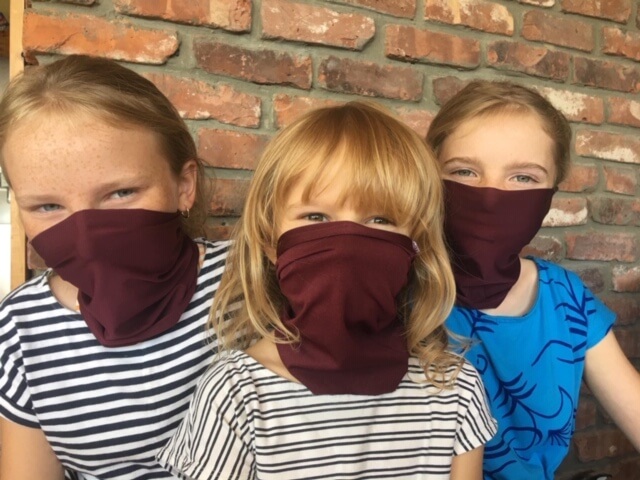 Bishop Marshall School face coverings show school spirit
Burgundy is the school color at The Bishop John A. Marshall School in Morrisville, so when students return to classes wearing their new burgundy buffs and masks, their school spirit will be evident.
Though they must wear masks, they don't have to wear these specially-made ones the school is providing.
But Head of School Carrie Wilson wanted to provide members of the school community with the masks made by two school parents as one way to help defray costs. "It alleviates the stress for families of having to purchase additional school supplies," she said.
But it also promotes uniformity. "Uniform masks create a level playing field for students and allow us to focus on our academics rather than on who has what masks," she said.
Each student will receive three burgundy face coverings — masks or buffs — made by Dr. Katie Marvin and Melissa Boisvert.
Families do have the option of providing their own face coverings, but they must be appropriate for school — no logos that are inconsistent with the school's Catholic identity, for example.
Wilson is excited for the beginning of the 2020-21 school year and said the months of remote learning due to the Covid-19 pandemic have been difficult. "What we all want is to be together again," she said.
And while the school always had made health and safety a priority, this year of pandemic brings unique concerns. Special protocols set forth by the Diocese of Burlington and by the school will be followed including the wearing of face masks, maintaining appropriate physical distancing, health screenings and practicing proper hygiene.
"Once that is all in place, we can do our job, which is to teach children," Wilson said. "Schools are always faced with new challenges. One great thing about education is we adapt and keep moving forward."
Enrollment is up at The Bishop Marshall School with more than 150 students expected in pre-kindergarten through grade eight.