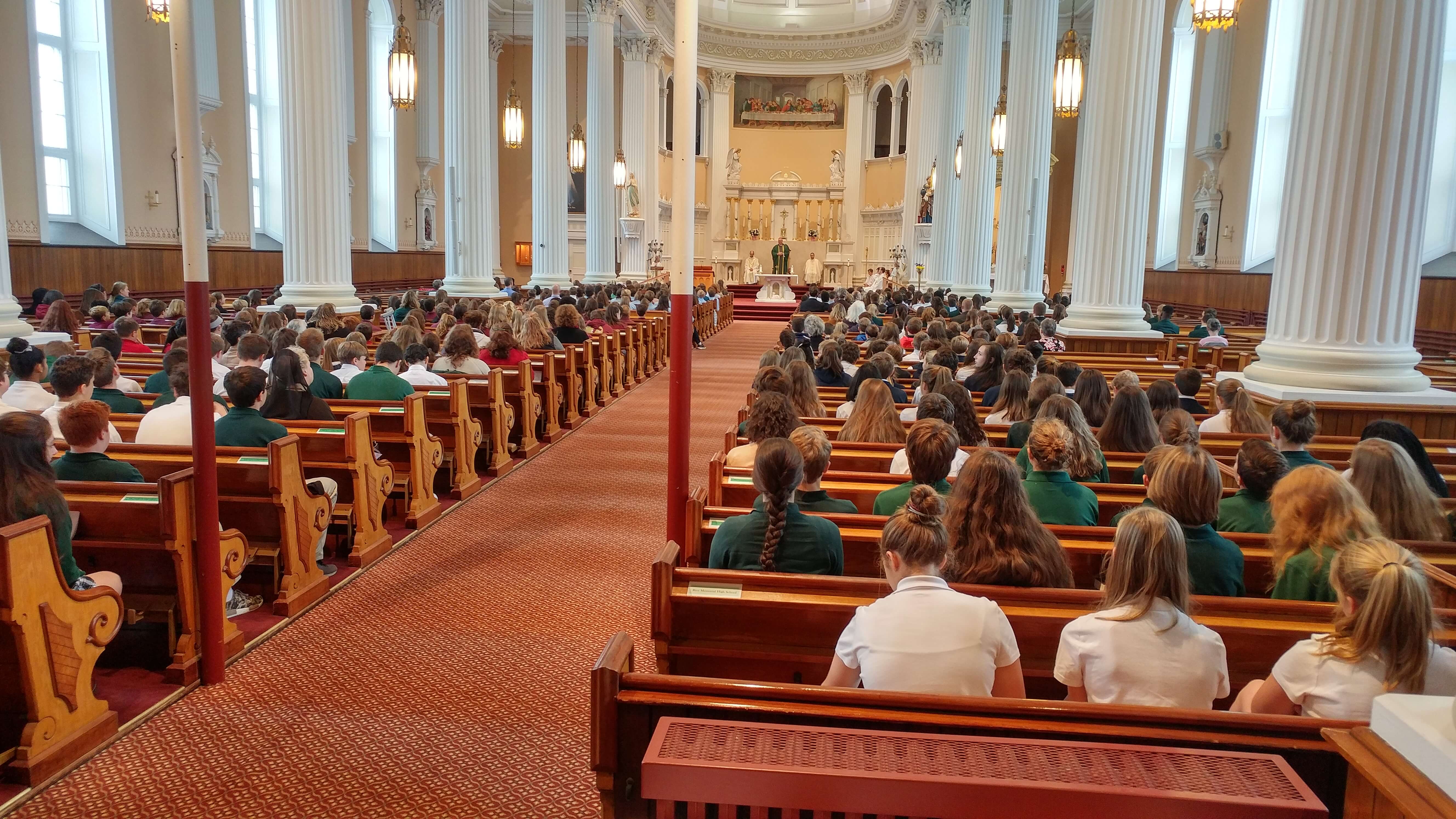 Catholic Schools' Mass
The Diocese of Burlington hosted its annual Catholic Schools' Mass at St. Joseph Cathedral in Burlington Nov. 8. About 630 students and faculty attended from 11 of the 12 Catholic schools in Vermont.
"We had the largest attendance in recent years," said Superintendent Lisa Lamondie-Grenville. "It was amazing that students and faculty came from as far away as Bennington and Brattleboro to join together in prayer. It is so meaningful for the students to see that they are truly part of one large Catholic family that share their faith and cares about them."
The Catholic schools' focus this year is "Learn. Serve. Lead. Succeed."
Much of Burlington Bishop Christopher Coyne's homily at the special Mass centered on Jesus' parable about planting seeds: "Some other seed fell among thorny weeds, which grew and choked the good plants. So those plants did not produce a crop. 8 Some other seed fell on good ground and began to grow. It got taller and produced a crop. Some plants made thirty times more, some made sixty times more, and some made a hundred times more" (Mk 4-9).
Bishop Coyne shared a story about when he was a pastor in Westwood, Massachusetts, at a church on the main street that had a very large lawn that went mostly unused and required a lot of maintenance. Bishop Coyne decided to let a part of his lawn go back to its natural beauty but knew it might not be well received by neighbors, especially in the middle of town. So, he had his religious education class go out in the fall, dig holes and plant daffodil bulbs randomly all over the lawn. In the spring, the unkempt lawn was ablaze in a dazzling yellow until the daffodils faded in the beginning of summer. Bishop Coyne went back to his religious education class and had them till the land and randomly sprinkle wildflower seeds. Complaints from neighbors followed as the weeds continued to grow, but he told his students to be patient. Later in the summer, wildflowers burst through the weeds in an array of stunning color, and suddenly the church lawn became the center of attention in the middle of town.
"Today's Gospel teaches us 'to spread the Good News' and let if fall where it will. Sometimes it will fall amongst the weeds," he said. "In Christian life, we do things for the sake of others — feed the poor, clothe and shelter the homeless, take care of those who are dying — we do all those things because Jesus called us to. We are planting the seeds without knowing how people are going to respond. … When you combine planting seeds — doing good works — with the word of faith, it becomes even more wonderful."
Bishop Coyne encouraged the young congregation to begin doing good works right away. "You are never too young to do great things. Oftentimes I make the mistake of saying young people are the future of the Church. You know what's wrong with that? You are the Church right now. You are here right now. You can do great and good things right now."