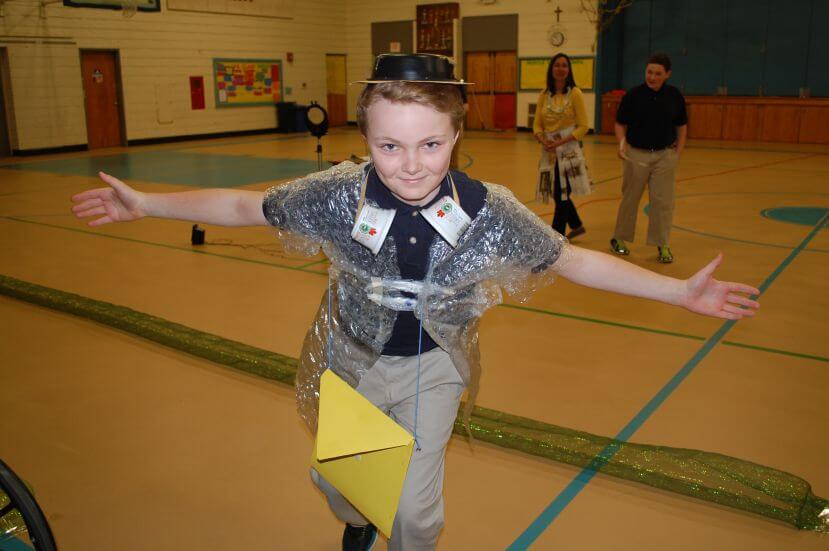 "Fashion Show of Ga-Baaa-Ge"
(Vermont Catholic/Cori Fugere Urban)Danny Kiniry, a student at St. Monica-St. Michael School in Barre, shows his recycled outfit at a school fashion show.
Twelve-year-old Danny Kiniry had a wardrobe malfunction before the St. Monica-St. Michael School "Fashion Show of Ga-Baaa-Ge," an event that was supposed to sound fancy even though models were wearing outfits created from recycled materials.
The sixth grader's stovepipe hat lost its bubble-wrap top, but he made do with the microwave dinner dish and recycled paper bottom that sufficed for a fedora. The hat complemented his bubble wrap suit jacket with straw fasteners, recycled construction paper satchel and yogurt-cup headphones.
He showed off the outfit as he walked down the "runway" lined with white plastic gallon jug "lights" and green sparkle toile cloth.
Classmates Cole Young and Alex Keane, both 12, helped created the recycled fashion statement.
"This was fun. You get to show off all the stuff you made," Danny said.
But it was more than fun.
The fashion show was part of the Barre Catholic school's celebration of the Year of Creation in the Diocese of Burlington.
"This is a way to show we care for the Earth," said Mariah, 12, a seventh grader who declined to give her last name. She modeled a prom dress made of newspaper fans by her friend, Autumn Lewis, 13, another seventh grader.
"It came out pretty good," Mariah said. "It was cool to watch her work on it. She's very artistic."
Autumn too reflected on the meaning of the fashion show highlighting creations made of recycled goods: "God wants us to take care of everything He created."
Added Mariah, "The Earth a gift to us so we have to take care of it."
Spanish teacher Edda Concessi coordinated the event for the students in preschool through grade eight. "Pope Francis asks, 'What kind of world do we want to leave to those who come after us, to children who are now growing up?' His answer? 'It's up to us.'"
She said at St. Monica-St. Michael School caring for the environment is a moral obligation and therefore part of the children's education.
All of the children participated in the fashion show either by modeling fashions made of recyclables, designing the fashions or describing the fashions to the audience of students and family members in the school gym.
The fashion show included children wearing hats made of coffee filters and fruit cups and dresses and skirts made of newspapers and bedecked as princesses, pirates, knights, superheroes, a rapper and animals.
Other materials included cardboard, plastic grocery bags, bottle caps, fabric, old jeans and paper towel rolls.
St. Monica-St. Michael Principal Brenda Buzzell said the fashion show project was a way to show children how to look at what they discard in a different way. "We're not just telling them to reuse, they are experiencing reuse."
And in the Year of Creation, that is a particularly important lesson. "It's really our job to leave the Earth better than we found it," she said. "God gave us the Earth, and by taking care of it and making it better, we are honoring Him. It's all about taking care of our gifts from God."