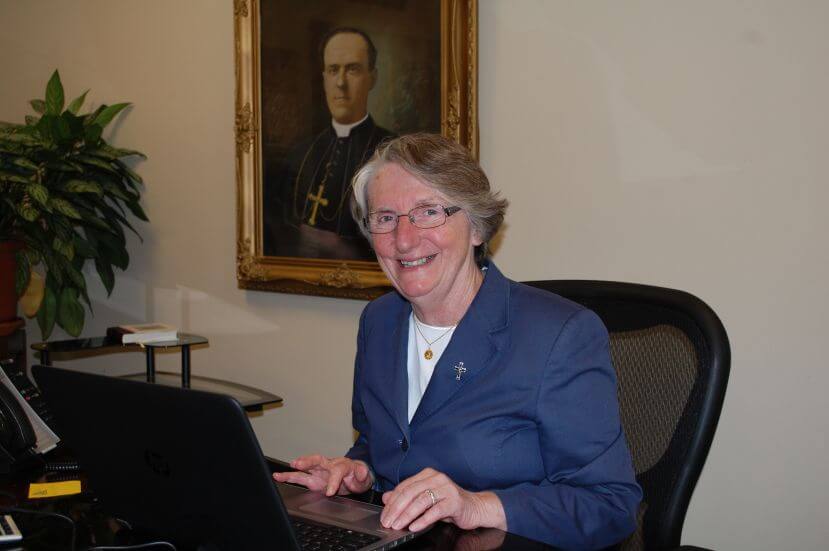 Flynn Estate Scholarship Program
(Vermont Catholic/Cori Fugere Urban)
Sister of Mercy Laura DellaSanta, principal of Rice Memorial High School in South Burlington
For more than 40 years Vermont Catholic Charities Inc. has been supporting the educational and economic needs of children in Chittenden County with funds from the late John J. Flynn bequest.
"The Flynn Estate Scholarship Program is available to provide supplemental assistance to families who find themselves unable to meet their tuition commitment at a Catholic school in Chittenden County because of unforeseen circumstances," noted Mary Beth Pinard, executive director of Vermont Catholic Charities. "The funds are not intended to be planned budget tuition income for the schools."
In February $40,997 was awarded to 16 families (23 students), and in May $19,022 was awarded to 11 families (16 students). Each year $60,000 is available for Vermont Catholic Charities to distribute.
Students who have received scholarships this year attend Rice Memorial High School in South Burlington, Mater Christi School in Burlington, St. Francis Xavier School in Winooski, Christ the King School in Burlington and St. Therese Digital Academy.
"The Flynn scholarships help families, tremendously, because they serve as a safety net … for families who with all good intentions contracted to pay a specific amount for the year and then an unforeseen hardship occurs and they are falling behind in their financial obligations," commented Sister of Mercy Laura DellaSanta, Rice principal. "It is a one-time appeal that Rice can make for a particular family. It is not something families themselves apply for, but an appeal made by the school for an identified during-the-year hardship. It is always a pleasure to inform the family; [the scholarship] is received with relief and thankfulness by the family."