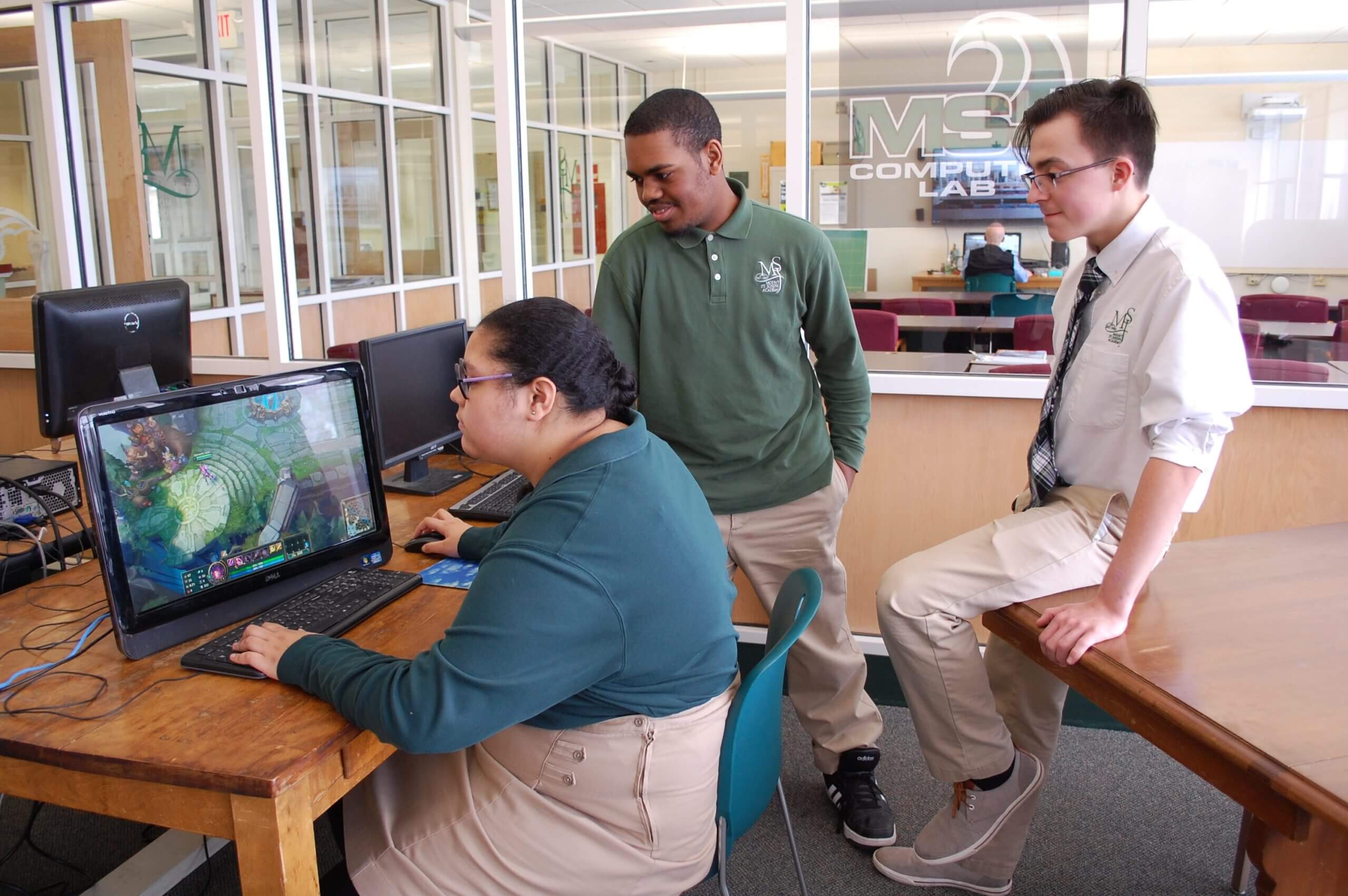 New team at Mount St. Joseph Academy: Esports
This is not your grandfather's high school sports team.
Or your mother's.
The Esports team at Mount St. Joseph Academy in Rutland is new and part of a growing trend to keep up with students' interests.
Esports is a form of sport competition using video games, often taking the form of organized, multiplayer video game competitions.
According to Michael Alexander, Mount St. Joseph Academy principal, the Catholic high school's Esports team is only the second in Rutland County. (The other is at Fair Haven Union High School where he previously served as director of school counseling services.)
"The definition of sports can be very broad," he said, explaining that the Esports team members are exercising their brains. "It's a common misconception that it's 'just a video game.'"
Junior Jeremy Gillespie brought the idea of an Esports team to Alexander last year because of the principal's openness to new extra-curricular activities. Though he had considered pitching a fencing team or a Quidditch team, he opted for Esports because of his own interest. "I like to play video games as any teenager does," said the former MSJ football team member.
But with changing demographics and enrollment, MSJ did not have enough interest to field a football team this year, though it has a rich history of championship play. So Jeremy has taken on the role of captain of the Esports team.
"We have to look at where we can be a powerhouse, realistically," Alexander said. "It's not realistic to be a football powerhouse, so we have to look in other directions."
He wants students to be excited about the extracurricular options they have at MSJ — that's why he plans to add a bass fishing team in the fall and a bowling team in the winter of 2021. "School is about education, and education is not just about academics," Alexander said. "We are preparing these young people to be productive members of a global society."
The Esports team is preparing for the spring season that begins in March in a league with students throughout the country who play the game League of Legends, a kind of Capture the Flag or King of the Hill game, approved by Alexander.
In addition to Jeremy, the Esports team includes Destiny Jurado, a junior, and Keith Dishaw Sinclair, a freshman. Two Rutland High School students also participate because their school does not have an Esports team.
If students from other schools get excited about playing on the MSJ Esports team and "like what they see when they come here, I might get another student" to enroll, Alexander said. "But that is second to providing something for these kids to get excited about."
And it's clear the students are excited about Esports. Not only is it fun, but they are cultivating skills in teamwork, communication, planning, strategy and leadership.
And when the school had a pep rally for its sports teams, the Esports team was included.
Keith said the team does well in practice games, so he is expecting a respectable showing in its first season: "I think we're pretty good."
English teacher Leonard Bartenstein, the team faculty advisor who himself enjoys video games, said his players are all "very good at adjusting strategies" to compensate for opponents' strategies.
"Esports on a global scale has been growing," he said.
And now, thanks to Mount St. Joseph Academy, it's growing in Vermont too.