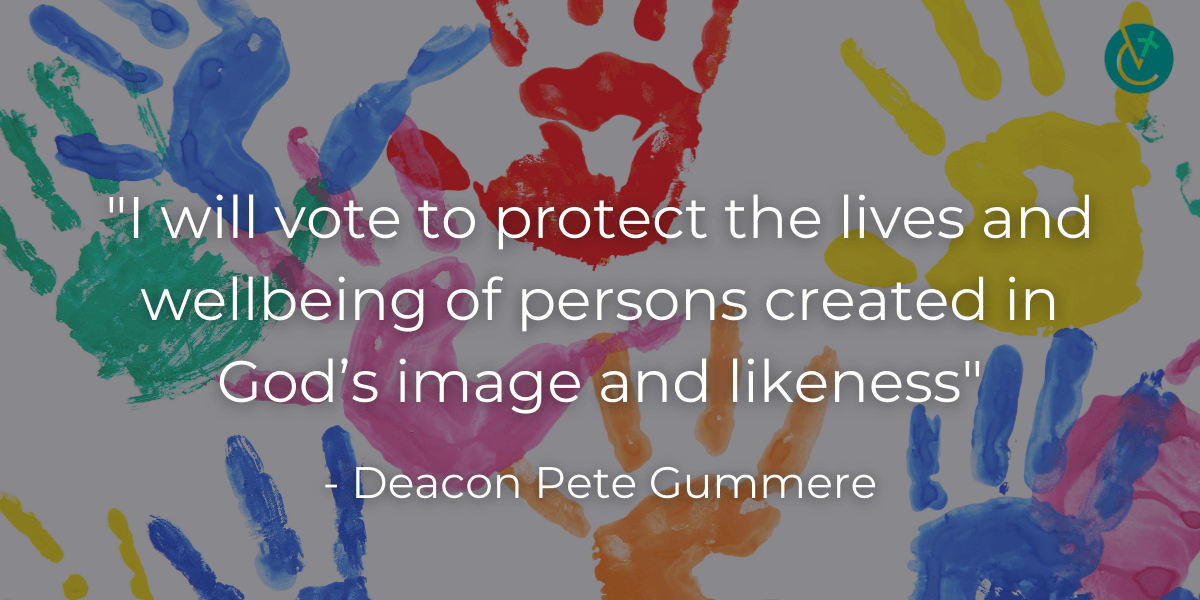 Consistency vs. contradictions
The Creed has been around since the earliest part of Church history. The Apostles Creed goes back to the time of the Apostles. The Creed we normally pray at Mass, the Nicene Creed, goes back to the Council of Nicaea in 325 AD.
Yet, our beliefs extend far beyond The Creed we pray; for the Scriptures reveal so much more, including attitudes and moral teaching, the Beatitudes, a full range of virtues, etc. Our faith includes the sacraments, the Ten Commandments and our obligation to act in charity toward all persons.
As human beings we are created in the very image and likeness of God. Justice and respect for the inherent dignity of all persons are essential components of our faith, as is deep respect for the sanctity of all human life. Our faith demands that we act to promote those principles of justice for all. Our faith also demands that we act to protect all human life. These principles of respect for human dignity and respect for human life are complementary. They are based on the underlying reality that we are created in God's image.
The consistency of Catholic teaching stands in sharp contrast to values and principles projected by some other sources. For example, our Vermont Legislature has proposed two separate amendments to the Vermont State Constitution; these proposed amendments are purported to affirm liberty. It actually surprised me to see how these measures represent a fundamental contradiction in principles.
Proposal 2 was passed by the legislature through the required two separate legislative biennium sessions. It proposes to amend the state constitution to outlaw slavery. Legislators argued that it was appropriate to do so because the original state constitution permitted enslavement of persons under 21 years of age. The measure affirms that the state does not condone or allow slavery in any form. It is a thoroughly laudable message, but it is utterly moot because the Thirteenth Amendment to the U.S. Constitution bans all slavery in every state. The U.S. Constitution supersedes any state constitution or statute to the contrary.
Because Proposal 2 represents a strong affirmation of human dignity and equality under the law, I will definitely vote for Proposal 2 simply to affirm human dignity and essential human freedom.
Another proposed amendment, Proposal 5, also passed the Legislature. It purports to affirm "reproductive liberty" and "reproductive autonomy." I have the gravest reservations about this measure.
Despite the vague language of the "reproductive liberty" amendment, advocates have emphasized that would guarantee a right to abortion in Vermont, although the word "abortion" was deliberately deleted from the proposed amendment. When asked in a hearing by the House Human Services Committee about this omission, Sen. Ginny Lyons replied, "… reproductive liberty includes more than that. And it will allow for the [Vermont] Supreme Court interpretation, going further, on those things coming up in the future."
We need to understand that if passed, Vermont would join nations such as China, North Korea, Vietnam, the Netherlands and Canada as the only countries in the world where unrestricted elective abortions are legal. Most other countries have some restrictions on abortions.
They recognize that the embryo or fetus is "not nothing" and deserves at least some measure of protection. Even the U.S. Supreme Court in its Roe vs. Wade decision recognized that limitations on later term abortions were legally defensible.
Secondly, the legislators have allowed for an expansive view of "reproductive liberty." This will actually include currently unknown technologies. Some unknown procedures may be morally or ethically problematic. Yet the legislature has sent a message that they will give a green light to perform even barbaric practices, such as use of fetal tissues and organs in research.
Ultimately, it will be up to Vermont voters to decide the fate of this proposed amendment when it appears of the ballot in November. Beyond a shadow of a doubt, my vote will be "NO" on the reproductive liberty amendment. I will not cooperate with the intrinsic evil arising out of that amendment. I will vote to protect the lives and wellbeing of persons created in God's image and likeness.
—Deacon Pete Gummere is a bioethicist and director of the Permanent Diaconate in Vermont.  He serves at Corpus Christi Parish in St. Johnsbury, Lyndonville and Danville.
—Originally published in the Spring 2022 issue of Vermont Catholic magazine.