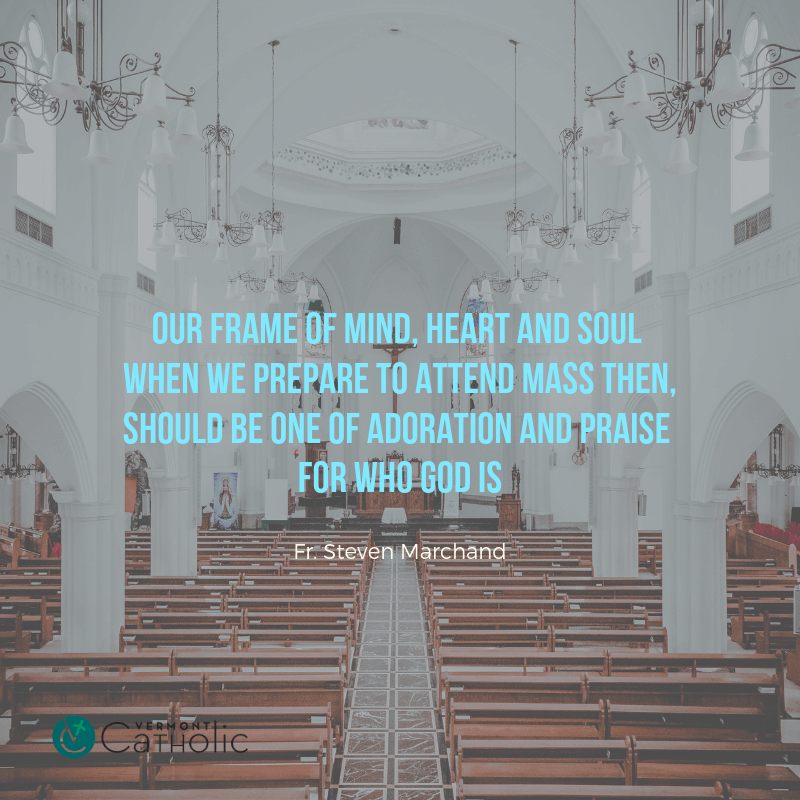 Reflections on Mass: Giving and getting
Beginning with this issue of Vermont Catholic, I would like to offer a few continuing reflections on the Holy Sacrifice of the Mass. Not only is the Mass an inexhaustible source of spiritual delights and treasure that can always bear further reflection, there is a growing misunderstanding of what the Mass is fundamentally about.
How many of us have heard others who no longer or only sporadically attend Mass say, "I just don't get much (or anything) out of the Mass?" Even if we do attend Mass out of a sense of duty or obligation, we can think along these lines as well. "It's boring." "The music is terrible." "I don't like Father's preaching."
We've all been there, and these certainly can be valid critiques. The people of God suffer enough in the world and strive hard enough to live Christian lives of virtue without having to be assaulted by a barrage of bad taste and lousy preaching in the House of God. And yet, we know we should go to Mass.
Nonetheless, to think of "getting something out of the Mass" already shows a misunderstanding of the nature of the Mass itself, if an understandable one.
You see, the Mass is primarily a prayer, the form of which Jesus Himself gave us at the Last Supper as a memorial of His saving passion and death. Catholics have traditionally considered there to be four primary types of prayer: adoration, confession, thanksgiving, and supplication, which are easily remembered by the acronym ACTS. The Mass is all of these. We adore God with hymns and prayers, especially the "Gloria" and the "Holy, Holy, Holy." We make confession of our sins in the penitential rite. We thank God for His gifts and graces, and we plead for Him to hear our prayers for ourselves, others and the world.
What is it that is essential to the Mass? The thing-without-which it would simply be a kind of religious "gathering?" What makes it the central act of our faith?
Of course, it is the Eucharist. The word "Eucharist" means, from the Greek, "thanksgiving." From the Eucharist we receive our first hint that of those four types of prayer, the Mass is very concerned with thanksgiving.
Our frame of mind, heart and soul when we prepare to attend Mass then, should be one of adoration and praise for who God is in Himself, that all-holy Lord of all who sent His Son to suffer and die for us, acknowledging our own lowliness and unworthiness, recollecting the things He has already done in our lives and remembering our own needs and those of others for now and the future. That's an awful lot to bring to Mass, not to get out of Mass
Of course, God will not be outdone in generosity. Though we are meant to bring to and join in the praise, sacrifice and adoration of the whole Church united throughout the world at Mass, God is the primary actor at the Mass through the person of the priest. These prayers and praises of the whole Church are offered by the priest on our behalf and in a marvelous exchange, God Himself comes to us under the appearance of bread and wine.
In the next few articles, I will discuss what this means for us who are present at the Mass and how it shapes our attendance at this great mystery.
—Father Steven Marchand is parochial vicar of St. John Vianney Church in South Burlington.
—Originally published in the Fall 2019 issue of Vermont Catholic magazine.