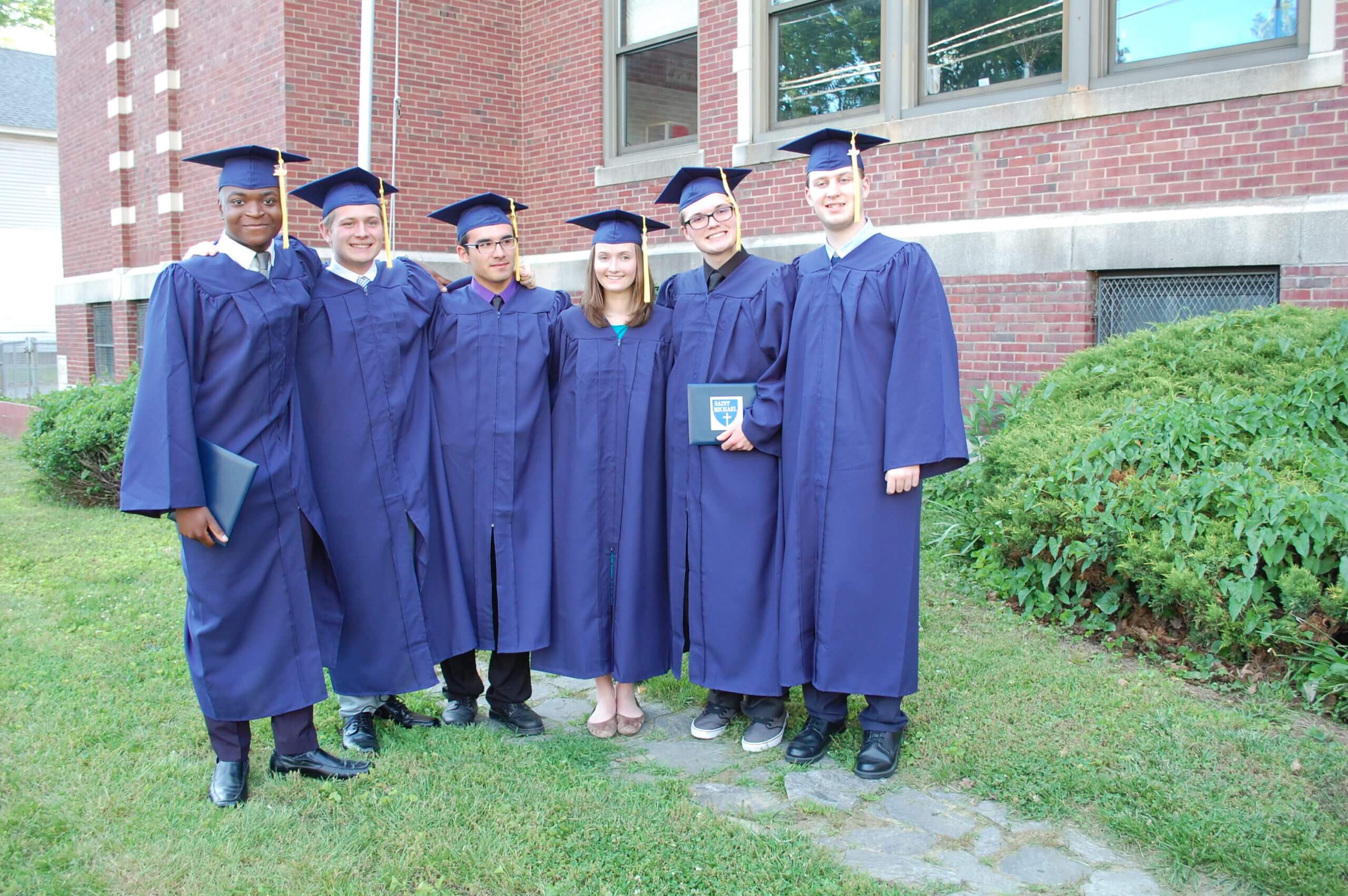 Young disciples
In the summer of 2019, Vermont Catholic asked young disciples between 13 and 30 to submit essays about how the church can attract, engage and retain young people. Below are some of the responses received — some are excerpts.
"How do we make sure the faith is incorporat-ed in that small list of items that [interest kids]? Make it real to them. Explain [St. Thomas] Aquinas' five proofs to them. Show them powerful examples of the martyrs, like Perpetua and Felic-ity, Joan of Arc and Maximilian Kolbe. Discuss excerpts of historical documents of non-Christians addressing Jesus Christ and His followers. Most importantly, let the reality of Christ's love manifest itself in how you conduct yourself and treat the young people entrusted to your care."
— David Perry, Christ the King Church, Rutland
"Young people want to be part of something meaningful, something robust, something transcendent. … We should be making young people proud of their faith, by dignifying that faith with all of the valuable traditions it has carried throughout the ages rather than watering it down; the Church has a rich and storied patrimony and through the sacraments offers graces we could never hope to obtain on our own. Catholic education should be seen as a chance to tell young people, "Look, all of this is yours now."
— Evan Wing, St. Anthony Church, Burlington
"Before any discussions about methods of reaching out to young people take place, the veracity and necessity of the Catholic faith must be acknowledged and embraced by those reaching out. Living as Our Lord teaches us through His Church makes heavy demands. If we are honest with ourselves, the most compelling reason to be Catholic is because every jot and tittle of what the Church teaches is true! In a modern world where all is accessible, yet distant and often void of substance, young hearts and minds crave authentic-ity. … The youth of today are fundamentally no different than those of past generations (especially those who are striving for holiness). Our hearts thirst for truth and beauty."
— Ray Trainque, St. Philip Neri Latin Mass Chaplaincy at St. Anthony Church, Burlington
"We are in need of an opportunity to get together. To express what we believe. To challenge each other and help one another to grow in our faith."
— Savannah Eisenbarth, Most Holy Name of Jesus Parish, Morrisville
"Just as one would encourage someone to enter religious life, we should encourage the young people of our parishes to consider taking on a [ministry] role in the celebration of Mass."
— Karen Meyer, Assumption of the Blessed Virgin Mary Church, Middlebury
"My small, agitated limbs wiggle around on the wooden pew. I crawl down onto the kneeler, curious of the space around me or perhaps just testing the patience of my mother. This scene is one of my earliest and vivid memories. As a child in church, I was sometimes impatient, restless.
Eighteen years later, I sit in a pew on the Upper West Side of Manhattan. My hands instinctually fold together in prayer, just as I grew up watching my mother and her mother. A perpetual search for not only answers, but feelings of security and abandonment of the self linger. The restlessness that once consumed my growing limbs now lives in my mind, my emotions and belief system; it is a kind of conscious restlessness.
As a devoted, yet questioning and growing Catholic, I wish to take part in the discussion regarding the future of this faith. This future is reliant on new generations so I will start with brainstorming ideas on how to attract more young people to the Catholic faith.
Over the past few years I have heard my peers criticize Catholicism on the basis of its leaders and the corruption of power. Unfortunately, many of these critiques have truth behind them. Due to this highly publicized corruption of power, current leaders of the Catholic Church must try even harder to exert their humility, compassion and honesty. Young people are more likely to gravitate towards leaders that maintain authority while simultaneously recognizing their own humanness.
In order to engage new generations, Catholi-cism as an institution needs to improve the way messages are delivered to the public. Whether from an altar, a TV screen or a published article, public messages and those delivering them have the power to either engage or deter young people. We need to be more intentional and considerate when it comes to who is delivering the message and how it is carried out. For example, as a young woman I don't necessarily want to hear an older white male talk about abortion; I would have more peace of mind if it were a strong woman communicating ideas and principles concerning the female body.
When one sees and hears someone that they can relate to, it is inspiring and could prompt more young people to engage with the faith.
When it comes to retaining a community of people, it is important to focus on relationships between clergy members and constituents. I have personally experienced a breach of trust with a priest I greatly admired due to his apparent problematic behaviors. While I did not lose my faith, I lost a great deal of trust in many members of the church. Building these relationships on the grounds of trust and honesty is crucial for the future of Catholicism.
On a similar note, issues and controversies within the Church should be addressed as openly and directly as possible. Young people are curious and thoughtful and the idea of being misled or fooled is frustrating. The past cannot be changed, however current issues should be addressed and concrete plans of action should be communicated to the public so that we know that leaders of the Catholic Church are doing what they can to justly prevent future problems."
— Danielle Pigeon is from St. Pius X Church in Essex Center. She grew up in Westford and is a 2015 graduate of Essex High School. She is currently studying at New York University.
—Originally published in the Fall 2019 issue of Vermont Catholic magazine.