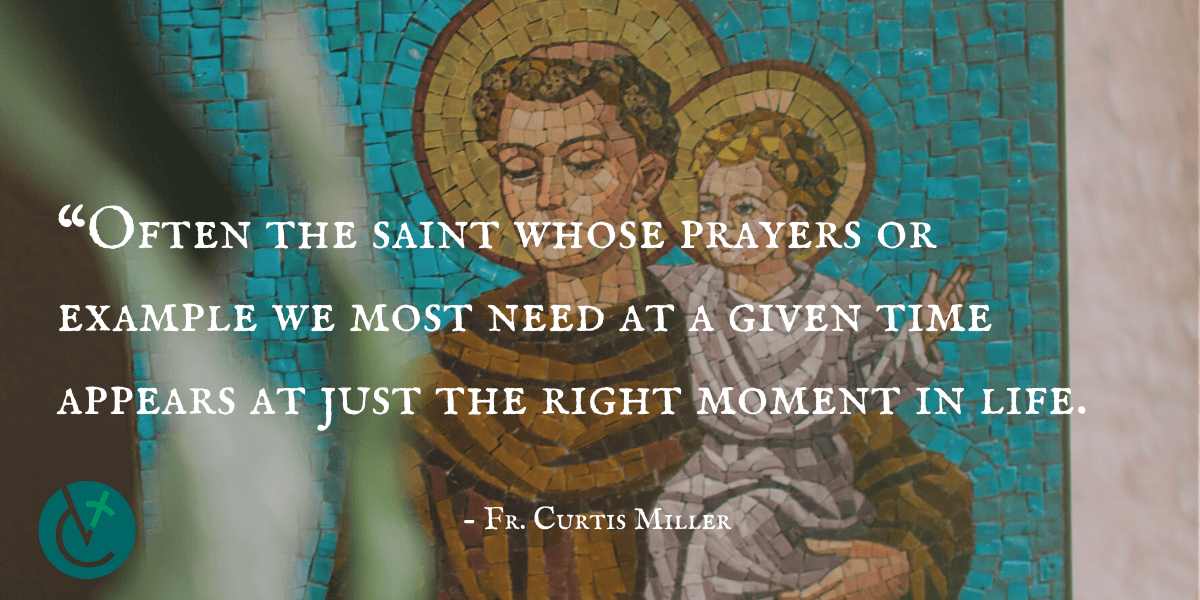 A heart on fire for Christ
When Father Curtis Miller made his confirmation, he chose St. John Vianney — the patron saint of priests — as his confirmation saint. "Through persistent pastoral labors, humble faith in God and dedication to his parishioners, St. John Vianney transformed his parish from a place of spiritual apathy to a place of religious zeal and even a destination of pilgrimages," said the administrator of Most Holy Trinity Parish, which consists of St. John Vianney Church in Irasburg, Conversion of St. Paul Church in Barton and St. Theresa Church in Orleans. "He especially devoted a lot of time to making himself available for confession for many hours a day, serving as an instrument of God's mercy."
Other saints that have influenced Father Miller's priesthood are Pope St. John Paul II and St. Therese of Lisieux. The former was the pope during the first 15 years of Father Miller's life: "He preached the Gospel of Jesus with passion and also set a powerful example of trusting God by enduring many years of declining health with faith."
St. Therese inspired him to offer up even his humblest tasks and duties out of love for God: "God doesn't call us to do great things, but rather to do small things with great love."
Said Father Miller: "The saints show us that it's possible to live a life of heroic holiness in any vocation or walk of life. In fact, the saints show us that to follow God's call is the best way to live a fulfilled and happy life, even in spite of the challenges that come along the way."
He was born in St. Johnsbury in 1990 to Ed and Judy Miller. His father was a state trooper who moved there from Boston, and his mother is a native Vermonter who grew up on a dairy farm in Sheffield.
Father Miller has an older sister, Caitlyn, who is married and has one daughter.
When he was young, the family moved to Colchester and joined Our Lady of Grace Parish.
"Growing up, our Catholic faith was very important to us," Father Miller said. "My mother converted to Catholicism after she married my Catholic father, and she and I were baptized together (me as an infant). Participating in Sunday Mass every week and attending religious education classes were essential priorities."
Mr. Miller set a good example of going to Mass with his family every week, "even in spite of the very demanding schedule of a state trooper," said Father Miller, who was an altar server.
"Because our parents set such a good example of practicing our faith, the thought of a vocation began to grow in my mind, even without me being consciously aware of it," he recalled. In his freshman year in high school, he attended a diocesan retreat and had a lot of time to pray and reflect. At that time, he first became aware that he felt God calling him to the priesthood.
"When I told my family and friends that I was discerning a call to the priesthood, I was surprised that so many of them said that they had always seen that in me," he said.
With the help and encouragement of his pastor, Father Jay Haskin, he applied to the seminary in his senior year of high school and later entered Our Lady of Providence Seminary in Providence, Rhode Island, with studies at Providence College.
Four years later, he graduated with a bachelor's degree in philosophy and then began his final four years of formation at St. John's Seminary in Brighton. He graduated with a master's of divinity and a master's in theology, with a focus on Catholic social doctrine.
Burlington Bishop Christopher Coyne ordained him a priest in 2016, and he was assigned to Corpus Christi Parish in St. Johnsbury, Lyndonville and Danville. "It was special to be assigned in the parish where I was born and baptized," said Father Miller, who enjoys hiking, snowshoeing and reading biographies and history books — especially American and Vermont history.
After three years as parochial vicar at Corpus Christi Parish, he was assigned as administrator at Most Holy Trinity Parish.
He is now following the early stages of the process of canonization for Stowe native Brother Joseph Dutton who served his country during the Civil War, endured the heartbreak of a failed marriage, overcame alcoholism, converted to Catholicism and dedicated the second four decades of his life to serving people afflicted with leprosy in Hawaii. "He knew the danger of contracting this disease himself after witnessing the illness and death of his friend, St. Damien, there, yet still he remained to serve," said Father Miller who also is following the final stages of the canonization of Blessed Franz Jagerstatter, an Austrian farmer and faithful husband and father who refused to serve in the Nazi army and died as a martyr of faith and conscience.
"It's been said that the saints find us," Father Miller said. "Often the saint whose prayers or example we most need at a given time appears at just the right moment in life. This is a gift of God's providence."
—Originally published in the Summer 2020 issue of Vermont Catholic magazine.