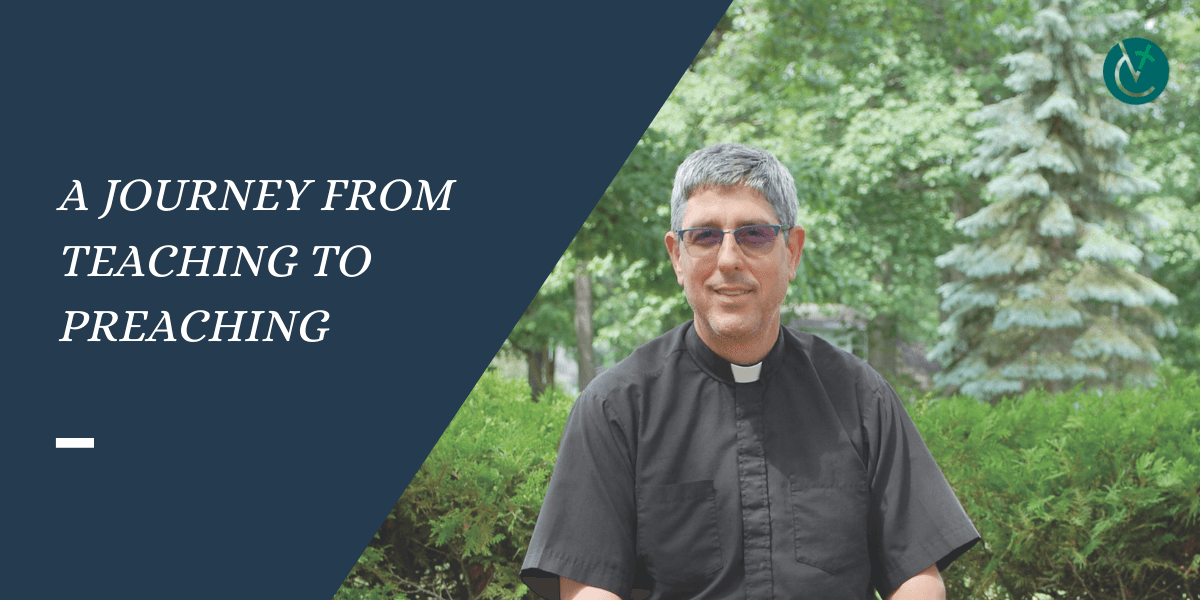 A journey from teaching to preaching
Father Dallas St. Peter admits it: He is a perpetual student.
The pastor of St. Mark Church in Burlington likes to learn about his Catholic faith, technology, how to fix things and yes, how to improve his golf game.
"I'm always open to learning and seeing things [like his understanding of God and his life as a priest] change for the good because of it," said the former teacher at St. Francis Xavier School in Winooski and Rice Memorial High School in South Burlington. "I realize I always have something to learn, and I'm learning as I teach and am open to that learning."
For Father St. Peter, teaching and learning go hand in hand with his vocation to the priesthood.
Born in Burlington, the third of the five children of Ralph and Carol St. Peter, he was raised in St. Albans, a member of Holy Angels Parish. He graduated from Bellows Free Academy St. Albans in 1989 then earned a bachelor's degree in math in 1993 from the University of Vermont.
He first worked as a teacher's assistant then took a job as an actuary before finding himself drawn back to education; he taught religion and history or fourth grade over three years at St. Francis Xavier School.
"The priesthood had been kind of swinging in my mind from high school," he said, but he only told a few people close to him. Others asked him if he had ever considered such a vocation, and that "kept the idea fresh" in his mind.
He used to attend morning Mass at Cathedral of the Immaculate Conception in Burlington before heading off to St. Francis Xavier to teach, so he brought up the topic of a vocation with then-pastor Msgr. Thomas Ball.
Two other priests — Msgr. Michael DeForge and Msgr. Richard Lavalley — helped him make the decision to go back to teaching and also to enter the seminary after discerning a career and possible marriage.
"I had found a career — teaching — and had a good, serious relationship with a woman, but still this decision about the priesthood, this invitation was very present," he said.
Though he had been "doing what I wanted to do," he came to take seriously the question, "What do I really want to do, my will or God's?"
Once he made the decision to enter the seminary, he was all in. "The only way I'd have left was if I was asked to leave," he said. "I felt that this was what God wants me to do."
He spent six years at Mount St. Mary Seminary in Emmitsburg, Maryland, where he earned a master of divinity degree and a master of arts in moral theology. He was ordained a priest of the Diocese of Burlington in 2007.
Father St. Peter first served as parochial vicar of Mater Dei Parish in Newport, Derby Line and West Charleston; then he was assigned to St. Joseph's in Burlington while teaching full- or part-time at Rice. Five years ago he was assigned to be the administrator of St. Mark Parish and is now pastor.
Education is important not just because of the material learned, he said, but because of the lessons learned about such things as good study habits, discipline, patience, working with others, being a good citizen and problem solving.
The greatest skills he learned in his math studies was problem solving and how to look at challenges from different angles. "That's a very helpful skill in life in general, but especially for teaching" he said.
Though his "priestly heart" comes first, one of his primary priestly ministries is teaching. He enjoys classroom teaching in the St. Mark's Family Faith Formation program, and he enjoys learning as he teaches. "Whenever you're teaching, you get a greater knowledge of the material as you teach it, and you learn at a greater depth than you did as a student," he said.
"Being a perpetual student makes you a better teacher," the priest said.
—Originally published in the Fall 2020 issue of Vermont Catholic magazine.