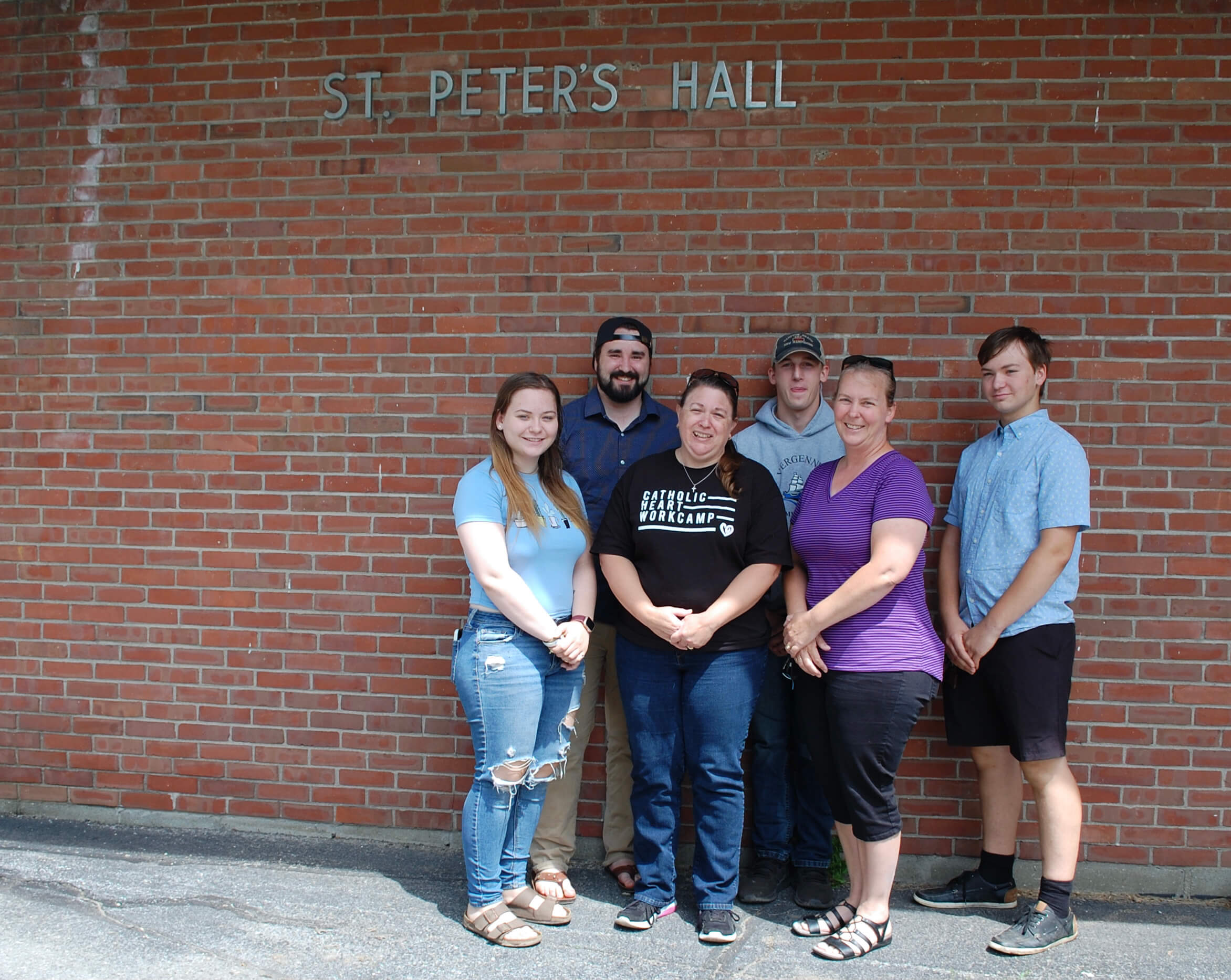 Addison County youth participate in Catholic Heart Workcamp
"We worked to go to work," said Heather Cosgrove, a parishioner of St. Peter Church in Vergennes who served as a chaperone for a youth Catholic Heart Workcamp earlier this summer, noting that all of the more than $10,000 needed for the workcamp was raised through bingo, a rummage sale, dinners, work for parishioners and donations. The goal was that everyone who wanted to participate could without incurring the cost.
Cosgrove and the youth and chaperones who participated already are planning their fund-raising so they can work with the service project next summer.
The youth group of St. Peter's and St. Ambrose Church in Bristol raises money to pay their own way at the program, the mission of which is to share the love of Christ as participants serve the neglected, brokenhearted and marginalized, to inspire participants to live as disciples of Christ through serving others as a way of life and to foster the Catholic faith of each participant through Mass, the sacraments, prayer, reflection and involvement in social service.
Fifteen youth and five chaperones joined more than 160 youth and their chaperones at the Catholic Heart Workcamp based at East Catholic High School in Manchester, Connecticut, June 27-July 2, where they slept in classrooms.
Catholic Heart Workcamp began in 1993 in Orlando, Florida, with one camp and has grown to more than 50 locations throughout the world.
Each workcamp is equipped with a summer staff, director, manager, musician, nurse and priests. It is a youth-friendly and Christ-centered week of caring for others.
This was the second workcamp Addison County parishioners joined; the first was two years ago in Maryland.
"It was fun," said Richard Cosgrove, 17, of St. Peter Church, whose jobs at the workcamp included yard work and interior painting for an elderly couple. He was moved by the homeowner's gratitude.
"Coming out of [the] Covid [pandemic], they desperately wanted and needed this, and we did too," said chaperone Nick Maille, director of faith formation and campus ministry at Assumption of the Blessed Virgin Mary Church in Middlebury. It wasn't just manual labor their campers provided; they visited with people who were lonely or just enjoyed having someone to talk to, sometimes sharing snacks during a break. "We got to build connections with the people we worked with."
Jobs provided by the workcamp included painting, scraping, cleaning, farm work and trail work.
Richard Cosgrove, 17, of St. Peter Church said the workcamp experience brought him closer to his faith, especially after being away from the public celebration of the Mass during the pandemic. "Being really close to my religion for a week was really good for me," he said of the daily Mass, religious discussions and time for prayer the workcamp offered in addition to the jobs for people who needed help. "I feel like it brought me closer to God" and reinvigorated his faith.
Chaperone Lisa Grover, director of youth ministry and faith formation at St. Ambrose and St. Peter churches, said the workcamp experience the youth brought back to their churches showed parishioners "our faith is living on and the next generation is engaged in our faith."
She said the Catholic Heart Workcamp fits with the active lifestyle of today's youth: "If we want to get them engaged, we have to meet them where they are."
Maille said the workcamp was a sort of "launching point" in that youth can and will assist people in need in their own communities. For example, he is working with the Knights of Columbus in Middlebury to plan ways to engage parish youth in service activities.
And in Vergennes and Bristol, plans call for youth to help with cemetery revitalization, assist as the St. Ambrose Lawn party and make meals for shut-ins.
"Your faith should be hands-on," Grover said. "You're not fully engaged in it if it's not hands on."
Participant Zach Botala, 18, of St. Peter Church finds living and learning about his faith while engaged in service activities is more productive than "sitting and listening" in a classroom. He knows that it is important to treat others the way one wants to be treated, so he appreciates seeing what he does impacts people in a positive way.
"We are supposed to have J.O.Y.," participant Trudy Cosgrove, 19, of St. Peter Church pointed out from a lesson at the workcamp: first serve Jesus, then serve Others and finally serve Yourself.
"We are made for relationship with other people and can encounter God in other people," Maille said. "I can encounter God in other people and be an instrument of God" to help them.
Already plans are underway for local Catholic youth to participate in Catholic Heart Workcamp next summer.