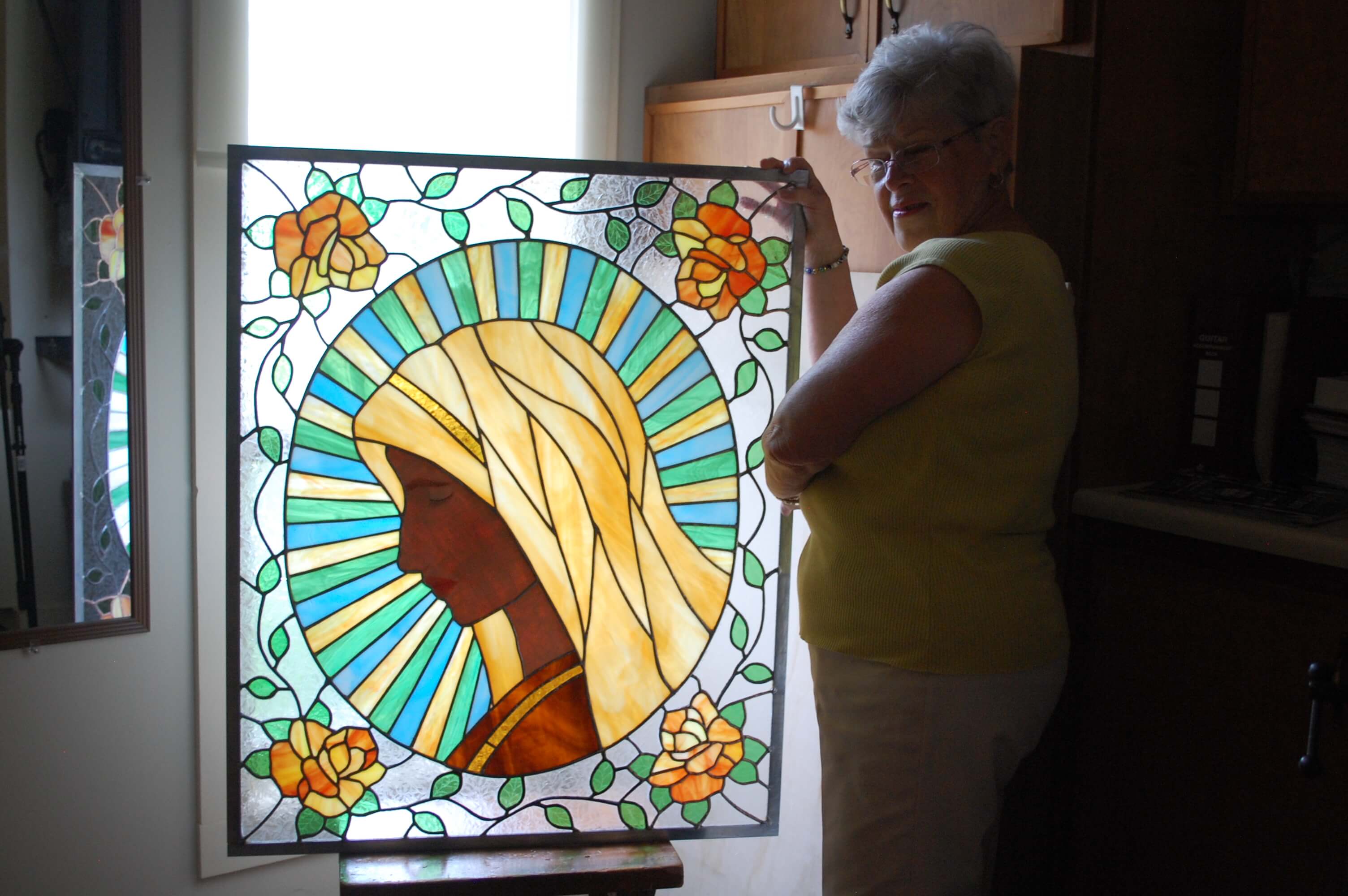 Beautiful Milton church windows
Most Catholic churches have stained glass windows, but at St. Ann Church in Milton, light has entered unfiltered by a rainbow of colors through clear glass windows.
But that has changed since parishioner Monique Ziegler offered to make a stained glass window, and Father John Feltz, the pastor, enthusiastically accepted the offer and even expressed a desire for more.
The first window she made represents the Seven Sacraments and was installed in the reconciliation room in March. It took her about 42 hours to complete the window.
Four more followed, about one a month, and the sixth is in the works.
One window represents the Eucharist; another matrimony. The fourth window Ziegler made depicts the Sacrament of Baptism; the fifth is a portrait of St. Ann, patroness of the parish.
When she completes the sixth window, there will be one stained glass window in each corner of the church, one in the reconciliation room and one at the front door. Other windows will remain clear.
Ziegler, a native of Sherbrooke, Quebec, has been a parishioner at St. Ann's since 2000 and serves as the sacristan.
In February she made a 14-by-23-inch sea-design stained glass window for the bathroom of the Milton home she shares with her husband of 57 years, Erich. It was her first foray back into stained glass art in 15 years.
After it was done, she said "the Holy Spirit came to me" and instructed her to make a window for the church. At first she thought of making a small stained glass panel to hang in a church window but decided it should be full — about 21-inches-by-45-inches.
It was installed just before the parish Lenten reconciliation service.
The window was met with enthusiasm, so Ziegler's project became somewhat of a rolling "snowball that doesn't want to stop."
Even when she was asked if the sixth window would complete the project, she raised her hand and emphasized, "I do not know."
Ziegler, a semi-retired interior designer who likes to sew, took classes in Burlington years ago to learn to make the stained glass creations; she made four windows "for the fun of it" then put the hobby aside. "I got busy and lost interest," she admitted.
She thought about giving her supplies to a nephew, but something told her to keep them, and she is happy she did.
"I had to retrain my brain to work with glass," she said. "But I figured things out easy enough," yet each window was a challenge because she often changed her mind about her design.
Father Feltz said the feedback about the windows has been excellent. "They make the church look so church-like," he said of the late-20th-century church, and they add beauty, provide teaching tools and reinforce faith: "Stained glass windows add that extra touch, and these are so well done."
Ziegler works on the glass projects in her basement while she listens to a CD of the rosary, usually listening to four sets of five decades.
It's a prayerful experience. "This is for God," said the mother of three, grandmother of six and great grandmother of one.
Ziegler, who still speaks with a delightful French accent, attended Catholic elementary and high school in Canada, and her mother was especially devout.
"I want to share with God and with everybody," she said, adding that she finds love and kindness in her parish. "I thank God for my gifts."
She likes to see the result of her gift for making stained glass windows, "to see their beauty," she said. "I do it for love."
—Originally published in the Fall 2018 issue of Vermont Catholic magazine.