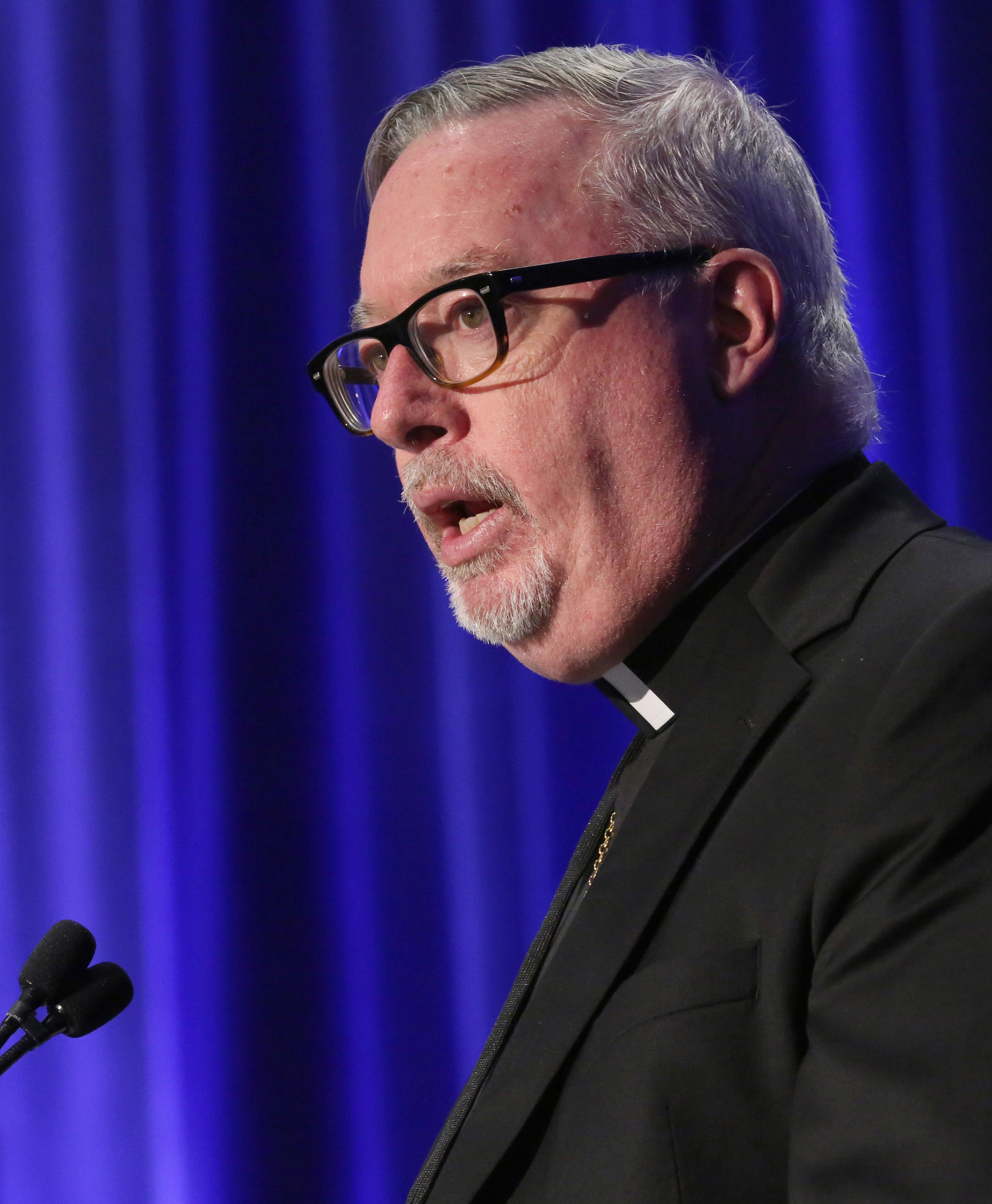 Bishop Coyne at USCCB meeting: 'Our Catholic people need to be not just inspired, but informed'
The U.S. Conference of Catholic Bishops is gathering for its annual Spring General Assembly June 13-14 in Fort Lauderdale, Florida.
During the assembly, the full body of bishops is addressing a variety of topics including ethical and religious directives for Catholic healthcare services, a pastoral response to Asian and Pacific Island Catholics in the US, and the upcoming Synod on Young People, the Faith and Vocational Discernment.
As chair of the Committee on Communications, Burlington Bishop Christopher Coyne recounted some of the developments at the Catholic News Service, the bishops' news service, during the past few years and outlined where it is heading.
Eighteen months ago, the Committee on Communications asked Catholic News Service to respond to changes in the news and digital environments and to reimagine how it is serving the conference and serving its clients – the Dioceses. "We asked it to reimagine itself for the digital age," he said.
He commented on five categories of response:
[1] Highlighting Conference Priorities: Catholic News Service has made it a goal over the past 18 months to highlight events of significance to our conference and to address the priorities we established as a conference.
These priorities come first from our strategic priorities as outlined in our 2017-2020 strategic plan. Following the principle that you measure what matters, CNS is tracking the numbers of stories it publishes annually addressing the five priorities of the bishops – human life and dignity, vocations, religious freedom, marriage and family and evangelization. It is sharing these statistics with Committee on Communications, the Administrative Committee and the CNS staff.
[2] Responding to the needs of the conference: CNS also recognizes that feedback from you, the bishop publishers of so many periodicals and websites, is critical in identifying your diocesan needs. Last year many of you participated in a survey distributed by Archbishop John Wester in which you highlighted media priorities and needs in your dioceses. I want to take this moment to thank Archbishop Wester for his service as CNS ombudsman. His service is greatly appreciated by CNS as well, which has incorporated this data into its planning.
We know that identifying and serving the needs of our Hispanic brothers and sisters is a significant priority for almost every diocese. This year, Catholic News Service is reporting from every regional Encuentro, providing stories in English and Spanish to acquaint both Latino and non-Latino readers about the ideas and goals being surfaced. Come September, its team will report on the national gathering and on what follows.
[3] Responding to the critical needs of today: We know that connecting with our young people, the future of our Church, is a critical need. In preparation for the 2018 World Synod of Bishops on young people and vocations, CNS has been publishing a biweekly series of columns called "Light of Faith." It is edited by Elise Italiano and Christopher White, and they have recruited young, bright, articulate millennials like themselves to address the major themes of the upcoming synod. One of the youth delegates to the pre-synod gathering – Nick Lopez – had written for "Light of Faith" before his selection as a delegate. CNS has been making these columns available to all its clients, regardless of subscription type.
The weekly catechetical series "Faith Alive!" has been upgraded and improved, recruiting writers such as Helen Alvare and John Cavadini. It offers seasonal reflections such as for Lent and Advent. It also offers topical features discussing everything from cultivating vocations to Humanae Vitae's 50th anniversary and getting more out of the Mass.
[4] Providing fair, unbiased, and faithful news to the Catholic community: First, it is important to remember that CNS is a free-standing journalistic enterprise that is partnered with and supports the work of the Conference. A few years ago, however, a number of bishops of this Conference raised the concern that CNS was not being as unbiased and fair in its reporting as they felt it should have been. They were concerned that some featured stories as well as some news stories were too political or agenda driven or even critical of the work of the bishops. Concerns were raised about the relationship of CNS to the Conference and why we as a Conference should support an agency that appeared to be running counter to our mission. These concerns were directed to the attention of the General Secretary and the Committee on Communication and addressed in a very positive manner. Under the leadership of Greg Erlandson, CNS has made a concerted effort to be a trusted partner of the Conference and its work.
The bedrock of the Catholic News Service is its reporting. Its goal – Fair, Faithful, and Informed – captures its priorities. Its client publications – here and around the world – praise CNS for its journalistic professionalism and its ability to avoid snap judgments as well as its work to get the correct translation or the right source to speak out on a subject. CNS has worked hard to improve its coverage of, and collaboration with, the various committees and departments of the USCCB.
CNS is also becoming a platform for trusted voices in the Church. The selection of columnists has been broadened to include such notables as Richard Doerflinger, Hosffman Ospino, and Notre Dame's Brett Robinson. They join Carolyn Woo, CUA's John Garvey, Moises Sandoval, Father Ken Doyle and others. More timely guest columns from bishops – particularly committee chairs – have been added as well.
[5] Finally, moving more and more into digital content rather than print content: But times are changing, and so is the marketplace for news. A recent CNS marketing survey of non-subscribing Dioceses found that a primary reason was the lack of any print publication. Such Dioceses are often replacing newspapers with web sites and social media. This is one reason that the Committee on Communications has encouraged CNS to position itself as our digital content partner.
Dioceses choosing a digital strategy recognize that websites and social media demand an even greater need for a constant stream of new content than traditional print publications. CNS is expanding its RSS feeds to make it easy for diocesan websites to provide a steady stream of CNS stories. In addition, our websites and social media can showcase CNS videos and photos to keep our people coming back for more.
"Our Catholic people need to be not just inspired, but informed," Bishop Coyne said. "Without our news service, we risk surrendering our messages and our voice to other news organizations with other agendas. Information is formation. With CNS our people will be better informed about their own faith and more capable of understanding and engaging the challenges facing their communities and their country in the light of that faith."