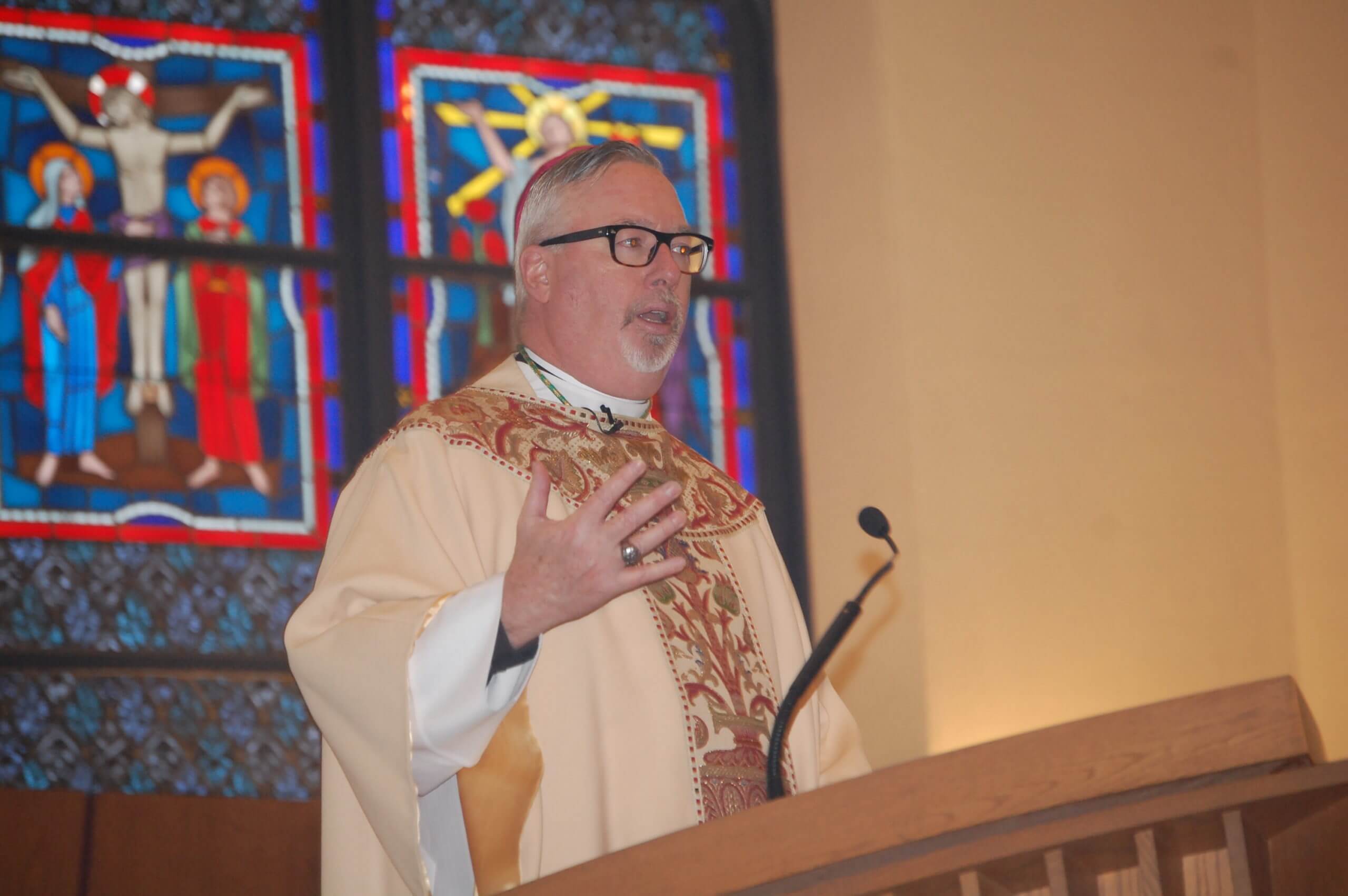 Bishop Coyne's homily for the Protection of Human Life Mass
Bishop Coyne's homily for the Protection of Human Life Mass
St. Augustine Church, Montpelier, Jan. 23, 2021
In a recent column, I posed the question "Are we better than this?"  It was in reference to a number of responses that I heard just after the Jan. 6 riot at the U.S. Capitol.  A number of times I heard people say, "We are better than this," a statement which puzzled me because the actions of many over the past year have shown that collectively, we are not better than this.  As a country, we are what we are — divided, angry, sick — both figuratively and bodily, fear-filled and lost.  We may become "better than this," we can be "better than this," but right now, we are not "better than this." We are what we are, brothers and sisters in a divided and dysfunctional house.
It is hard for me at times to think of all whom I encounter as my brother or sister.  But Jesus told us they are. Like many of you, I've received emails and letters that have lead to difficult printed exchanges with many people, exchanges which are often frustrating and painful and hurtful — but they are still my brothers and sisters.  There have been times when I've been with family, friends, and at public meetings when the conversation has gotten really heated very quickly.  Whether it's been about Covid-19 and mask-wearing and quarantines and the shutting of buildings or vaccinations, whether it's been about racism, and "Black Lives Matter," and peaceful demonstrations vs. destructive rioting, or the defunding of police, whether it's been about alleged election fraud, Democrats vs. Republicans, conspiracy theories, peaceful demonstrations vs destructive rioting, and who's to blame for what happened, and good Catholic vs. bad Catholic whatever it may be, you can choose your topic and we're off.  Unless you're in an echo chamber of like-minded people, it is going to get rough – but they are still my brothers and sisters.
The same is true when we talk about abortion.  Now the confrontational dialogue and politics around abortion rights and other "life issues," unlike some of the other issues I just listed, has been the case for years.  When people try to defend human life against unregulated abortion, assisted suicide, and euthanasia, we have been and continue to be met with angry, dismissive words and, even worse smug silence from many legislators. The pledge of allegiance to abortion rights at the beginning of each legislative session in our capitol is an affront to the legislators who disagree and any citizen of this state who thinks otherwise. And it is getting worse.  Here in the state of Vermont an effort is being made to amend the state constitution for the first time ever so as to enshrine a right to "reproductive freedom" — namely abortion — without any constraints.  Never mind that this is already the law in the state in which it is legal to abort a child in the womb right up to the moment of birth. Now, proponents of an amendment to the state constitution want to make it not only the law but part of the basic philosophical and legal framework of our state.   And it sure seems that many are not willing to hear any voice to the contrary.  It is enough to get one's righteous indignation flowing … if you let it.  And remember, they are still our brothers and sisters.
So what are you and I to do, not only when confronted by the immediate challenge of the proposed "reproductive rights" amendment and its adjacent pro-choice agenda, but also when confronted by all the other challenges we face just within the disordered situation in which we find ourselves?  (pause) Let me turn to the words of St. Paul's letter to the Philippians which we heard in our first reading:
Finally, brothers and sisters,
whatever is true, whatever is honorable,
whatever is just, whatever is pure,
whatever is lovely, whatever is gracious,
if there is any excellence
and if there is anything worthy of praise,
think about these things.
Keep on doing what you have learned and received
and heard and seen in me.
Then the God of peace will be with you.
"Then the peace of God will be with you."  If we stand on what is true and honorable and just and worthy of praise, then God's peace will be with us.  At another point in his letters, St. Paul admonishes his fellow Christians to "Rejoice always. Pray without ceasing. [and] In all circumstances [to] give thanks.  We are not going to convert hearts or change minds by being angry, and aggressive. We are not going to get anywhere by shouting. We are not going to convince anyone of the righteousness of our position by denouncing others as sinners. We are not going to get anywhere by talking about "us" vs. "them."  Where we are going to make headway is in being righteous and authentic disciples of Jesus Christ
There have been times where I have found myself present to a heated argument between folks who have polar opposite opinions on any number of matters often without any semblance of order or facts or moderation, just feelings.  Again, pick a topic: mask-wearing, racism, vote-stealing, abortion. You know how it goes.  People will say "Well, I feel … ." It's hard to compete against feelings. How do you counter feelings since they are not based on logic or a well thought out moral stance but mainly a nebulous cloud of tolerance?
When it comes to me, I simply say  — if I can get the chance —  "Look, I am a Catholic which means I am a Christian which means I am to love the Lord my God with all my heart and all my soul and my neighbors as my brothers and sisters. It means that I am to follow Jesus Christ in His Church serving God and serving others especially those in need of God's mercy: the sick, the homeless, the vulnerable, the stranger, the imprisoned, the hungry, the troubled.  I am to do to others as I would have done for myself.  In the words of the song, "Make me a channel of your peace … ."  That is what orders the choices I make in my life — to serve the Lord Jesus and the common good of all. In other words, I am a disciple of the Lord Jesus Christ.
Well, you can imagine how this changes the conversation. There is often a significant pause almost like everyone is collectively thinking "Okay then… ."  People don't quite know how to react to it. I know even here in this church right now there are some who are saying "Are you talking to me? You want me to do that? That's easy for you to say, "You're a bishop. That's what you should be saying." Or if one of the priests or deacons that are here with me said the same thing, you'd say, "Well, you're a priest or a deacon. That's what you should be saying." That' s easy for you to say.  But I'm not going to let you off that easy!  "You're a Christian, like me. You are a disciple of Jesus Christ, like me. That's what you should be saying!"
It's not easy to be that open and vulnerable about one's faith. Discipleship is a life of discipline (under the discipline of the great teacher Jesus), it calls for a life of consistency ("let your "yes" mean "yes" and your "no" mean "no," a life of sacrifice ("Take up your cross and follow after me"), and a life of charity.  Discipleship is not about feelings.  It is about being – being from my inmost core a believer in the truth of Jesus Christ and His Church. It is a way of being in the world. And it calls for the discipline of consistency in thought, word and deed. It is about loving my neighbor as my brother and sister and doing for them as I would have them do for me seeking to live in communion with each other.
This is not easy because it is very rarely returned in kind. It is hard to be a disciple. It can be very frustrating. But remember what Jesus said in the Gospel, "I leave you peace, but not as the world does."  Our peace comes from knowing from whom we come and to whom we go and it is His peace that consoles us. This is the peace that the world does not give.  That is why the words of the song are so profound, "Make me a channel of your peace… ."
The call to discipleship is the call to love God and to love our neighbors, yes, but let me be clear about one thing: It is love that is rooted in truth.  Discipleship is not belief in an opinion. It is a commitment to truth as revealed by God through His Son Jesus Christ in the power of the Holy Spirit. This truth continues to be lived and revealed in His Church. This truth is multifaceted, covering the wide variety of human life and experience all open to the salvific mission of Jesus Christ.  Today, we are here as disciples to witness to the truth that all human life is sacred as created by God and is to be embraced as a gift from God, to be protected and cherished from the moment of conception to the moment of natural death.
My encouragement for all of us is to courageously and peacefully proclaim the Gospel of Life, to encourage one another, to do so as disciples, not with voices raised in anger but with voices raised in prayer, not with hands clenched in waving fists but with hands pointing to God, and not with rhetoric that speaks of us vs them but with words and actions that speak of us … we … together as children of God.