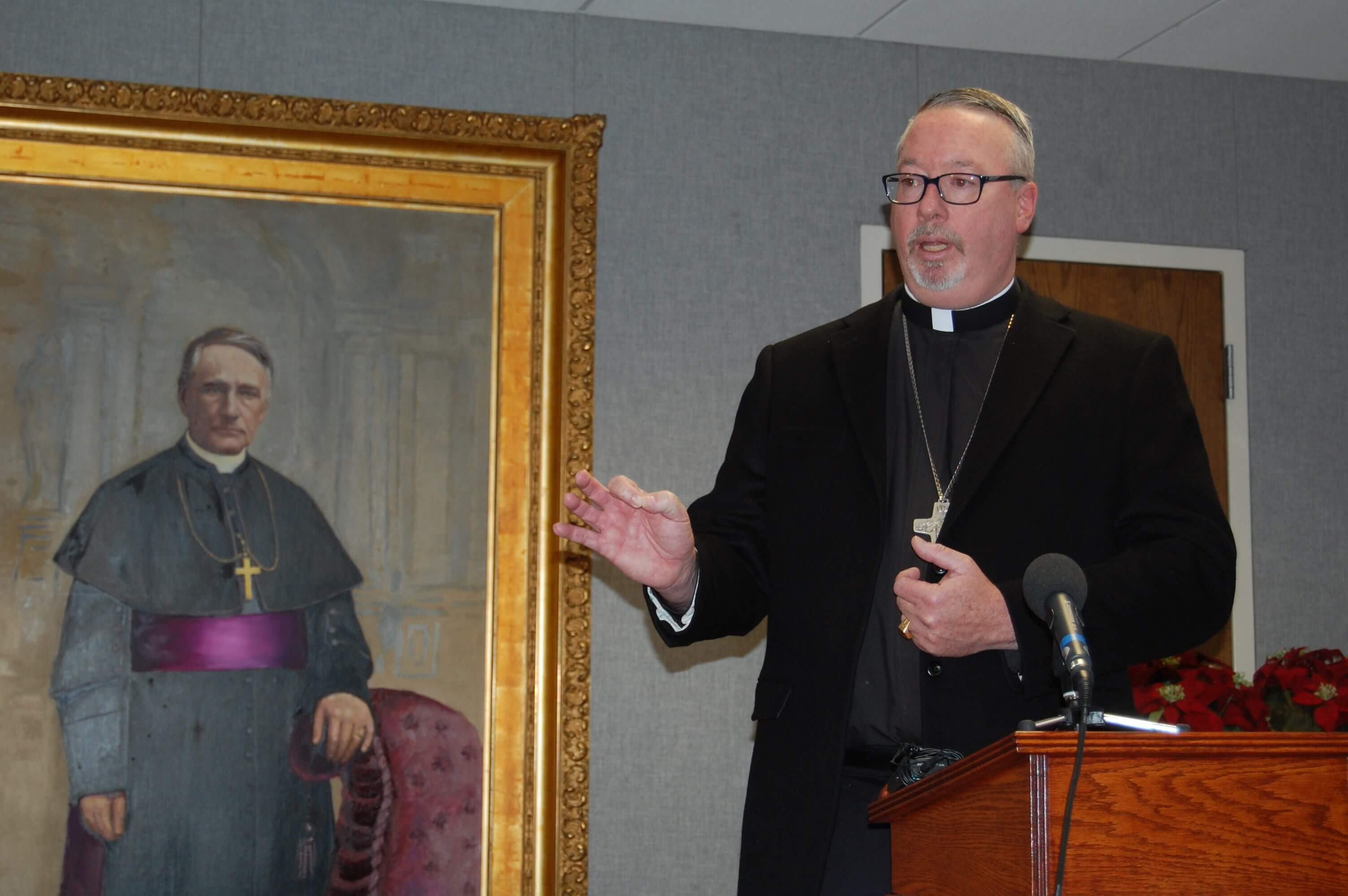 Bishop's Annual Appeal Summary
"Joy Springs from a Grateful Heart." —Pope Francis
As we wrap up the 2017 Bishop's Annual Appeal at the end of this fiscal year, June 30, we are so very grateful to the Catholic community for donating time, talent
and treasure to support ministries and services vital to the future of the Catholic Church in Vermont.
The success of this Bishop's Annual Appeal has resulted in the expansion of the New Evangelization program, youth ministry events statewide, revamping of our catechism and Pre-Cana programs, new communication platforms, launch of the Diocesan Synod, standardization of our Catholic schools' curriculum and so much more. It also helps sustain on-going parish, school and community services such as financial aid to Catholic schools, Vermont Catholic Charities emergency aid, cemetery maintenance, Diocesan Tribunal, vocations and priest benefits.
All of this was accomplished with a minimal increase to the ministry and program budget from FY 2016 to cover annual cost-of-living raises.
"Fiscal responsibility is a priority," said Burlington Bishop Christopher Coyne. "We were able to strategically reallocate resources from program to program without hiring a lot of new staff. In fact, our Bishop's Appeal goal was $100,000 less this year compared to last year."
In addition, the Diocese has created new avenues for the lay community to donate their time and talent on committees, such as the Pastoral Council, which is another valuable resource that allows the Diocese to do more with less.
None of this would be possible without the support of parish pastors and administrators. They are the driving force behind the success of the Bishop's Appeal.
More than 50 percent of the parishes and missions with an appeal goal met or exceeded their pledge goal. Another 17 parishes were at 90 to 99 percent of pledged goal. A total of 11,182 families pledged to make a gift this year. A few highlights include:
Annunciation of the Blessed Virgin Mary Parish, Ludlow, has 173 percent of goal pledged and 165 percent paid.
St. Stephen Parish, Winooski, was the first to meet its goal and has 124 percent of goal pledged.
Our Lady of Fatima Parish, Wilmington, increased pledges by 32 percent compared to last year and has 99 percent of goal pledged.
We are grateful for every single gift and pledge to invest these resources in ministries and programs that serve each parish, school and the larger Vermont Catholic community.
Parishes at 100% or more of pledged goal
Annunciation of the BVM, Ludlow 173%
St. Eugene Mission, Wells River 153%
Our Lady of the Snows, Woodstock 143%
Our Lady of Snows/St. Patrick, Waitsfield 143%
St. Francis of Assisi, Windsor 142%
St. Michael's College, Colchester 138%
St. Vincent de Paul, North Troy 133%
Our Lady of Light Mission, South Strafford 133%
Our Lady of Mount Carmel, Charlotte 129%
Immaculate Heart of Mary, Williston 128%
St. Charles, Bellows Falls 127%
All Saints, Richford 126%
St. Mary of the Assumption, Cambridge 125%
St. Francis Xavier, Winooski 124%
St. Stephen, Winooski 124%
Holy Name of Mary Mission, Proctorsville 123%
Immaculate Conception, St. Albans 123%
Our Lady of the Angels, Randolph 122%
St. Joseph Co-Cathedral, Burlington 121%
Our Lady of the Holy Rosary, Richmond 120%
Christ the King/St. Anthony, Burlington 119%
Ascension Mission, Georgia 119%
Our Lady of the Valley, Bethel 117%
St. Jude the Apostle, Hinesburg 116%
St. Joachim, Readsboro 116%
St. Catherine of Siena, Shelburne 116%
Our Lady of Lourdes Mission, East Berkshire 115%
St. Anthony and St. George, East Fairfield 112%
St. Ann, Milton 112%
St. Ignatius Mission, Lowell 112%
Most Holy Trinity, Barton 111%
Catholic Center at UVM, Burlington 111%
Holy Angels, St. Albans 110%
St. Luke, Fairfax 110%
St. John the Evangelist, Northfield 110%
St. Patrick, Wallingford 109%
St. John Vianney, South Burlington 108%
Maternity of the BVM, Springfield 108%
Holy Cross, Colchester 108%
St. Francis of Assisi Mission, Norwich 107%
St. Andrew, Waterbury 106%
St. Edward Mission, Williamstown 106%
Corpus Christi, St. Johnsbury 106%
Christ Our Savior, Manchester Center 104%
St. Patrick, Fairfield 104%
Holy Family/St. Lawrence, Essex Junction 104%
St. John the Baptist, North Bennington 103%
Nativity of the BVM/St. Louis, Swanton 101%
Most Holy Name of Jesus, Morrisville 101%
St. Ambrose, Bristol 100%
— Originally published in the Spring 2018 issue of Vermont Catholic magazine.