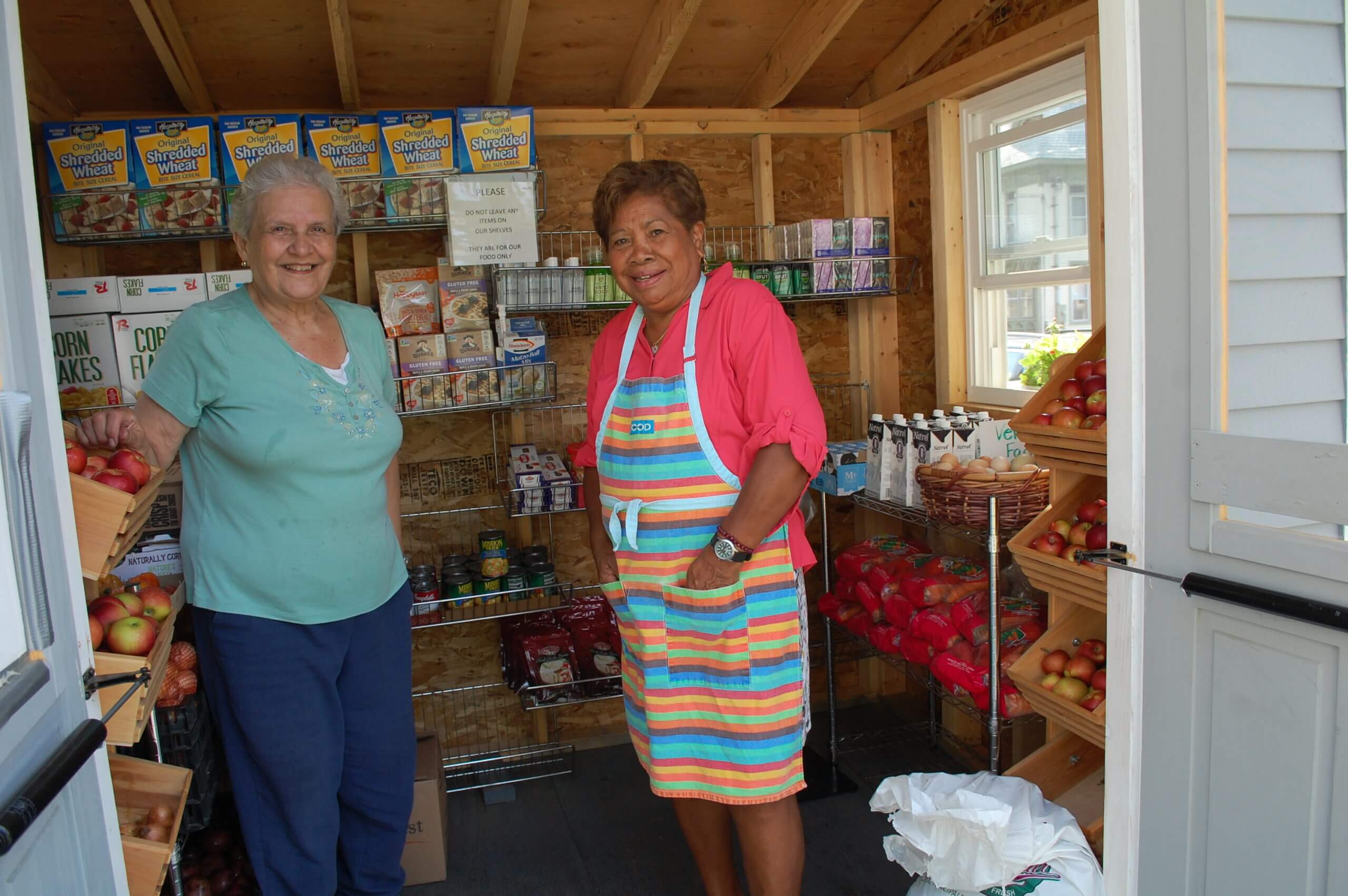 Brattleboro parish food ministry includes farm stand
"Ohhh, carrots! Time for carrot cake," Tammy Sullivan enthused as she stepped into St. Brigid's Farm Stand at St. Michael Parish in Brattleboro.
The Vernon grandmother stops at the farm stand almost every day to get food for her family and others who need it; it's all free.
Part of the parish's St. Brigid's Kitchen and Pantry umbrella organization that also includes a soup kitchen and pantry, the farm stand — opened last fall — is always open and helps those who are experiencing food insecurity.
"This works great," Sullivan said. "I can stop in anytime." She sometimes gets meals from the soup kitchen (which serves much more than soup), but mostly stops for items at the farm stand like fresh fruits and vegetables or packaged meat. She has her own chickens, so she does not need the fresh, local eggs displayed in a large basket.
The stand — located on the front lawn of St. Brigid's Kitchen next to St. Michael School on Walnut Street — is stocked each morning with fresh fruit and vegetables, frozen meat, dry and canned goods and hygiene items like hand sanitizer, toothpaste and toothbrushes. Bread is stocked three times a week.
Such items had been distributed in an alcove of the dining room of St. Brigid's Kitchen, but the operation moved outside because of the Covid-19 pandemic. Inclement weather took down the three canopies that had been used to protect and shade the items, so the wooden shed was built for the farm stand.
"People like coming to a little, neighborhood farm stand," said Carolyn Pieciak, volunteer director of Brigid's Kitchen and Pantry. People enter the shed one at a time. "It's not a great big place where everybody is standing in line, which is so demoralizing."
Hundreds of pounds of food are distributed each week; between 25 and 35 households are served each day. Those served include the elderly, families, neighbors and those experiencing homelessness.
Brigid's served some 25,000 individuals in 2019, but because of the Covid-19 pandemic, that number was down to 18,000 last year as the homeless population received housing and food assistance through state programs. Yet food distribution tripled, according to Pieciak, because more seniors and families needed help during the economic downturn.
Most of the more than 100 volunteers, like Pieciak, are parishioners of St. Michael's, including the farm stand managers, Maryann Corey and Yudah Huestis. "I like helping people," Huestis said. "My mother did it [in Palau, Micronesia], and here I am doing it."
Her Catholic faith "tells us to help people, help everybody," she said. "We are blessed by helping others."
Another parishioner and volunteer, Kate Maceda, added, "How can I not do this? You do what you can in the community. All faiths tell us to do that."
Pieciak praised St. Michael Parish for its work to help those who are food insecure; St. Brigid's has been in operation for nearly 40 years and is well known for its charitable work. "Our parish has been so supportive of all our work," she said.
The farm stand — built with donations — will remain open through each season.