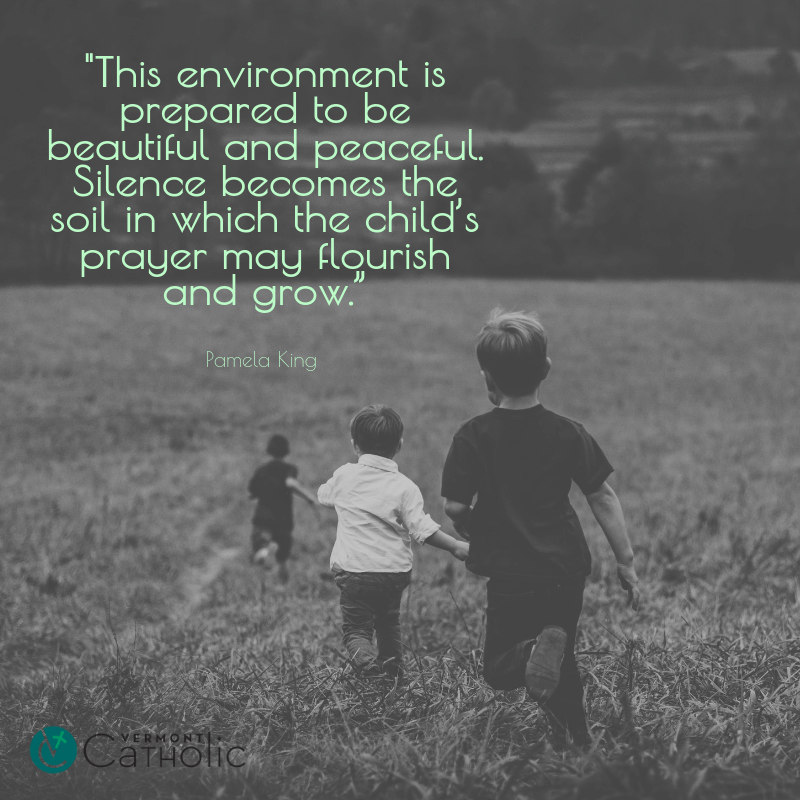 Catechesis of the Good Shepherd
When people talk about the Catechesis of the Good Shepherd program, they use words like peaceful, prayerful and joyful. They explain it in terms of holy moments where young children cultivate their spirituality and relationship with God. They embrace it because it nurtures, within children, an inner dialogue with the Holy Spirit, the "Interior Teacher."
Catechesis of the Good Shepherd, which had its beginnings in Rome in 1954, was developed by Sofia Cavaletti, a Catholic laywoman and theologian, and Montessori educator Gianna Gobbi. They believed in the extraordinary religious potential of the child and the need for a specially designed environment to nurture that potential.
"Because CGS engages children so profoundly, it has become the preferred approach to young children's catechesis in a growing number of Dioceses, parishes and schools around the U.S. and the world. In recent years it has also begun to thrive here at Immaculate Conception (St. Mary's) Parish in St. Albans," said Pamela King, parish director of religious education.
The program began some 10 years ago in St. Mary's and is also implemented in the parishes of St. Luke, Fairfax; St. Andrew, Waterbury; and Maternity of the Blessed Virgin Mary, Springfield. King described it as "a very hands-on program, using a combination of scripture readings, visual aids and materials that allow the catechist and child to 'listen to God' together, and to enable the child to continue to ponder the lessons and ideas through the use of 'work' that accompanies the lessons."
Amy Miller, parish coordinator for Catechesis of the Good Shepherd at St. Andrew's, explained that their fledgling program, which includes children from Our Lady of the Snows Church in Waitsfield and St. Patrick Church in Moretown, took off in great part last year because of the interest of their pastor, Father Jerome Mercure. Miller introduced Father Mercure to the program during a Pentecost celebration at St. Mary's in St. Albans.
"Based on his experience and continued reading and information gathering, he decided to pursue this program for our parish. He attended a week of Level one training in St. Luke, Fairfax, last summer and was a catechist for the program this past year. We would not have this wonderful program without his leadership and support," she said.
Father Mercure explained that as he read and learned about the atmosphere, the atrium and the catechesis, he was enthused. Now, he said, "it's probably the best approach we have in the parish."
"Most religious education programs start too late," he said, pointing out that Catechesis of the Good Shepherd starts at age three, a time when young children have "an openness to spirituality and a relationship with God."
The program is presented at three levels depending on a child's development: Level One, ages three to six; Level Two, ages six to nine, and Level Three, ages nine to 12.
King explained that the catechetical setting is called the Atrium because it is not a classroom but "a place of prayer to prepare ourselves to meet God every day and particularly in the sacred liturgy. This environment is prepared to be beautiful and peaceful. Silence becomes the soil in which the child's prayer may flourish and grow."
A crucial element within the prepared environment, Miller said, is the child-sized materials, most often made lovingly by hand by catechists and volunteers. Miniature books of the Bible, three-dimensional replicas of scripture stories or parables, a model altar and elements representing baptism or Eucharist, are there for the children to engage with and to nurture their initiation into the life of the Church.
The catechists, and those who create the materials, "make it that much more meaningful and valuable because so much love is going in to the environment, all for the love of the child," Miller said.
Catechists participate in an intensive 2-week training program, and are assisted in the Atrium by adult volunteers "who often find that they learn alongside the children, making this a great program for parishes that are interested in helping catechize adults," said King.
Deacon Phil Lawson, executive director of evangelization, catechesis, divine worship, marriage and family and respect life for the Diocese of Burlington, commented: "The fruit of the Catechesis of the Good Shepherd program is one of the shining lights in the area of faith formation in our Diocese. The wonder, divine intimacy, sacramental sense and encounter with Jesus it naturally and profoundly engenders in our children is beautiful to behold."
To find out more about Catechesis of the Good Shepherd, go to cgsusa.org.
—Originally published in the Fall 2019 issue of Vermont Catholic magazine.