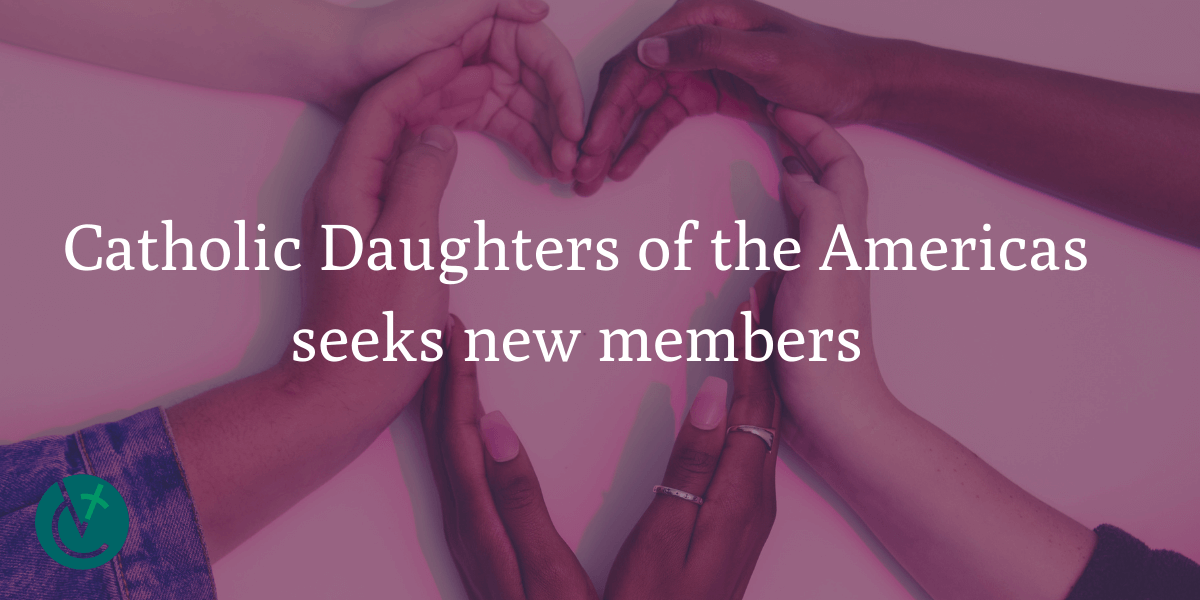 Catholic Daughters of the Americas seeks new members
Are you interested in enriching your spiritual journey along with other like-minded Catholic women who value charity, patriotism and faith?
Then consider joining The Catholic Daughters of the Americas.
There are nine "courts" (chapters) in Vermont: Fair Haven, St. Albans, Manchester, Montpelier, Essex Junction, Springfield, Barre, Bethel and Hardwick.
The purpose of the organization is to participate in the religious, charitable and educational apostolate of the Church and to engage in creative and spiritual programs that provide members with the opportunity to develop their special God-given talent in a meaningful way to positively influence the welfare of the Church and all peoples throughout the world. Members strive to embrace the principle of faith working through laws in the promotion of justice, equality and the advancement of human rights and human dignity for all.
According to Loretta Schneider of St. Augustine Parish in Montpelier, Vermont CDA state regent, "We are the backbone of our churches, and it is extended to the greater Church — our Diocese."
Members serve as extraordinary ministers of Holy Communion, lectors and religious education teachers; they sponsor children receiving confirmation and adults in Rite of Christian Initiation of Adults programs. They serve meals for funeral dinners, lead rosaries, visit shut  ins, provide for food shelves and distribute prayer blankets, chemo hats and prayer
shawls. They serve in soup kitchens and food pantries and clean church linens. "We are on the front line for protecting life at all stages," Schneider said, noting Catholic Daughters have "baby showers" for local crisis pregnancy centers.
She has been a member for 20 years and appreciates the spiritual uplift, camaraderie with other Catholic woman, sense of fulfillment and satisfaction of helping others. "I am inspired by what my sisters in Christ do and how they support one another," she said.
Another Catholic Daughter reflected: ""By coming together with Catholic women in my parish, I am able to live my faith in unison with others.  We share a common vision of living our faith in God for the betterment of others."
There are currently 438 Catholic Daughters in Vermont, down from about 1,000 members 14 years ago. "CDA membership reflects Church membership in Vermont," Schneider said. "Also, our younger women are so busy."
The state court is trying to increase membership by encouraging local courts to invite Catholic women to join and by making themselves known at the local level by participating in parish events and statewide retreats and telling women what they know about the CDA.
Vermont State CDA is sponsoring a retreat Sept. 25 from 9:30 a.m. to 1:30 p.m. at Our Lady of the Angels Church in Randolph. The free event includes lunch and is open to all women aged 18 and older. There will be an opportunity for a goodwill donation to support the Knights of of Columbus purchase of an ultrasound machine for a mobile clinic in the Burlington area. For more information, email dgbrown264@gmail.com."If a parish in Vermont would like to start a local CDA Court, the state board can facilitate that," Schneider said.
The Catholic Daughters of the Americans was initiated in 1903. The first Vermont court was begun in 1912 in Fair Haven; the state court formed in 1924.
"There are many CDA Courts throughout our country, and we all have the same commitment: 'Unity and Charity,'" Schneider said. "We are united in faith as we help others through charitable works in the spirit of Jesus Christ in our heart."
For more information on joining the Catholic Daughters of the Americans, go to catholicdaughtersvt.org, email lorettaschneider27@gmail.com or contact any Catholic Daughter.
—Originally published in the Fall 2021 issue of Vermont Catholic magazine.