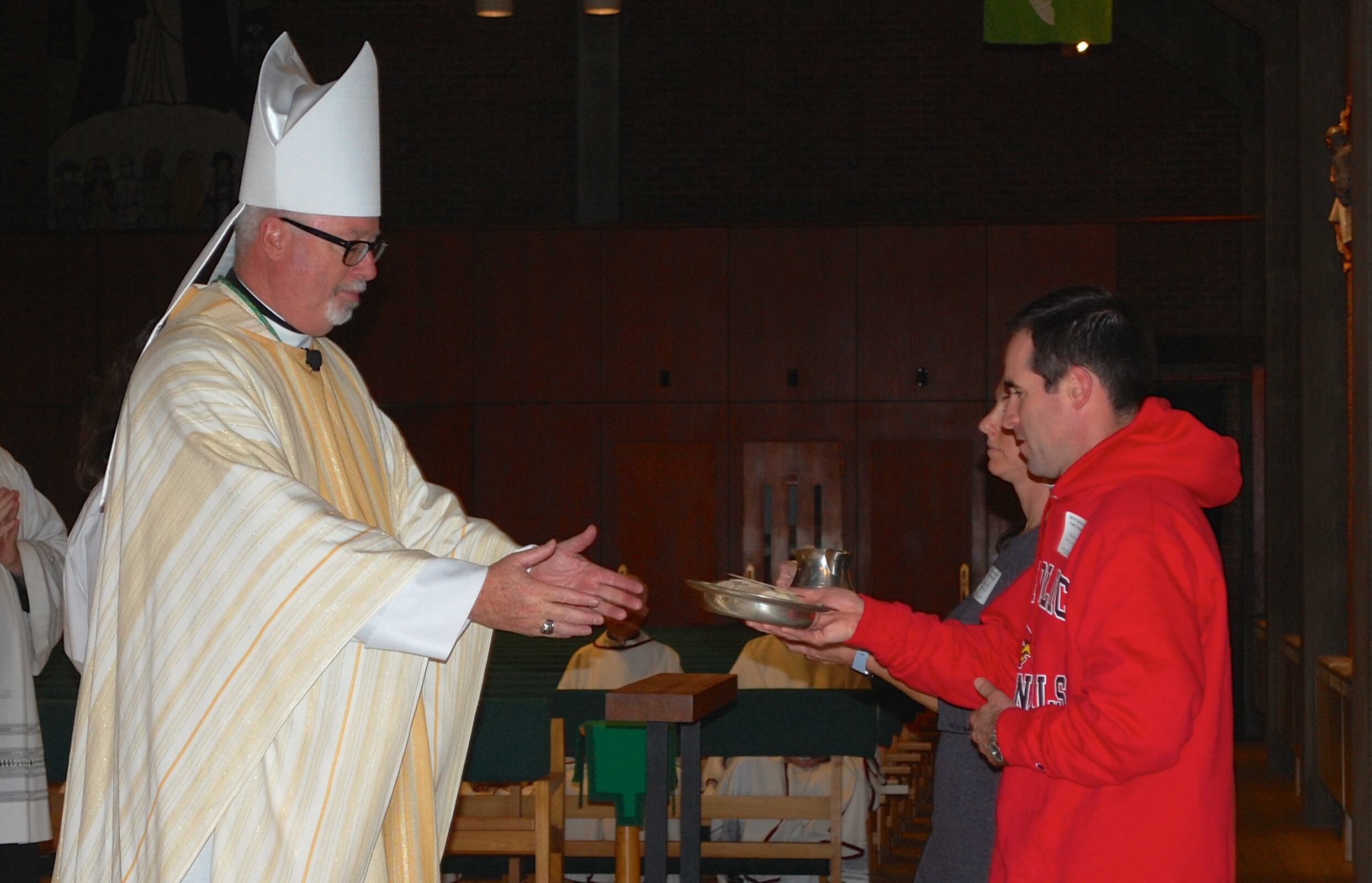 Catholic Faith Formation Day
More than 200 teachers and administrators from Catholic schools in the Diocese of Burlington gathered at St. Michael's College in Colchester Oct. 15 for a Catholic Faith Formation Day.
In his homily at a Mass in the Chapel of St. Michael the Archangel, Burlington Bishop Christopher Coyne spoke of Jesus as a good teacher. "He acted out of love or charity for others and brought out what was best in them," he said. "He adapted His teaching style to the concrete situation He faced."
In addition, Jesus "did not have a one-size approach or teaching method" in speaking with individuals, and "He taught so as to transform others," the bishop said.
Catholic schools, he added, "transform and form" students into good Christians and good citizens to move the culture forward in positive ways: "We are not only about educating, we are about transforming."
The bishop took the opportunity — in light of recent media coverage about the scandals of abuse of children and its cover up — to emphasize to the educators that Catholic schools are safe places. He outlined the policies and protocols set in place to keep children safe and said that since 2002 in the Diocese of Burlington there has been only one substantiated allegation of abuse of an at-risk adult, not a child. "I want you to be assured that as a Church in the Diocese of Burlington, we are a safe place for children."
Several priests of the Diocese of Burlington and numerous members of the Society of St. Edmund, the order that founded St. Michael's College, joined Bishop Coyne in celebrating the Mass.
The daylong Catholic Faith Formation Day also included a presentation by Father Jon Schnobrich, vocations director for the Diocese of Burlington, about "Challenges Facing Our Culture Today."
In the afternoon keynote address, Jon M. Sweeney, author of "The Pope's Cat," a book for children, encouraged his listeners — via computer — to take care of themselves and work through their own vulnerabilities.
His topic, "Vulnerable Us and the Vulnerable Among Us" was cut short by technical problems. The Milwaukee resident did say it is easier to avoid vulnerability but encouraged the educators to address it. The Beatitudes, he said, could be summarized as "Blessed are the vulnerable," and he called on adults to explore issues of vulnerability with children.
His popular history, "The Pope Who Quit: A True Medieval Tale of Mystery, Death, and Salvation," was optioned by HBO and may soon be developed into a film. He is the author of 30 other books including "The Enthusiast: How the Best Friend of Francis of Assisi Almost Destroyed What He Started."
The formation day was hosted by the Catholic Schools Office of the Diocese of Burlington; Lisa Lamondie-Grenville is superintendent of schools.