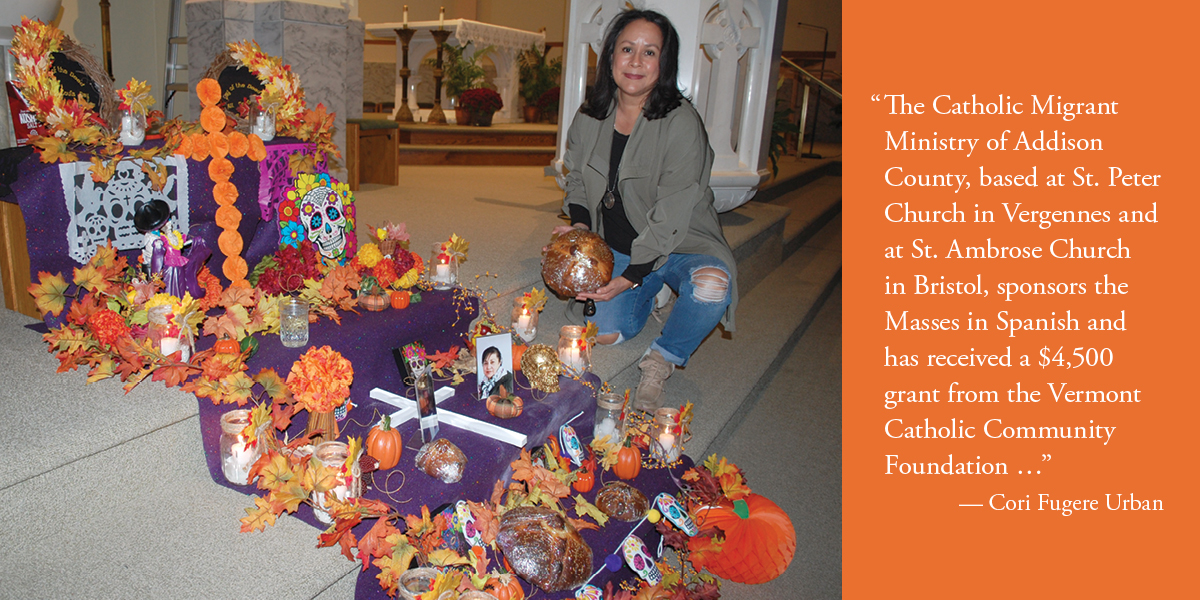 Catholic Migrant Ministry of Addison County hosts Masses in Spanish
Ricardo Santamaria, a migrant worker from Mexico, attends Mass in English at St. Peter Church in Vergennes, but he doesn't understand the language. It's especially distressing for him not to understand what the priest says in the homily.
So when there is a Mass in Spanish celebrated in the area, he likes to attend. "It's important to attend Mass in any language," he said through an interpreter, but he feels best when he attends Mass celebrated in his own language.
Santamaria was one of 75 people who attended a Day of the Dead Mass Nov. 2, All Souls Day, at Assumption of the Blessed Virgin Mary Church in Middlebury, an event that coincided with a celebration of the culturally important day on the campus of adjacent Middlebury College.
The Catholic Migrant Ministry of Addison County, based at St. Peter Church and at St. Ambrose Church in Bristol, sponsors the Masses in Spanish and has received a $4,500 grant from the Vermont Catholic Community Foundation to offer more such Masses and a meal after them for members of the local migrant worker community.
This ministry is a source of spiritual renewal for them and opportunities for them to gather with family and friends in a safe environment. Members of the ministry also work with other groups and agencies to provide for the corporal needs of the workers — things like transportation, food, clothing, boots, air conditioners and furniture.
"Our main goal is to provide religious services for migrant workers and their families like regular [Sunday] Masses and feast days like the Day of the Dead and the Feast of Our Lady of Guadalupe," said Patty Lewis of St. Ambrose Parish, chair of the ministry, who hopes to sponsor monthly Masses in Spanish.
These Masses are being celebrated — usually at St. Peter Church — by an Edmundite priest from St. Michael's College in Colchester or a Dominican priest from New Hampshire who speak Spanish.
"Vermont is not very diverse, and having a group of people come together for the farm workers is really special," said Briggette Giron, 17, of Bristol, a native of Guatemala. "It's important to them to celebrate … in their language."
—Originally published in the Winter 2022 issue of Vermont Catholic magazine.