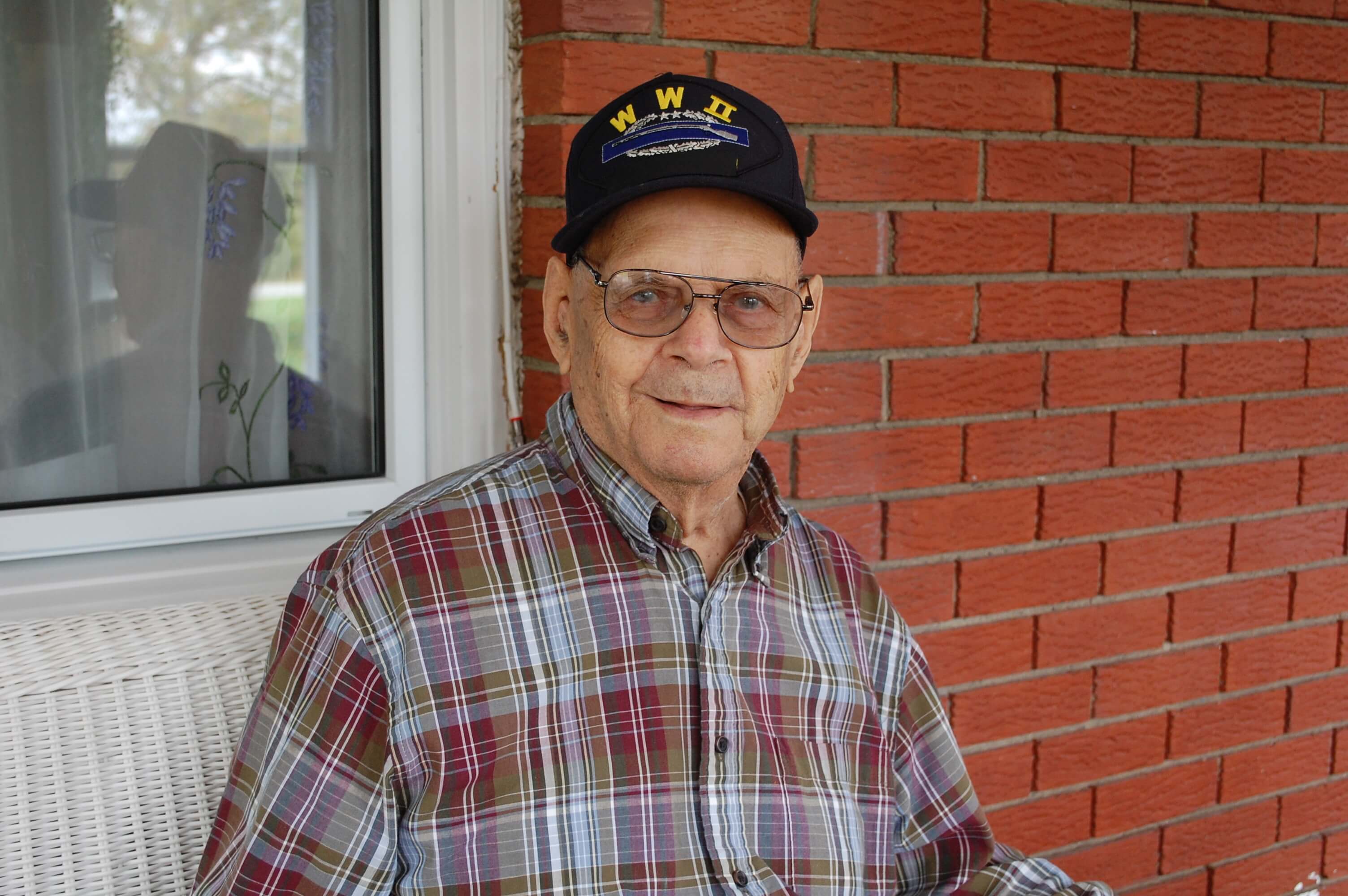 Eldercare homes residents recall military service
Maurice LaClair credits a metal-covered prayer book his mother sent him with saving his life in World War II.
He was fighting with the United States Army in Burma when shrapnel hit him in the chest, but the prayer book in his left breast pocket protected him. It was dented, and he felt "a little shock," but was unhurt.
"That prayer book saved my life," said the 97-year-old resident of Michaud Memorial Manor in Derby Line, one of the four eldercare homes operated by Vermont Catholic Charities Inc.
He and some of the residents of Loretto Home and St. Joseph/Kervick Home in Rutland — all veterans — shared some of their war stories and military experiences as Veterans Day approached.
Veterans Day 2019 will be commemorated on Monday, Nov. 11.
Loretto Home resident Ralph Lobb served in the U.S. Navy from 1952-56; Lonnie Socia, another resident there, was in the Army from 1958-1960 and served in Vietnam.
"Now I thank God every day He helped me get through without getting killed," said Socia, 71, an Army bread baker and guard who was drafted one day after his 20th birthday. "He gave me strength and watched over me."
Lobb, 84, still tears up when he thinks about his time in the service. "God was very good to us," he said. He enlisted because he "wanted to be on the boats" like his father who served in the Navy in World War II.
Across the street from Loretto Home, five veterans recounted some of their military experiences in the common room of their residence, St. Joseph Kervick Home.
Jean Donaghy, 95, is an Army veteran who served in the Signal Corps in Vienna during World War II. Mulford Williams, 98, was in the Army Infantry in France and Belgium, and Merle Schoenfeld, 93, served in the Army in Germany.
Dan O'Connell, who is in his late eighties, was in the Air Force, serving stateside from 1957-60, and Helena Rousseau, 86, served in the Air Force in peacetime.
What they all have in common Schoenfeld said, is their service to their country. "And our love for our country," Rousseau added.
"I fought for the longevity of our country so nobody would take it over," said Williams, who was injured in France and received a Purple Heart.
"I'm proud I served my country," said Donaghy, who recalled enlisting because she was bored in her department store job in Rutland then wondering how she would tell her parents what she had done. "They weren't too pleased," she said. In fact, she remembers her father yelled, "Are you out of your mind?!"
Schoenfeld said he went to war to "fight against Hitler;" he helped to liberate a small concentration camp. Williams said he went to fight for freedom.
When O'Connell enlisted, he was "unoptimistic about our situation with Russia" so he wanted to get electronics training. In the Air Force he worked on the electronics that would be used on airplanes.
The St. Joseph/Kervick Home veterans agreed that they feel respected and appreciated, especially, Schoenfeld and Williams said, when they wear their World War II veterans' caps.
Rousseau expressed concern that "our country needs a lot more prayer and a lot more getting along."
"I love all people," she said.
Asked what he learned from his wartime experience, Schoenfeld responded quickly, "War is hell."
When she finally returned home after World War II, Donaghy said she was excited to see the Statue of Liberty as she arrived in New York. "I said, 'Thank you God for getting me back safely.'"
LaClair said he never prayed as much as he did while under fire during the war. "I think prayer is the only thing that made me come back. I believe in prayer."
This slideshow requires JavaScript.