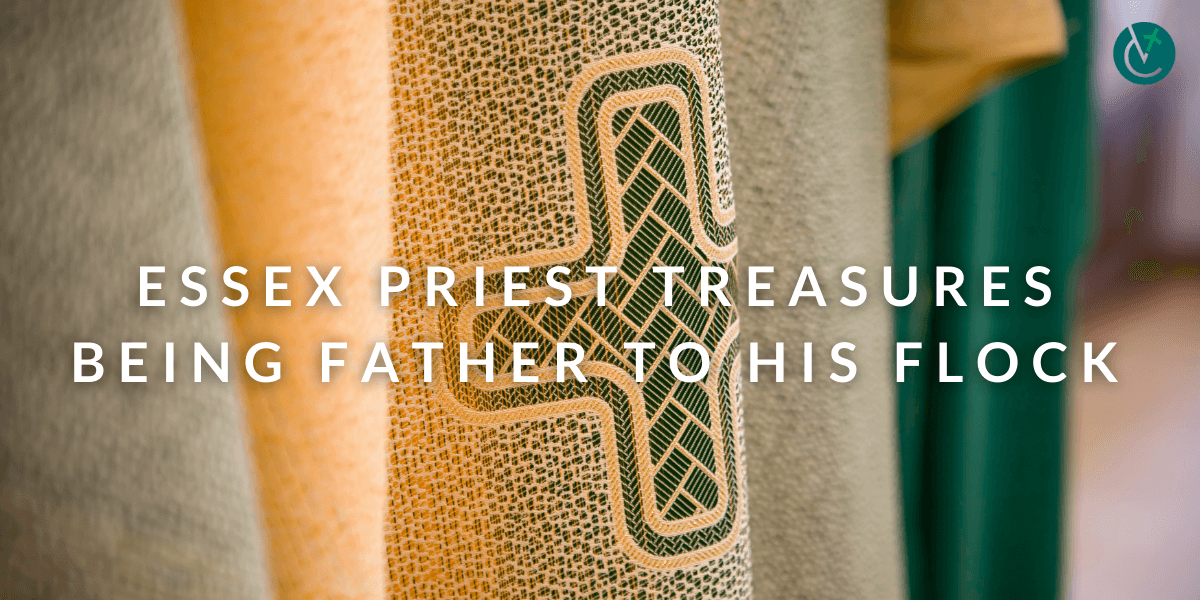 Essex priest treasures being 'Father' to his flock
When Edmundite Father Charles Ranges gets out of bed in the morning, he faces the day with the knowledge that his ministry is important to his very large family—the Essex Catholic Community at Holy Family St. Lawrence and St. Pius X parishes.
When his parishioners call him "Father," said Father Ranges, "I feel very grateful to be a parish priest, knowing that I have a special relationship with all of them. This is not to be taken for granted. The joys of being a parish priest are many, and I am not afraid to tell people that I think that I have the best job in the world."
That fatherly relationship, explained Pope Francis, is well-modeled on St. Joseph, whose example teaches that a priest's tender love for his flock must always put their good above his own. "It is the attitude of the shepherd, who never abandons his flock, but places himself in a different position with respect to it according to the concrete needs of the moment," he said.
Father Ranges enjoys being a parish priest and is honored to be called "Father."  He has been ministering in the Essex community for years and is well known, so he often is addressed as "Father" in different situations.
"I tend to be dressed in clerical clothing so people easily recognize me as the Catholic priest in town.  Even among non-parishioners, I typically receive respect and kind comments, and I suspect that … most people see me as representing something good."
To his parishioners Father Ranges represents the father of a faith community. "Often, they see me as the presence of Christ when I am celebrating the sacraments, and I have to remind them that I am very human, often make mistakes and sometimes, sin, so I need to ask the Lord's forgiveness, especially in the Sacrament of Penance," he said.
The challenges of being "father" to a faith community "are just like a husband and father in a natural family," Father Ranges said. "It is a 24-hour-a-day vocation, never ending.  Sometimes I get tired of simply dealing with people and need to take a break, but I still am who I am — 'Father' to many people."
Being a member of a religious community makes a difference, he emphasized, explaining that the charism of the Society of St. Edmund, as a community, is to minister to all people, especially those neglected in society, and to be welcoming to everyone.
"As a community member, I am a brother in a religious family, and I find nourishment for my ministry as 'Father' being together with them."
— Originally published in the Summer 2021 issue of Vermont Catholic magazine.