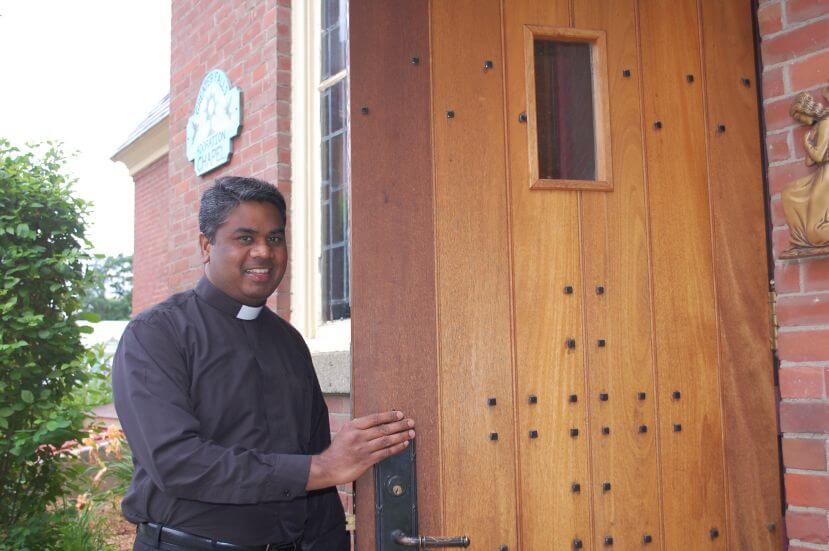 "Extern" Priests Serving in Vermont
Photo Caption: (Vermont Catholic/Cori Fugere Urban)Father Maria Lazar, pastor of St. Charles Parish in Bellows Falls, was ordained a priest of the Heralds of Good News order in his native India.
There was a time when the Diocese of Burlington sent priests to serve in missions in the developing world with groups including Maryknoll and The Missionary Society of St. James the Apostle.
But as the clergy shortage became more acute in Vermont, parishes here began to welcome more and more priests who were born outside the United States; in effect roles were reversed and Vermont became "mission territory."
Of the 74 priests in full-time ministry in Vermont, there are currently 22 "extern" priests serving here with permission of their home bishop or religious order.
The extern priests serve at 41 churches and the University of Vermont Medical Center in Burlington.
"Without their assistance, we would not be able to provide pastoral coverage to a large number of churches," said Msgr. John McDermott, vicar general for the Diocese of Burlington. "Their presence is essential at this time in the life of the Diocese."
Father Romanus Igweonu was ordained for the Diocese of Abakaliki in his native Nigeria and served there as a parochial vicar, pastor, teacher, principal and chaplain before coming to the United States to study in 2004, earning advanced degrees in education. An educational specialist, he worked in special education in Pittsburg before then-Burlington Bishop Salvatore R. Matano invited him to serve in the Diocese of Burlington.
Though he also looked into educational positions, Father Igweonu chose to come to Vermont "because my first vocation is as a priest; I have to pay homage to the Church." Education, he said, is his "second career."
He arrived in Vermont in 2006 and served churches in Fairfax, Milton, Ludlow and Proctorsville before his current assignment as administrator of St. Bridget and St. Stanislaus Kostka churches in West Rutland and St. Dominic in Proctor.
"When I came to Burlington, I met life. I met love. I met brotherliness and unity and acceptance," he said. "I came as a missionary to Vermont, but I feel one with the presbyterate of Vermont," which makes him feel more of a diocesan priest than a missionary. "As imperfect as I am, they treat me as a brother."
The growing numbers of African-born clergy and religious ministering in the United States are at the vanguard of an important moment in both the U.S. and worldwide Catholic Church, said Jesuit Father Allan Deck, a teacher of theology and Latino studies at Loyola Maryknoll University in Los Angeles.
"The Church is growing in Asia, in Latin America and most especially in Africa," he said. "So at this moment in time and as we move into the future, the life of the universal Church, the leadership of the universal Church — and all the hard work that we need to do to evangelize — more and more has to be assumed by up-and-coming groups, and one of those groups is the Catholic faithful of the various countries of Africa."
Father Deck served from 2008 to 2012 as the first executive director of the U.S. Conference of Catholic Bishops' Secretariat of Cultural Diversity in the Church.
The priest called the influx of foreign-born ministers "a globalized priesthood, a globalized religious."
Father Maria Lazar, pastor of St. Charles Parish in Bellows Falls, was ordained a priest of the Heralds of Good News order. In his native India he was a parochial vicar, pastor and Catholic school administrator.
"One fine morning my superior [in the religious order] called me and said to prepare to go to Vermont," he recalled. "Vermont was not on the map according to me back then," he added with a smile.
But he arrived in Vermont in 2009 with another member of his order. "I didn't know anything of Vermont," he said. "I had no idea about the climate, the culture or the people."
And though he thought he could speak English, he realized he did not speak it fluently. In fact, at first "it was not distinguishable," he said.
Acclimating to a new place can be a challenge for a missionary priest, but Father Lazar did not balk; the object of his order is to train and supply priests where they are needed. "I'm a minister to the people. I cannot be hiding in a room," he said, noting that in seminary he was told he could be sent "anywhere" so he would have to "bloom where you are planted."
He has served churches in St. Albans, Barre and Rutland.
Asked if there is a priest shortage in his home diocese, Father Igweonu said, "yes and no." Many parishes still need pastors because of an expansion program, so though there are many young men going to the seminary, "there are not enough priests because of the expansion," he said. "No amount of priests is enough because the Church is growing in Africa."
His plans to stay depend on the wishes of his home bishop and the bishop of Burlington. "I see my life as a priest anywhere I'm called to serve," he said.
Father Lazar is committed to the Diocese of Burlington for 10 years, and when that is complete, he would like to go home to India, but he will, in obedience, go where he is needed. "I said 'yes' to God when I entered the seminary and when I was ordained. I should continue to [say 'yes'] until my last breath."
Father Julian Asucan, pastor of St. Augustine Church in Montpelier at North American Martyrs Church in Marshfield, was ordained in 2000 for the Diocese of Talibon in the Philippines where he assisted the bishop and was a parochial vicar and pastor before coming to Vermont in 2008 after learning the Diocese of Burlington needed priests.
"I wanted the experience of knowing what was beyond the borders of my country and to know the universal Church," he said. "What we do there is the same thing we do here – celebrate the sacraments."
He has served parishes in Bradford, Hardwick, Fairfax, Milton and Colchester.
He never thought of the United States as "mission territory," but he understands the need now because of fewer American-born priests.
"For the Church to continue to exist, you have to have your own priests in the Diocese," he said. "What if other Dioceses [and religious orders] did not send their priests?"
Father Lazar hopes that he will inspire young Vermont men to heed the call to priesthood. "Mission priests cannot stay here forever," he said. "Mission priests are coming and serving and then they go to different places. Promoting local vocations is the only solution [to the clergy shortage], something every [Catholic] should work on."
–Catholic News Service contributed to this story.
–Originally published in the Fall 2017 issue of Vermont Catholic magazine.