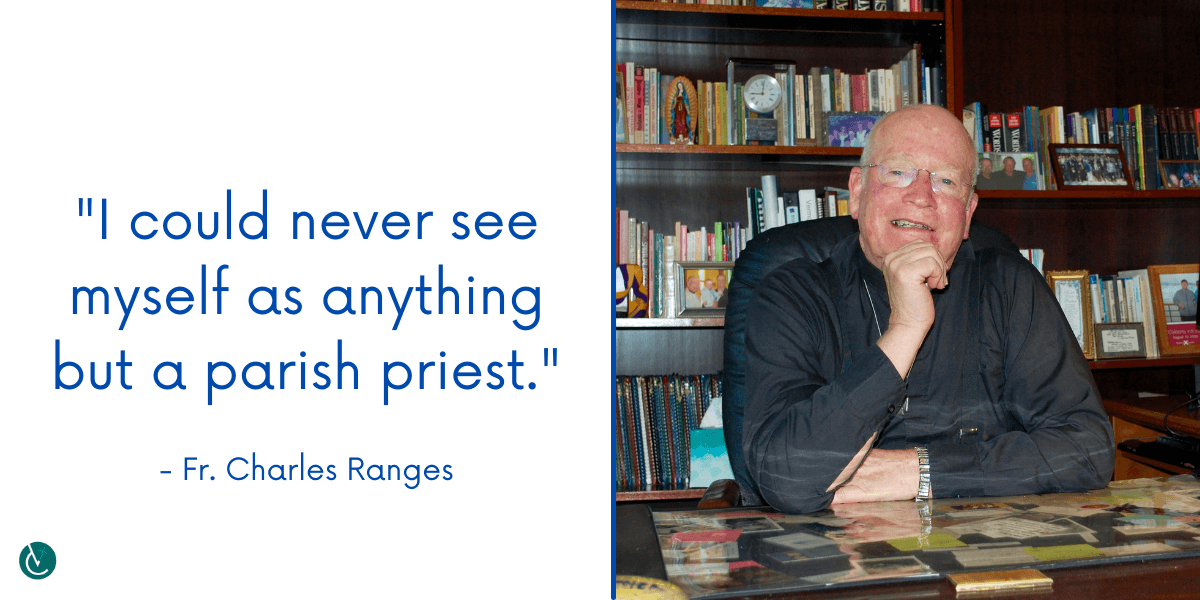 Father Charles Ranges: 'I have never lost my enthusiasm for being a priest'
Father Charles Ranges was the fifth of the seven children born to Dr. Hilmert "Joe" Ranges — a New York cardiologist — and Charlotte "Kay" Ranges, a nurse.
He remembers the day his father's secretary called his wife and told her Dr. Ranges was not charging all of his patients for his services.
But that's just the kind of man the doctor was — a man who respected everyone and never "talked down" to anyone, regardless of their financial status.
The doctor was a man of service in the New Rochelle community where he and his wife raised their family. Their example inspired young "Charlie," who gave up a serious relationship with a longtime girlfriend to become a priest of the Society of St. Edmund, the order of priests and brothers that founded St. Michael's College in Colchester, his alma mater.
"I was always quite pious," said the Catholic elementary and high school graduate who is now pastor of the Essex Catholic Community that encompasses Holy Family/St. Lawrence Parish in Essex Junction and St. Pius X Parish in Essex Center. "My faith came more to the surface in college," where his dorm proctor, Edmundite Father Nelson Ziter, encouraged him in his vocation to the priesthood.
It was "with tears" that the young man broke up with his girlfriend — "it could have been a soap opera," he said — admitting that he had never really shared with her his faith journey. (He now advises individuals to share their faith with potential spouses, "because that is who you are so you should share your total being" with that person.)
After graduation from St. Michael's College in 1967 where he had studied American Studies with the thought of teaching, Father Ranges entered the Edmundite novitiate and was ordained in 1972 by Burlington Bishop John Marshall at the college chapel.
Most of his ministry has been in parishes, but he did spend time in campus ministry at the college and in fundraising for the Edmundite Seminary Guild.
He has served parishes in Alabama and Connecticut as well as in Vermont in Highgate, Swanton, Essex and Essex Junction.
Now with three churches under his care, Father Ranges said he could not maintain his ministry without the help of "confreres" from St. Michael's College who assist with the celebration of weekend Masses.
"I love Essex, and I love being a priest," Father Ranges said. "I have never lost my enthusiasm for being a priest. … I could never see myself as anything but a parish priest."
And as pastor of the Essex Catholic Community with its 1,700 households, Father Ranges has emulated his father in his service to others. The parish has numerous active ministries to perform Corporal Works of Mercy including "Serve Our Neighbor Days," Essex Eats Out and funeral luncheons. The parishes support prison ministry and local food shelves. The Holy Family parish hall is used by non-profits like hospice and AA for meetings, and its kitchen is "green" as part of the parish's effort to care for the Earth.
"I have to keep the vision going," he said, emphasizing the importance of a leader practicing what he preaches.
Crediting Burlington Bishop Christopher Coyne for these "3 W's," Father Ranges calls upon people to do good works, witness to those works as inspired by love for Jesus and invite others to worship with them at Mass.
A former Marriage Encounter state coordinator who enjoys going for walks and serving as a cruise chip chaplain when he can, Father Ranges said a priest is wedded to the Church. "When you're married to the Church, it's all about relationship, relationship, relationship," he said.
A self-described extrovert, he enjoys parish life and being a part of the parish family.
And at 76, Father Ranges has no desire to retire from his role in the parish.
—Originally published in the Winter 2021 issue of Vermont Catholic magazine.