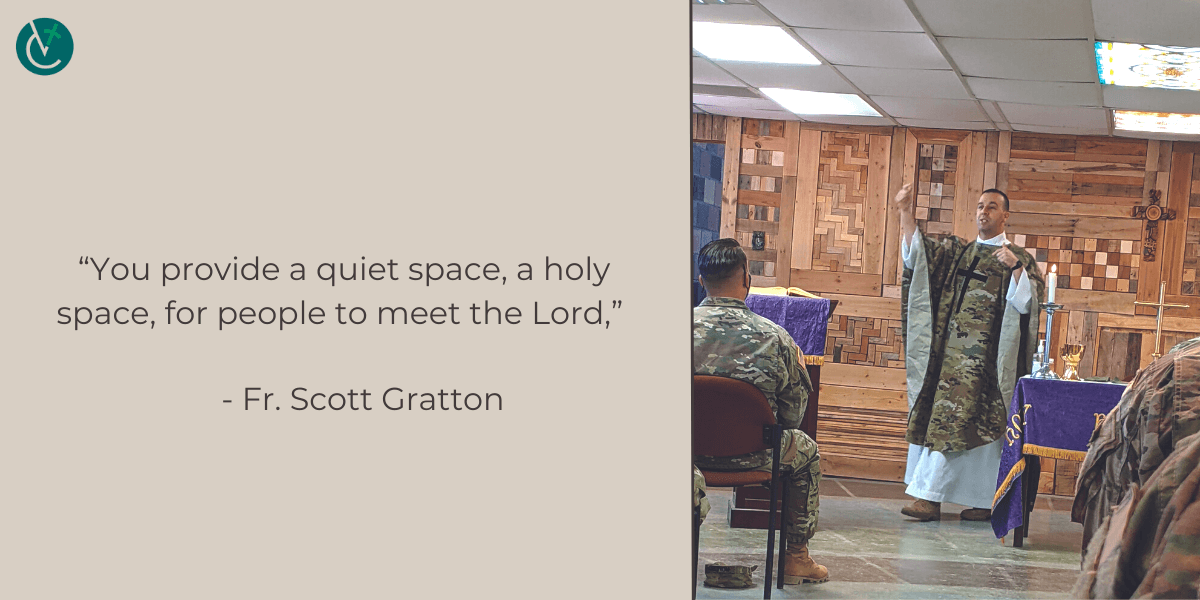 Father Gratton shares faith as Vermont Army National Guard chaplain
When Father Scott Gratton talks about baptizing an American soldier in the Jordan River — the same river in which John the Baptist baptized Jesus — he smiles, not because it was a once-in-a-lifetime experience for him. "What was special was seeing the glow of the baptized and … seeing him grow more in faith and in his thirst for God," said the pastor of Our Lady of the Angels Parish in Randolph and Our Lady of the Valley Parish in Bethel.
Father Gratton is a Vermont Army National Guard chaplain and served with the 3-172 Infantry Mountain Battalion last year in the Middle East.
It was during that service that he baptized the Army-shorts-clad infantryman from Colorado during a "Spiritual Resiliency Trip" he lead to holy sites in Jordan. "It was by happenstance that we could do it," said Father Gratton, who entered the narrow, murky waters of the Jordan in Army shorts and a black T-shirt.
A handful of other soldiers attended, along with one who served as the man's godfather.
"The thing about a baptism in the Jordan River is it is not more special that doing a baptism with Randolph tap water," Father Gratton said — though certainly it is more unusual. In any baptism he performs, he sees "a creature of God" become a "beloved son [or daughter] of God," and that is what inspires him. "It is powerful to experience that."
Father Gratton, one of the youngest priests of the Diocese of Burlington, left his parishes in January 2021 and returned from active duty in December; he remains active in the National Guard.
Sharing his faith while deployed was in many ways no different than sharing it while serving as a parish priest: "You provide a quiet space, a holy space, for people to meet the Lord," he said. "You provide the sacraments," which are especially meaningful to Catholics who are risking their lives in service to their country.
Many times Father Gratton shared his faith simply by being present to the soldiers, the cross on his uniform signaling he could be approached in confidence and could bless and teach his fellow service men and women.
While deployed, the chaplain taught a Catholicism 101 course every week, which usually drew up to 20 participants; at least four of the people he worked with were confirmed at Easter. Father Gratton will perform the marriage of another soldier in July.
It can be difficult to break through the "hard shell" of some infantrymen who "are tasked with the worst jobs," but Father Gratton learned one way to reach them is to suffer alongside them.
One way he did that was to stand with them in the sand on their 12-hour shifts in the 120-degree heat of the desert, available to listen and talk as they needed.
Father Gratton said he was able to do this — instead of sitting in a sometimes-air-conditioned office — thanks to his own faith and prayer life and to the "communion" that existed between his Vermont parishioners and the soldiers, whom he refers to as "my soldiers."
Parishioners boosted him and the soldiers with care packages sent every week with such treats as maple syrup, granola bars and coffee.
What was difficult, Father Gratton said, was sometimes not having brother priests nearby. In fact, for one three-to-four-month period, he was the only priest in all of Saudi Arabia so had no access to the Sacrament of Reconciliation or to the preaching of another member of the clergy.
He sometimes felt spiritually depleted, but he knew his parishioners — and others — were praying for him. And he "tapped into" the grace he had previously received from the sacraments.
Father Gratton, who also serves as chaplain at Norwich University in Northfield, does not expect to be deployed again for six to seven years, unless there are "unexpected circumstances." But whether he is deployed and ministering to soldiers or serving as a Vermont parish priest, his concern for his people remains the same: to help them realize the importance of faith and that they are not made for this world. "Life is short, and I want them to be prepared for eternity."
—Originally published in the Spring 2022 issue of Vermont Catholic magazine.