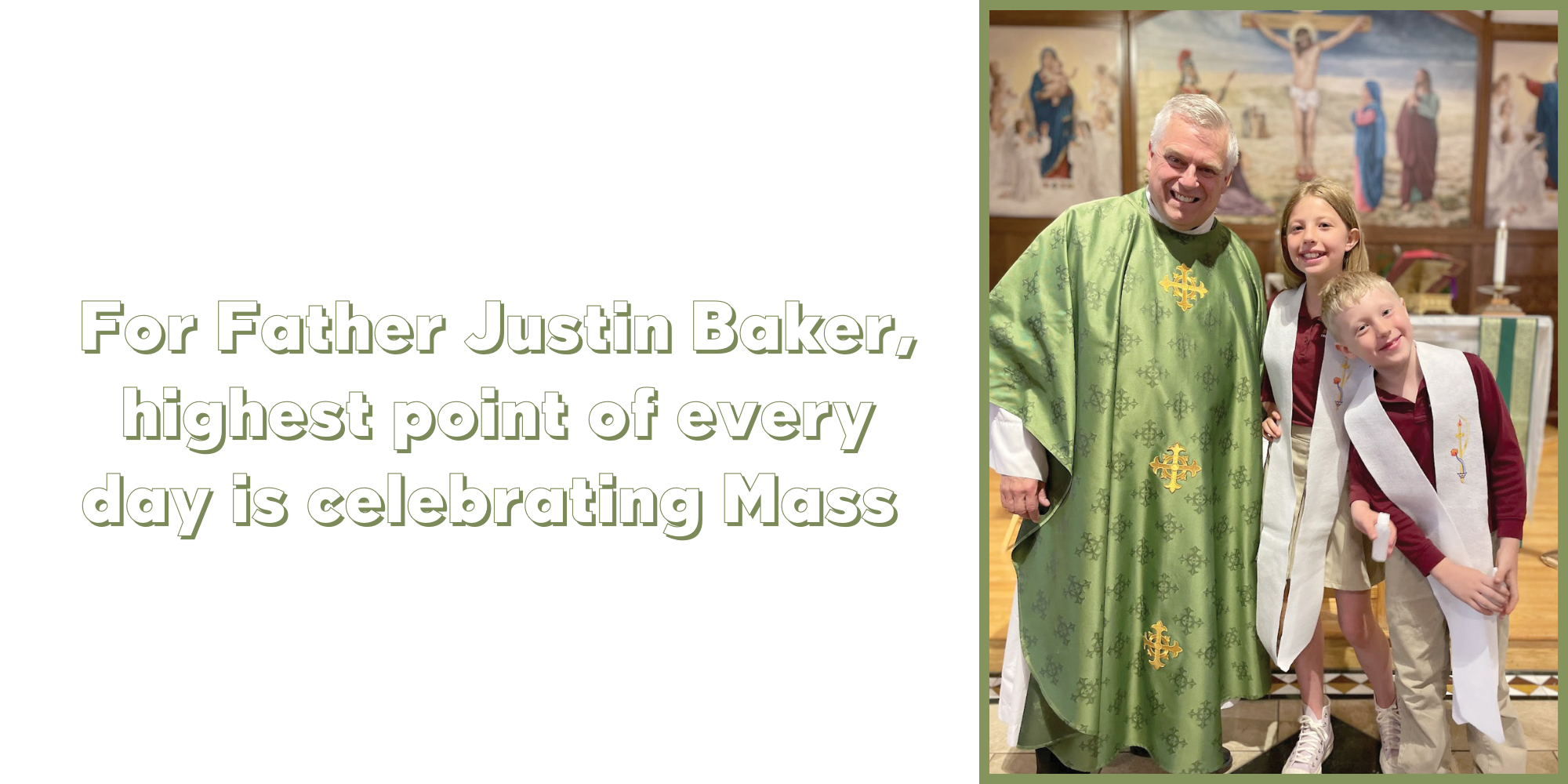 For Father Justin Baker, highest point of every day is celebrating Mass
Justin Baker was an adult before he ever attended a Catholic school, before he ever thought of becoming a priest.
But when his pastor at Holy Family Church in Essex Junction, Father Francis Holland, asked him if he had ever considered becoming a priest, the priest had planted a seed in the young businessman.
"I started thinking about it. Nobody had ever mentioned it," he said.
Now pastor of Christ the King/St. Anthony Parish in Burlington, Father Baker has spent only four and a half months at a parish without a school.
It's part of his ministry he enjoys — celebrating Mass for the school community, interacting with students and teachers.
The early years
Father Baker was born in Burlington and raised in Essex, a 1981 graduate of the local high school. Four years later he earned a bachelor's degree in electrical engineering from the University of Vermont, and instead of pursuing that career, he went into the Dell'Amore marinara sauce business.
By 1993 he owned a house in Winooski and attended St. Francis Xavier Church there. But he had discerned the priesthood and decided to enter the seminary for the Diocese of Burlington. "I had looked into the priesthood because I found the world boring and uneventful. I wanted more," he said.
Through the priesthood, he knew he would be dealing with the eternal, and that he knew would not be boring.
After seminary training and earning a master of divinity degree at Mount St. Mary Seminary in Emmitsburg, Maryland, he was ordained in 1999 at age 35.
In addition to Burlington, he has served parishes in St. Johnsbury, Manchester Center, Middlebury, Rutland, and Brattleboro.
A joyful priest
A man with a good sense of humor and appreciation for a good joke, Father Baker smiles broadly when he talks about his priesthood. "God is active!" he enthused. "The highest point of every day is celebrating Mass!"
Father Baker has been told he looks like he enjoys celebrating Mass, and he does: "I truly believe I am right there with God, presenting Him to His people. He wants to heal, heal, heal, and all I've got to do is consecrate" the bread and wine into His body and blood. "I've been given this beautiful gift to give to others. It's not a job, it's a pleasure."
Through his ministry as a priest, Father Baker finds "more of a connection with the eternal because I call down the Holy Spirit in the sacraments. That is a very special grace as a priest."
Father Baker acknowledges life's ups and downs, and he remembers standing at the altar one day ready to begin Mass for a special event and thinking "of a million other places I could be." But he realized he was not standing at the altar for himself but for God and God's "beautiful" people. "I am just an instrument of His will through the guidance of the Church, and it was a beautiful Mass."
Looking ahead
Now 60, Father Baker — who has participated in Brattleboro's Strolling of the Heifers — doesn't plan to make any changes in the near future. "I'm going to keep on rolling," he said. "I think I've still got something to give."
An easy-going man, he lets what happens happen and trusts God is in control. "We have to understand, it's not our will, it's God's will. The more we do that, the more at peace we will be."
Father Baker enjoys movies – especially action movies — and fishing, which he calls "drowning worms." He prefers fishing in a river to a lake and usually does not keep what he catches but instead "gives it back to God."
He encourages others to do their best all the time, even though on some days their best may be less that 10 percent while on others their best is 110 percent. In fact, he laughs when he says his motto for his tombstone could be, "He did his best and let God do the rest."
—Originally published in the Fall 2023 issue of Vermont Catholic magazine.