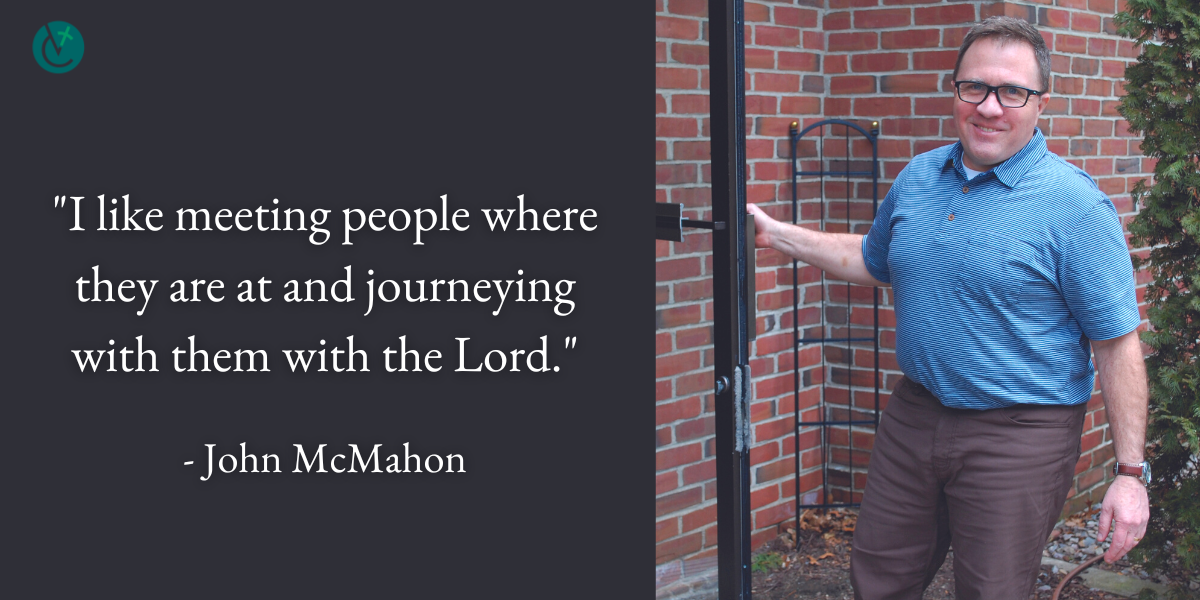 For John McMahon, work for the Church is 'wonderful, storybook blessing'
Jesuit-educated John McMahon finds working in parish ministry with a pastor who is a member of the Society of St. Edmund a "good fit."
He and Edmundite Father Charles Ranges, pastor of the Essex Catholic Community, are "right on the same page in terms of core values," said McMahon, faith formation director for Holy Family/St. Lawrence Parish in Essex Junction and confirmation coordinator at St. Pius X Parish in Essex Center.
Those values include serving people in need, hospitality, community and living a faith-filled life.
McMahon, 54, is originally from Mobile, Alabama. He graduated from Spring Hill College there in 1990 with a pre-med degree, but his life course changed when he joined the Jesuit Volunteer Corps in Anchorage, Alaska, after college. He worked in a day care for developmentally disabled children age 3 to 5.
"That experience changed my life and brought my faith into adulthood," he said as he sat with a visitor in the empty St. Lawrence Church one rainy afternoon.
After his volunteer corps commitment was completed, he stayed in Alaska, working for the state department of fish and game as a lab technician in a fisheries genetics lab. He discerned where God was calling him, ruled out the priesthood and decided to pursue a master of pastoral arts degree from Seattle University.
While in Seattle, he met his future wife, Tara, through mutual friends. They married in Seattle in 2000, but she is from the Boston area, and they decided to move to New England to be closer to her family.
The first and only job he applied for was at Holy Family/St. Lawrence; he has been in the parish for 20 years. "It is a wonderful, storybook blessing," McMahon said, noting he has worked with Father Ranges for the entire time. "There is a place here for everyone because of Father Charlie."
McMahon has stayed with the job because it feeds him in many ways, especially through youth pilgrimages he has taken parish members on to such places as the Camino de Santiago in Spain, World Youth Days in Poland and Spain and service work in West Virginia.
"I see myself as particularly called to serve people in the margins," said McMahon, a self-described introvert. "I want to help them find a place in the Church, and I like meeting people where they are at and journeying with them with the Lord."
McMahon appreciates his pastor's wisdom. "And he is very steady, even keeled and has never burned himself out," he said. "He is good at empowering people to do the work for the community and for the Gospel."
McMahon's work is varied, ranging from teaching classes for the Rite of Christian Initiation of Adults to coordinating the twice annual parish Serve Our Neighbor Day. "I'm very invested in the families and individuals I serve," said the father of three — Conor, 20; Daniel, 18; and Finn, 15. "I support them, and they definitely support me."
McMahon has a deep concern about climate change and a passion to address it from a Catholic perspective. "It's the biggest life issue of our time," he said, relating experiences of hiking in Alaska during summers. "I have a profound love for the wilderness where I connect with God most readily."
And though his work is not directly centered on liturgy, McMahon said he, like many others in the Church, is concerned about bringing people back to Mass after the height of the Covid-19 epidemic. He focuses on the Eucharist and the Sacrament of Reconciliation and tries to rekindle others' understanding of them and desire to receive them. "We need those two sacraments to be faithful disciples," said McMahon, who likes to run and walk near the Winooski River with his rescue dog, Fergus.
When he attends Mass, he said it is like being with family, and he is conscious of sharing the love God gives him and going out to serve others intentionally. "I can sleepwalk through the day very easily," McMahon said, "so the Mass helps me not to do that."
He wants to be changed by the Eucharist: "to be more like Jesus and less like me."
—Originally published in the Summer 2022 issue of Vermont Catholic magazine.