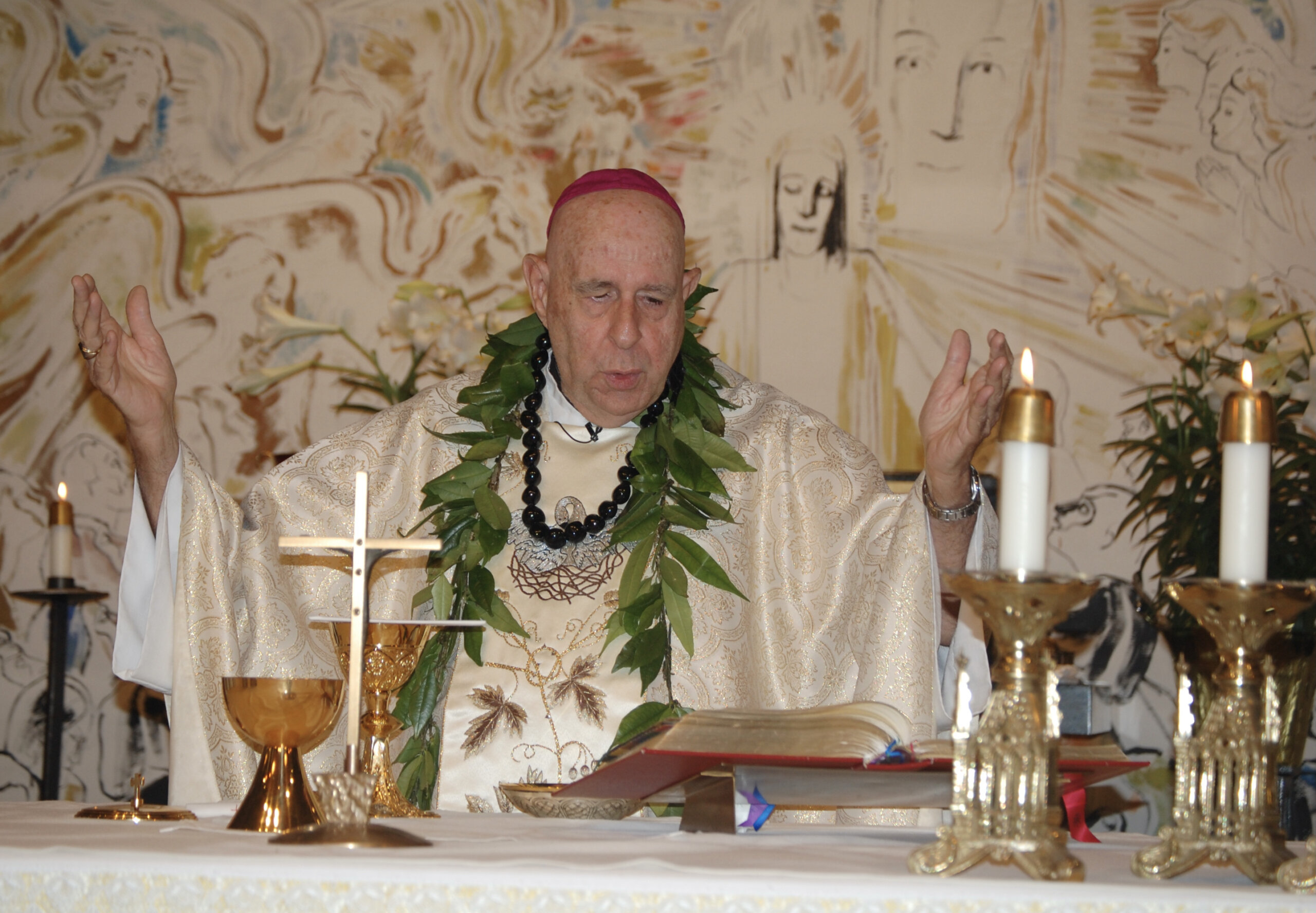 Honolulu bishop comes to Stowe for 180th birthday of Stowe native Servant of God Joseph Dutton
One hundred and eighty years ago Ira Dutton was born in Stowe, on farmland upon which now stands Blessed Sacrament Church. "No one at that time had the slightest inkling that 180 years later, people from Hawaii and people from Stowe and beyond would be together (in the church) to give thanks to God for his birth and his presence among us," said Honolulu Bishop Larry Silva.
He was the homilist and celebrant of a special Mass April 23 at Blessed Sacrament Church, marking the 180thanniversary of the birth of Ira Dutton, now known as Servant of God Joseph Dutton, a lay man who ministered to lepers in Hawaii with St. Damien DeVeuster and St. Marianne Cope and is now on the road to canonization.
After leaving Stowe, Dutton served in the Union Army during the Civil War. "He set out, perhaps scandalized that half his beloved country could think it acceptable to have other human beings as slaves," Bishop Silva said in his homily. "He went on the journey of the Civil War to try to right that wrong, yet to hold together the union of pro- and anti-slavery states. … He was disillusioned by the ugliness of war and its absurdity of killing others so that you could ultimately be at peace with them."
His early life was dissolute, and he entered a marriage he was ill-prepared to sustain, drank to excess as caroused.
But Dutton turned his life toward God and embarked on a journey of repentance "by which his very life would give witness to Jesus," Bishop Silva said.
Dutton spent 44 years isolated on the Hawaiian island of Molokai with "the most destitute and desolate outcasts of the world, those who suffered the scorned disease of leprosy," he continued. "Every day of his life (there) he would encounter Jesus in a very real way. Every day he would give food to the hungry, drink to the thirsty, clothe the naked, welcome the stranger and visit the sick and imprisoned. Most of us choose one or two of these things to do, but he did all of them every day of the last 44 years of his life."
Bishop Silva noted that everyone has sadness and distress in their lives, but he emphasized that Jesus takes the initiative to walk with everyone. "Sometimes He is disguised as a beggar in need, as a confused young person, as a depressed elder, as someone the world finds distasteful to be with. But if we come here (to Mass) every Sunday — or more often — for this breaking of bread, we will recognize the Risen One, the Lord Jesus, who gives us such joy that we must … run and tell others."
The presence of Jesus alone "can turn us from sinners into saints, so we come here to listen to Him and to know Him in the breaking of bread, and to serve Him in the disguise of those who are most in need," the bishop said.
Deacon Bob Begley of Holy Angels Parish in St. Albans attended the Mass along with other Secular Franciscans, honoring Dutton who was a Third Order Franciscan. "It was joyful to witness a life of Gospel living being acknowledged so many years after and the legacy continuing," he said.
Blessed Sacrament Church was filled for the Mass, and Father Jon Schnobrich, pastor, enthused, "We are just so grateful all of you chose to celebrate Servant of God Joseph Dutton … (who) inspires us to a life of holiness and grace."
Bishop Silva — who like the other priests celebrating the Mass and members of the congregation wore a Hawaiian lei — gave the final blessing in the Hawaiian language.
Some of the music was sung in Hawaiian, and after the Mass a luncheon featured Gracious Ladies of New York City performing traditional Hawaiian dance.
Blessed Sacrament parishioner Jan Hudgens said it is "wonderful" to have a Stowe native on the path of sainthood, noting that his example of dedication to God through the people he served in Hawaii.
Another parishioner, Lorraine Sweetser, said she is proud to be a Vermonter and proud another Vermonter has been declared a Servant of God.
Dutton's canonization cause was initiated by the Diocese of Honolulu; the next step in the canonization process is beatification.
This slideshow requires JavaScript.