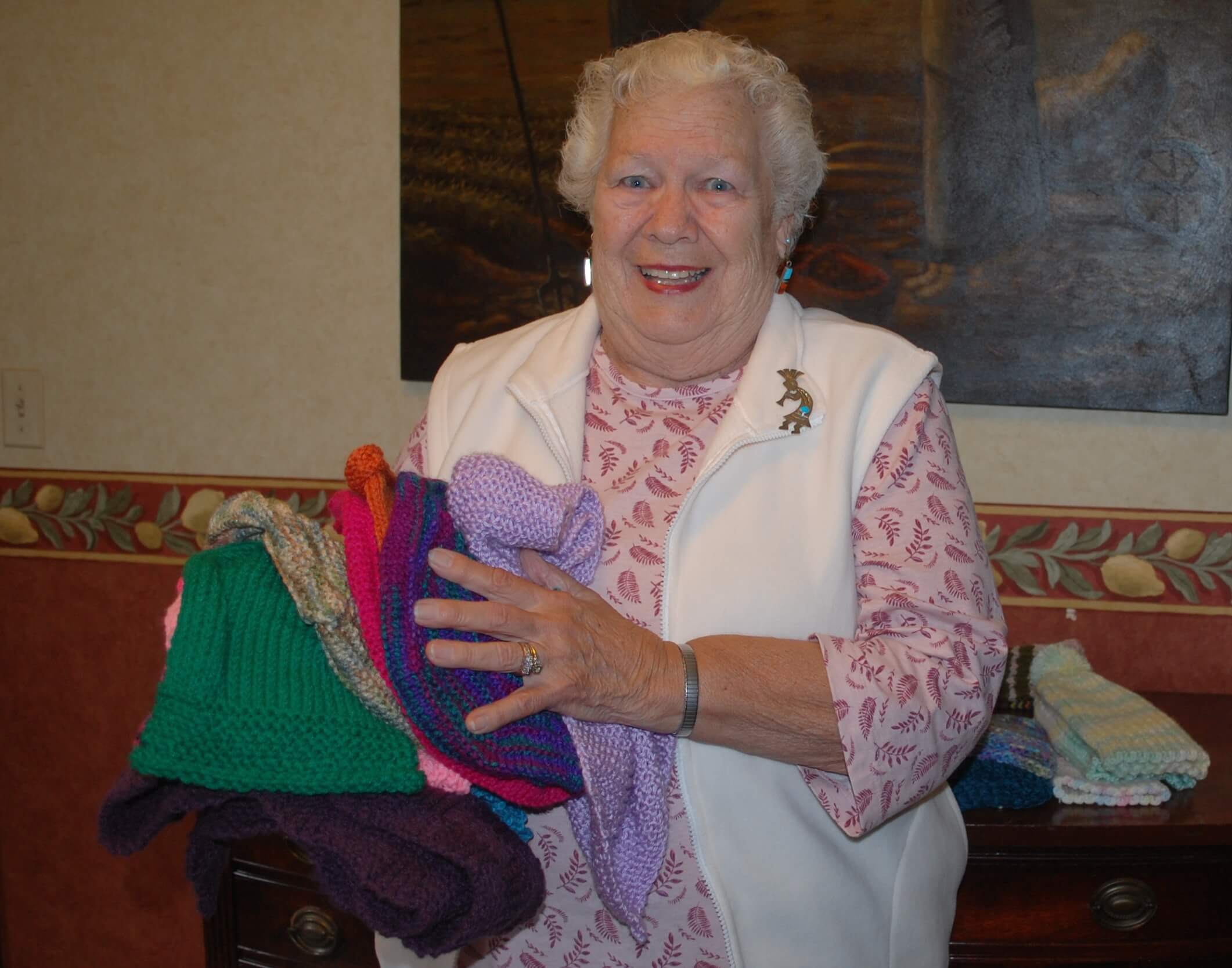 Knitting, crocheting and praying
Irene Harlow learned to knit when she was about eight years old. Her mother, Della Goss, didn't teach her; her father, Dean Goss, a Barnet truck driver, did.
Harlow doesn't know how he learned, guessing that perhaps his mother had taught him. She also guesses — with a smile — that the reason he taught her to knit was to give her something to do instead of argue with her sister and two brothers.
When they misbehaved, Mrs. Goss, a teacher, told her children to learn a poem. "We learned a lot of poems," Harlow said with a laugh.
She married in 1955 and had five children, and she knit many, many mittens.
And for the past five years or so, she has been knitting for the Chemo Hat Project, which began nearly 20 years ago.
Harlow is one of the most prolific knitters of the dozen women in the group, many of them parishioners, like her, of St. Augustine Church in Montpelier. In fact, she can knit a hat in about an hour and produces them for pre-term babies, children and adults.
Because the local hospitals to which the women donated their chemo caps have had a sufficient supply, the group now knits and crochets hats for people undergoing chemotherapy in other areas and for others like people in shelters, schoolchildren and babies.
Virginia Garand, another member of the group and a co-coordinator, is parishioner of St. Augustine's; she learned to knit when she was about eight. Her mother, Marjorie Pembroke, taught her, but Garand remembered with a laugh starting with 10 stitches but her second row had only nine and the next 12.
Her mother died when she was 11 so she went to Colorado Springs to live with an older sister, and there she knit her first sweater. "I loved knitting," she said, relating how she made a sweater for her future husband but bound off the neck too tightly so it did not fit over his head.
Another member of the group and the other coordinator, Loretta Schneider of St. Augustine Parish, taught herself to knit when she was about 12; her first project was a sweater for which her neighbor cast on the stitches.
Now an avid knitter, Schneider made her first son's christening outfit that her other two sons wore; it has now been passed on to her grandchildren.
She likes intricate patterns and considers that God has called her to knit prayer shawls for the project — "which I can do in my sleep," she said with a laugh. Actually, she can knit while reading and while riding in the car.
She has made nearly 200 prayer shawls in a "trinity" stitch of knit three, pearl three. She intertwines her prayers into the shawls and adds a medal of St. Elizabeth Seton, a saint special to her.
She also includes a prayer for comfort by Cathleen Murtha, DW, with each prayer shawl. It reads, in part, "As you wrap yourself in this shawl of comfort/
May the Mother of Mercy/The Father of Faithfulness and/The Spirit of Compassion/Wrap you in their all-encompassing love this day."
Last year the women provided 1,303 hats, 68 shawls, 82 sets of slippers, 26 pair of mittens, 48 blankets and 59 scarves plus sweaters, a baptismal gown, leg warmers, cowls and capes.
"We feel useful and enjoy helping people in need," Schneider said. "These [items] tell people 'I care about you.' A lot of the ladies pray [for the recipients] while knitting and crocheting."
Their donations were delivered to 22 places including eight cancer centers, including centers in Alaska, Boston and the Bronx; to two crisis pregnancy centers locally and in Washington, D.C.; to Kurn Hattin Homes for Children in Westminster; to six homeless shelters; to numerous schools; to a soup kitchen; and to a coat drive.
In 2005 a group of women from Marshfield, led by Mary Anne Cerasoli, decided to get together to knit and crochet for cancer patients. They had each been affected by someone who had cancer and saw the need for warm hats that also showed patients that they were loved.
Much of the yarn for the projects is purchased with donations or purchased by the group members themselves. Donations are accepted to help cover postage costs too.
For knitting specifics and more information, call 802-223-5285.