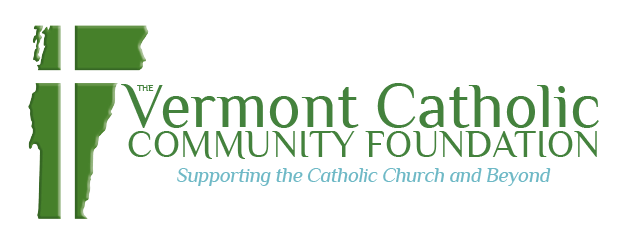 Make a qualified charitable distribution to the Vermont Catholic Community Foundation
Recently, a parishioner informed me that he had reached the golden age of 701/2 and was required to make a minimum distribution from his IR A. He asked me if he could make a qualified charitable distribution (QCD) to the Vermont Catholic Community Foundation and open a fund in memory of his parents that would benefit the parish cemetery where they are buried. The answer is yes.
Required minimum distributions, often referred to as RMDs, are amounts that the federal government requires individuals to withdraw from their traditional IR A or employer-sponsored retirement plans after you reach the age of 701/2. RMDs are calculated by dividing your traditional IR A or retirement plan account balance, as of the prior year end, by a life expectancy factor specified in IRS tables based on your current age.
These withdraws are taxable income unless the distribution is made directly to a QCD. The Pension Protection Act of 2006 first allowed tax-free charitable donations directly from IRAs to a qualified charitable organization up to $100,000, and the Protect Americans from Tax Hikes (PATH) Act of 2015 made these tax-free charitable donations permanent.
Why are QCDs important? "Without this special rule, taking a distribution from your IR A and donating the proceeds to a charity can be more cumbersome and sometimes more expensive. The process would involve requesting the distribution from the IR A, making the contribution to the charity and then itemizing this tax deduction when you pay your taxes if you eligible for the deduction under the Internal Revenue Code Section 170.  You can avoid all this by making a QCD tax-free donation directly from the IR A to the charity and then the distribution is not counted as gross income," said Brigette White, a VCCF Board member and partner at Hickok & Boardman Financial Planning.
Established in 2015, the Vermont Catholic Com-munity Foundation's purpose is to provide a mechanism for the Catholic community to make charitable gifts directly to the Catholic initiatives and entities that matter most to them and to help the schools, parishes and ministries in the Diocese of Burlington build a strong foundation for the future. Today, the foundation has 55 funds supporting a variety of Catholic ministries throughout Vermont.
To learn more about the Vermont Catholic Community Foundation and established funds, visit vtcatholicfoundation.org or contact Ellen Kane at 802-658-6110 ext. 1226 or ekane@vermontcatholic.org.
—Originally published in the Summer 2019 issue of Vermont Catholic magazine.