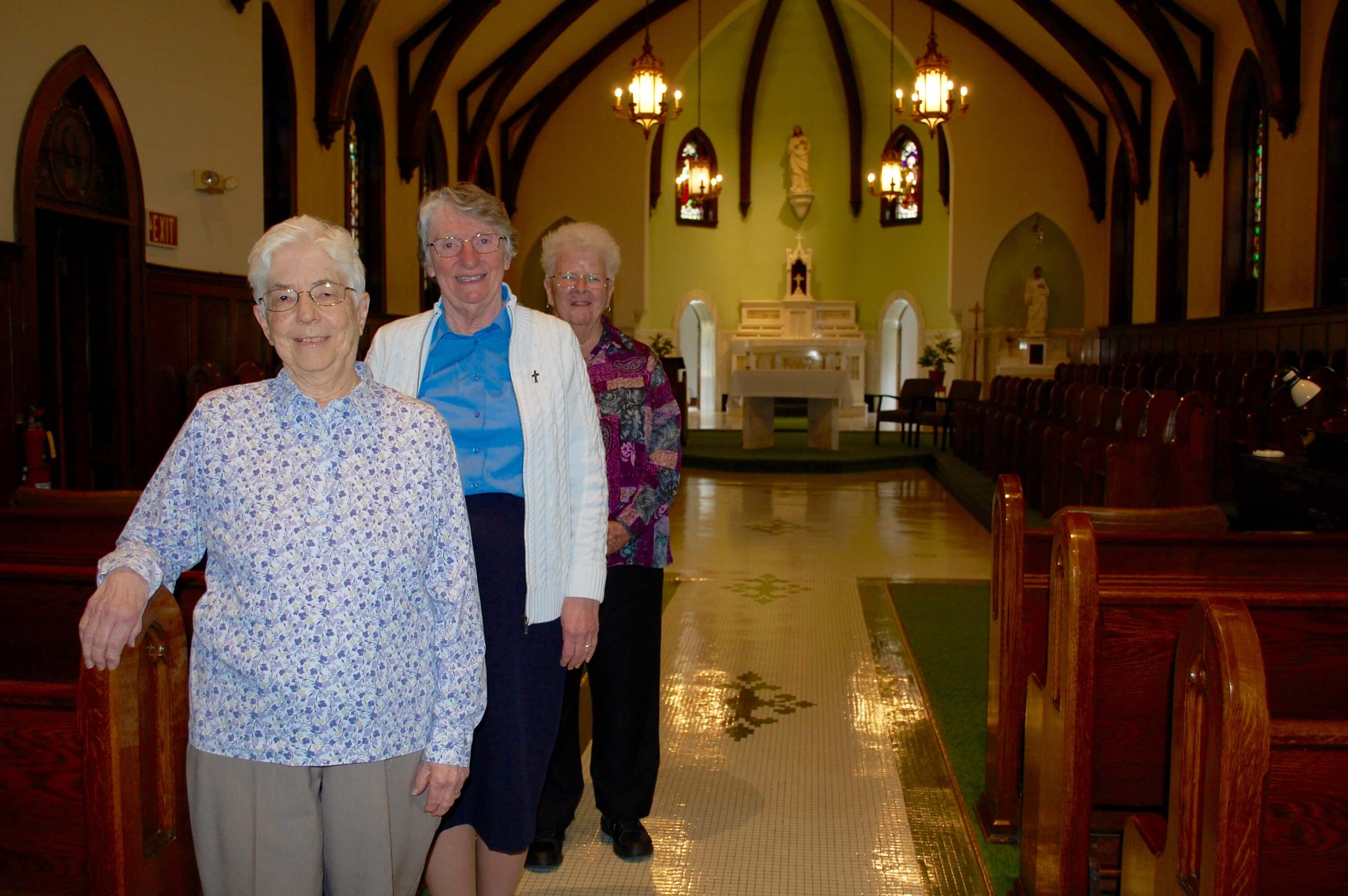 Mount St. Mary and the Sisters of Mercy
Mount St. Mary is all quiet now.
The convent, once the motherhouse of the Vermont Sisters of Mercy, always had a strong measure of silence as the sisters observed ancient rituals that called for no talking, times of silent prayer and defined hours for sleep.
But there were times that weren't so quiet: The December Feasts of Holy Innocents when the novices performed skits, the Church feast days when the nuns danced in full habits, the evening sing-alongs, the Sisters of Mercy orchestra concerts and their Super Bowl parties. There were celebratory liturgies in the Chapel of the Sacred Heart, community "chapters of affairs" and "chapters of election" that drew all members home, dinners to honor jubilarians and a bustling printing business call Mercy Press. And on Christmas morning the novices used to sing carols to wake up the older members of the convent community.
But that is all in the past now as The Sisters of Mercy Northeast Community has closed Mount St. Mary.
The 31 "Vermont sisters" now live at Our Lady of Providence Residence in Winooski and independently at other locations in Burlington, South Burlington, Connecticut, Nebraska and New Mexico.
But their ministries continue, focusing on women, immigration, the Earth, nonviolence and racism, and their nearly 80 lay associates assist them in their corporal and spiritual works of mercy. Their three sponsored ministries in Vermont are Mater Christi School and Mercy Connections in Burlington and Mercy Ecology at Mercy Farm in Benson.
Once a predominantly teaching order, Vermont Sisters of Mercy staffed schools in Burlington, Barre, Montpelier and Middlebury. Today they serve in education, social work, retreat work, ministry to immigrants and refugees, radio ministry and care of the Earth.
They also have served in parish and prison ministry, homeless services, hospitality ministry, peace advocacy, government and congregational leadership.
"Our sisters have brought life to the Church," said Sister Laura Della Santa, coordinator of sisters in the Vermont area of the Northeast Community, who called them "wisdom women" who moved from the pre-Vatican II structures and rules to the post-conciliar changes that included giving up their habits for lay clothing and moving from convents to small group and individual living accommodations.
Mother Stanislaus O'Malley, the Vermont foundress of the Sisters of Mercy, brought members of the order to the Green Mountain State in 1874 at the request of the first bishop of Burlington, Bishop Louis DeGoesbriand, through his friendship with Mother Frances Warde, American foundress of the order that Mother Catherine McAuley began in Ireland in 1831.
Through the years, Vermont Sisters of Mercy have left indelible marks on the sisters who entered the order at Mount St. Mary. Sister Veronica Hayes (Mother Martha) brought the community through the changes of Vatican II, for example, and Sister Margaret Delaney (Sister Mary James) was well known for her exceptional care of the poor, even learning to cut hair for some of her Burlington students. They also remember Sister Rose Rowan who, as president of the order in the 1970's, oversaw a major renovation of the motherhouse.
For Sister Gertrude Myrick, archivist for the Vermont Sisters of Mercy community, Mount St. Mary — which once housed Mount St. Mary Academy and was where Trinity College began — has always been the home the sisters have come to for community gatherings. "We always came back for the celebrations of life we had no matter where we were living," added Sister Lindora Cabral, a former president of the Sisters of Mercy Northeast Community, a congregation of about 500 established in 2006 by the merger of several regional Mercy congregations.
The first wing of the brick Mount St. Mary was completed in 1886 and once was the home base of nearly 200 sisters.
The sisters had lived and ministered in downtown Burlington, and at the time Mount St. Mary was built on 36 acres on what is now Mansfield Avenue, it was surrounded by farmland.
Today "The Mount" is situated on about 26 acres; their cemetery and a stand of pine trees are on the property as is Mater Christi School.
"We are not going away, we are just leaving this property," Sister Cabral said. "There is a sadness in losing a property, but it's not like we are going away."
Over the Memorial Day weekend, the Sisters of Mercy are hosting a celebration of the order's past, present and future and recognizing Mount St. Mary as a place where they formed community and from which they went out to serve.
Dwindling numbers and an aging membership necessitated the closing of Mount St. Mary, and new office/gathering space is located in Colchester.
Though Mount St. Mary has been closed, no decisions have been made yet about its future.