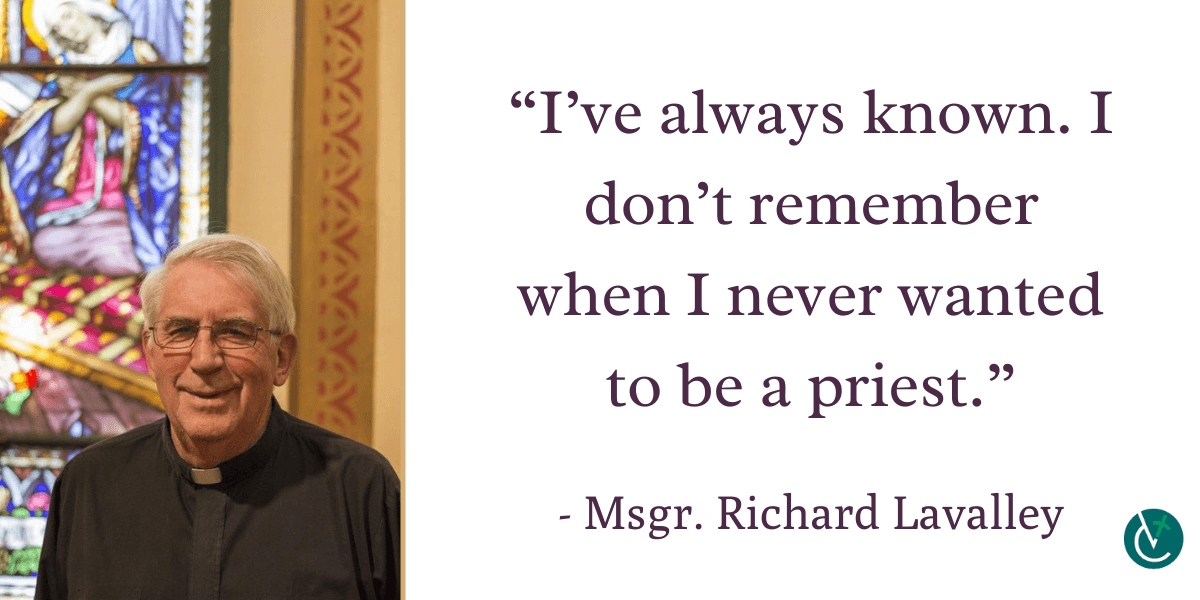 Msgr. Lavalley — a priest for 57 years: 'I love it'
Msgr. Richard Lavalley acknowledged he never really experienced a call to the priesthood.
The long-time pastor of St. Francis Xavier Parish in Winooski, explained, "I've always known. I don't remember when I never wanted to be a priest."
The desire became stronger over time, Msgr. Lavalley explained, and included ideas of becoming a Trappist monk or a missionary. But neither of those were part of God's plan.
Msgr. Lavalley was ordained to the priesthood by Burlington Bishop Robert Joyce in 1964, in the Cathedral of the Immaculate Conception in Burlington; he began his priestly ministry as associate pastor of St. Peter Parish in Rutland.
"Vocations come to different people in different ways," he observed. "Vocation stories are unique, because God has different ways of dealing with different people."
His vocation was heavily influenced by his time as junior counselor for Camp Holy Cross in Colchester where many seminarians worked during the summer. "Their example, living with them," had a lot to do with his own journey toward St. Francis Seminary in Loretto, Pennsylvania.
Msgr. Lavalley shared the story of heading to the camp kitchen for a midnight snack and noticing a light in the chapel. A seminarian, now a retired priest of the Diocese, Father Charles Davignon, was at prayer. "I stood at the door and watched him. I didn't know what he had, but I wanted it," said Msgr. Lavalley.
He also was influenced by the sisters who taught him — the Sisters of St. Joseph of Rutland and the Sisters of Mercy of Burlington. "I sing the praises of these women who had such dedication, such kindness. They were strict but kind," said Msgr. Lavalley, who would eventually serve as chaplain at both motherhouses.
"It was wonderful. I lived in the convent, prayed, laughed, cried with them and saw their sacrifice. I learned that the greatest joy and the greatest cross of community life is community life," he said.
Two sisters, with whom he's had life-long friendships, hold a special place in his memories: Sister of St. Joseph Mary Brigid Moroney and Cloistered Carmelite Sister Mary Gertrude. "Sister Mary Brigid was a marvelous, loving teacher. When I made my First Holy Communion, I knew that I was receiving our Lord. She was that good," Msgr. Lavalley recalled.
With Sister Mary Gertrude, he said, one thing stood out — joy. "She was filled with joy and love for Jesus. She radiated it," living the mission of falling in love with Jesus and the Church, a mission he would embrace for his myriad Catholic school ministries.
Msgr. Lavalley served on the faculties of Rice Memorial High School in South Burlington and Mount St. Joseph Academy in Rutland before serving as principal at the latter for 18 years. He also served as one of two chaplains for Norwich University in Northfield, and during his 30 years as pastor in St. Francis Xavier Parish, has served the St. Francis Xavier School community.
"It's always a wonderful experience, being with young people," he said.
Catholic schools face a number of "exterior" problems like finances and enrollment, Msgr. Lavalley acknowledged, but it's essential to address interior values. "You can't give what you don't have. If we are not of Christ, it shows," he stressed. "I love our parish school. I'm proud of it. Where else can I say to young people, 'God loves you.  Jesus died for you and rose for you and gave you life in baptism.' If not here, where?"
In addition to Catholic schools, changing times are affecting the Church in many ways, Msgr. Lavalley said. "There is not only a decline in seminarians, both convent motherhouses [of the Sisters of Mercy and Sisters of St. Joseph] are now closed. The brotherhood of the priesthood needs to tighten up. The number of people fallen away or never brought in to the Church is increasing. Why? We are all products of a time — there is a lack of knowledge of faith, we live in a materialistic world, and the noise of the world is very strong," he said.
Still, said Msgr. Lavalley, "This is a very exciting time in the Church. It is a time of confusion and requires a lot of discernment. … There is beauty in understanding the cross."
He has been a priest for 57 years. "I'm still active and I love it," Msgr. Lavalley said.
He shared a prayer offered daily as a young priest: "I want this whole day for you, all for you and nothing for me."  Over time, he admitted, he added another line: "Lord, we both know I don't mean that, but I want to."
The truth is, said Msgr. Lavalley, "We are all broken. We have nothing to offer God but our poverty. We go to God with open hands."
Msgr. Lavalley was named prelate of honor with the title of monsignor in 2008. He has served as pastor in the parishes of St. Patrick in Fairfield and St. John the Evangelist in Northfield; as executive director of Camp Holy Cross; diocesan vocations director; dean of the Winooski Deanery and episcopal vicar for clergy.
— Originally published in the Fall 2021 issue of Vermont Catholic magazine.