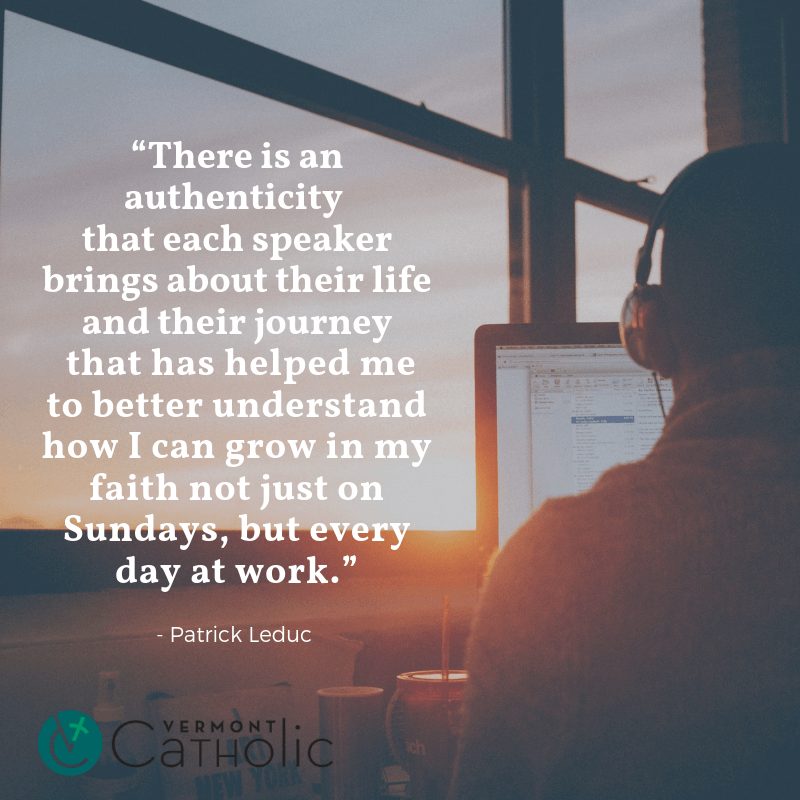 Networking breakfast to highlight Catholic professional's career, faith journey
The chief information officer and vice president of career and education outreach and human resources for the Vermont Student Assistance Corporation will be the keynote speaker at the Vermont Catholic Professionals fall event.
Patrick Leduc plans to share some of his journey of faith and how that has mirrored his professional career. "I also hope to share the story of the creation of the Faith Influenced Leaders group and some pivotal moments in my faith life that happened at work," he said.
The parishioner of St. John Vianney Parish in South Burlington is the chairman of the vocations committee and an extraordinary minister of Holy Communion. He has hosted small group conversations on exploring ways to be more fully present during the liturgy, which stems from his involvement in the diocesan lay ministry program.
"The purpose of Vermont Catholic Professionals is to join Catholic men and women and others with shared values from the business and professional communities to encourage intellectual discussions, to foster professional and faith-based relationships and to inspire service and charity to the community in Vermont," explained Brittany Czekaj, chairman of the Committee for Vermont Catholic Professionals.
There are no dues to join the group, the motto of which is Opus Fides (Work of Faith).
Participants are joined by their Catholic faith and called to serve others and proclaim the Good News by their words and works. Through faith in action, they strive to be a witness of Christ to the world.
"The talks are always enjoyable" at the gatherings, Leduc said. "There is an authenticity that each speaker brings about their life and their journey that has helped me to better understand how I can grow in my faith not just on Sundays but every day at work."
Networking is an important component. "As a small state, knowing and being connected with other Catholic professionals helps to build a network of peers that I can reach out to," Leduc said. "I work in a non-profit, service-oriented field, and knowing of other Catholics that share my values creates the opportunity to build a braided set of connections to better serve our brothers and sisters in need."
Society and evolving culture can challenge Catholics in the workplace as they strive to stay true to the values and teachings of the Church, "so having other Catholic professionals to talk with, listen to and learn from helps us to have the fortitude to be true to our faith and its values," he said. "We have a high but joyous bar to meet as Catholics. It can be easy to follow the crowd or shrink from the right decision when the peer pressure of a society — that is largely not faith based — is all around."
He suggests having a strong connection to the sacraments, especially the Eucharist and reconciliation; fostering a strong and active prayer life; reading religious texts; fellowship with other individuals; and being open about one's faith.
"If you can prioritize spending time with other Catholics, reading about your faith, pondering scripture and just being with the Lord, you'll find a peace and joy that will cross over into your work life by default," he said.
The next quarterly Vermont Catholic Professionals gathering will take place Oct. 23 from 8 to 9:30 a.m. at the Pomerleau Alumni Center at St. Michael's College in Colchester.
For more information, go to vermontcatholic.org/vcp, like Vermont Catholic Professionals on Facebook or email vcp@vermontcatholic.org.
—Originally published in the Fall 2019 issue of Vermont Catholic magazine.