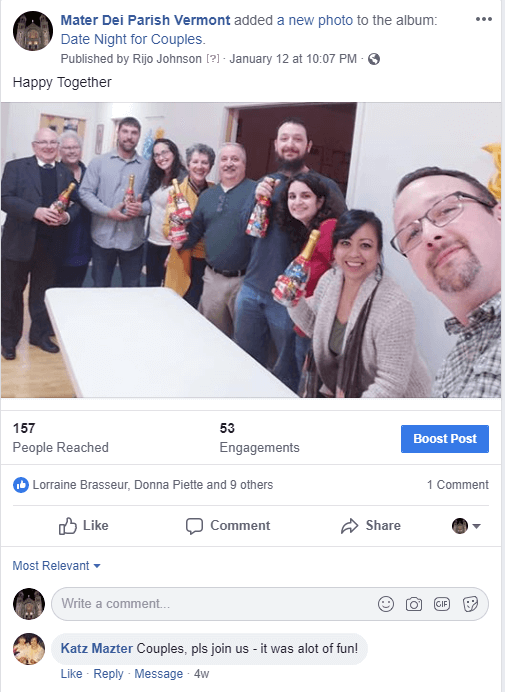 'A new method of fishing:' Parish social media
If you want to know what's happening at Mater Dei Parish in Vermont's Northeast Kingdom, just turn to Facebook.
The parish — with churches in Newport, Derby Line, Island Pond and West Charleston — has an up-to-date webpage that Internet users can go to, but its Facebook presence makes it possible for news to be delivered to its "friends."
"Social media is simply another means of bringing the love of Christ to His people," said parishioner André Gratton. "Through social media, parishioners and anyone so inclined can feel further connected to Mater Dei Parish and the Catholic Church as a whole."
Vocationist Father Rijo Johnson, pastor, wants the parish to be on Facebook as a way to reach out to various audiences so that they can see and engage in what the parish does.
Gratton, one of three parish Facebook administrators, said the strategy is the pastor's. "He determined early on that if there were three or four administrators, each posting what they thought would interest the parishioners, it would create a wide variety and constant stream of postings. He was right."
Postings include photos of parish events, saints of the day, daily reading memes, videos of special Masses and celebrations and posts from other Catholic Facebook pages such as the Diocese of Burlington and Burlington Bishop Christopher Coyne.
"Social media brings new people to look into what a parish does. Sometimes they check in to see what we do. If they like, they might continue to come," Father Johnson said. "Jesus is the main story of everything. Social media is one of the tools we use today to bring Jesus to our brothers and sisters. …"
As of the end of January, Mater Dei Parish had 343 Facebook followers; 69 percent women. Followers were from nine states and 10 countries.
"Jesus told His disciples that He would make them fishers of men. Social media is simply a new method of fishing," Gratton said.
—Originally published in the Spring 2019 issue of Vermont Catholic magazine.