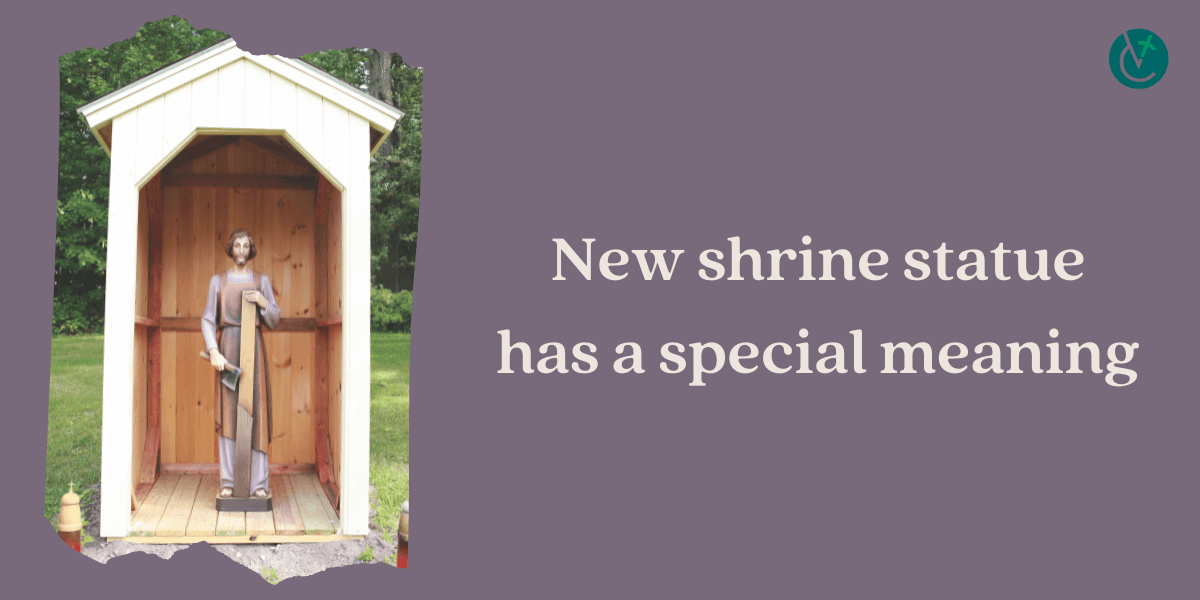 New shrine statue has a special meaning
During the summer, visitors from Vermont, New York, Canada and beyond make pilgrimages to St. Anne's Shrine in Isle LaMotte to see the golden statue of Mary that once stood atop the fire-destroyed Cathedral of the Immaculate Conception in Burlington, attend Mass in the outdoor chapel and pray in front of the 14 saint statues that are scattered throughout the grounds.
This year a new statue was added that is special to the shrine's spiritual director, Edmundite Father Brian Cummings. He wanted to add a statue of St. Joseph the Worker in memory of his father, William Cummings.
"I wanted to get the one for St. Joseph because it was the year of St. Joseph but also as a way to honor my father who was a World War II veteran and worked two jobs for most of his life," he said.
Friends of Father Cummings helped raise enough money to purchase the statue.
"I had the opportunity to talk to some of my friends back in New Jersey, people I went to high school with and some local friends, and they were generous to make contributions in honor of my dad," he said.
Soon a plaque will be added, and then the new statue will be blessed. St. Anne's Shrine is a popular spot for people to dedicate benches and statues in memory of loved ones.
"We've got a lot of friends going back decades, we've got a lot of people that have been here, and this place means a lot to people. A lot of people do honor their relatives, particularly those who have died," Father Cummings said.
He hopes to get more statues, especially ones of saints who are known to have visited the area like St. Isaac Jogues and St. Andre Bessette.
—Originally published in the Fall 2021 issue of Vermont Catholic magazine.