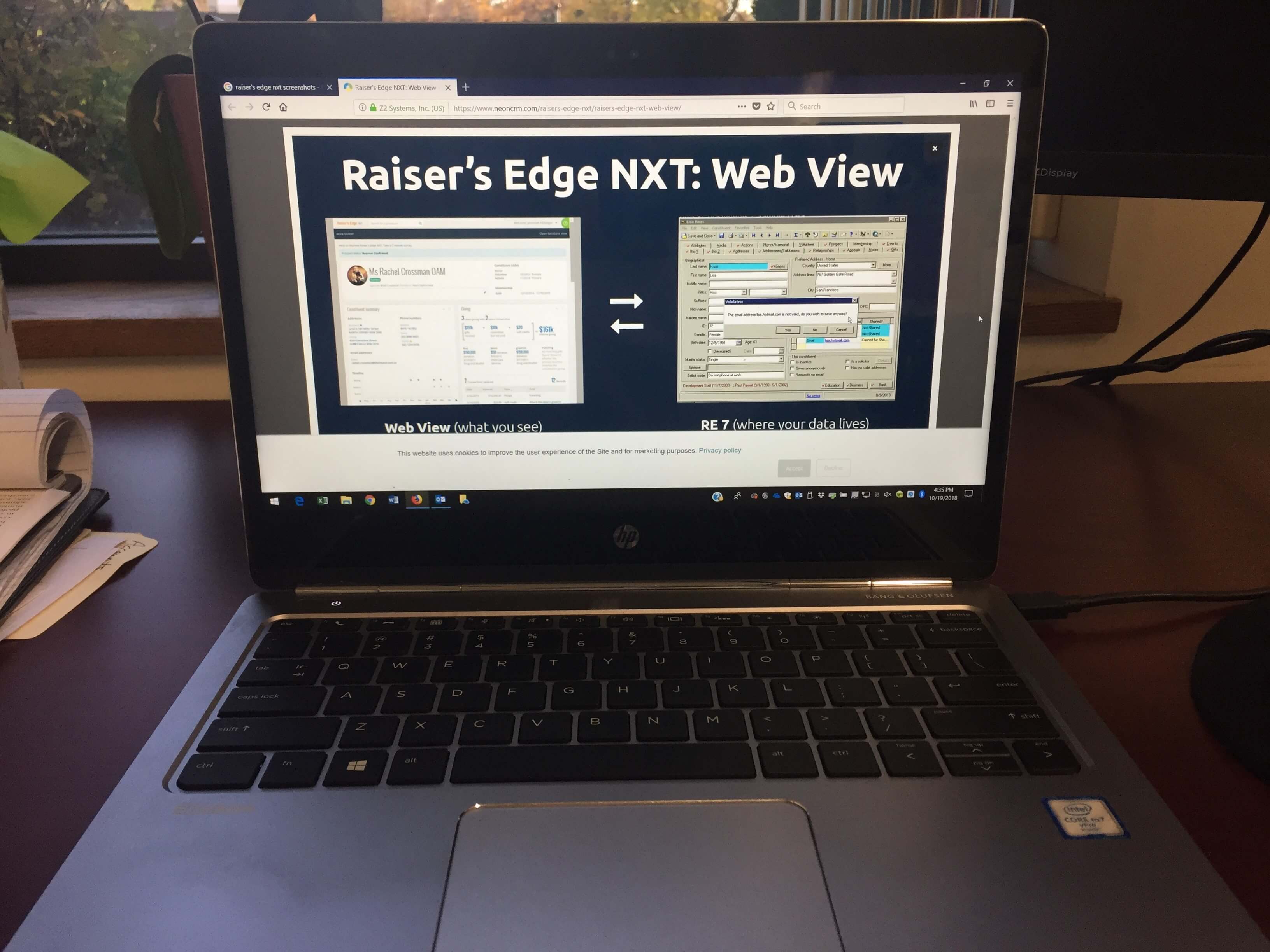 New software for Diocese, parishes
The Diocese of Burlington is improving operations and communication thanks to the use of new software for stewardship and for parish work.
The Office of Development, Stewardship and Communication has completed a conversion of Bishop's Annual Appeal and event data system software to an easier- to-use web-based system, Blackbaud Raiser's Edge NXT, with an advanced online registration and donation tool.
The Vermont Catholic Community Foundation is a separate nonprofit from the Roman Catholic Diocese of Burlington and was searching for a database to manage donor information and correspondence, donor prospects, foundation funds and events. "This provided the Diocese with an opportunity to upgrade their software used to manage the Bishop's Annual Appeal's fundraising efforts, mailings, gift entry and online giving, event management and online communication for a discounted rate if it was purchased together with the foundation," explained Dawn Kellogg, assistant director of donor and community relations in the Office of Development and Stewardship/Vermont Catholic Community Foundation.
More than 150 Dioceses throughout the country use this particular fundraising software, and by collaborating with the foundation, the conversion costs were significantly less, she pointed out. This new software has security levels in place to ensure that Bishop's Appeal information remains separate from the foundation, and staff for each organization can only access their gift records.
Raiser's Edge NXT will be used to manage The Vermont Catholic Community Foundation operations, donor information and correspondence, donor prospects, foundation funds online giving and events.
It will be used in a similar way to manage the Bishop's Annual Appeal fundraising efforts, appeal mailings, online giving program, gift entry and management, event management and online communication.
"The benefits from the Diocese's perspective is that Raiser's Edge will enable us to better engage, communicate, expand, measure and manage the Bishop's Annual Appeal and communication with donors," Kellogg said. "Additionally, the software, built specifically for non-profit fund raising, has the ability to record all communication, gifts and events invited and/or attended with the donor/parishioner with ease as event management and online giving is part of the tool."
This will allow the Diocese to get a better understanding and/or picture of donors/ parishioners, their preferences and improve overall communication. "We will know what Diocesan-wide events, activities and initiatives are of interest, what specific ministries and programs donors want to support," she said. "Raiser's Edge has a robust querying and reporting functionality that will allow staff to group and extract information."
For the parishioner and/or the Bishop Annual Appeal supporter, most noticeable will be the simplicity and ease to give online and streamlined communications from staff at the Diocese.
The Blackbaud Raiser's Edge software is the non-profit industry leader, she noted, saying that more than 150 Dioceses throughout the United Sates use Raiser's Edge to manage their community foundation and annual appeal program and use a different software at the parishes to manage census, sacraments and offertory.
Thus the Diocese determined that it is best practice that there be a separation between parish level offertory and sacramental records, the Bishop's Annual Appeal and the Vermont Catholic Community Foundation. Gabriel Software, the new parish level software, is designed specifically for parish operations and record keeping.
Parishes are in the stages of changing to Gabriel Software for such functions as sacramental and financial record keeping, committee notes, ministry scheduling and faith formation. Plans call for the conversion to be complete by the end of the year.
Gabriel Software — the mission of which is to serve the Church — delivers functionality for parishes and dioceses. Gabriel enables its clients to communicate with their parishioners and members and leverage current communication methods including e-mail and texting.
"Though Burlington is the first Diocese to mandate all of their parishes must use Gabriel as a common system, we are currently engaged with three others that are discerning the same," said Armand J. Brunelle III, Gabriel Software's CEO and managing partner.
The Attleboro, Massachusetts-based company currently is operating within nine Dioceses in the United States.
Originally developed in 1999 as a software package for a single Catholic church in Attleboro Falls, Massachusetts, Gabriel helps parishes manage their communications and member engagement via a state-of-the-art cloud-based platform established in 2016. Its trademarked Parishioner Relationship Management vision looks to bring the concepts of customer relationship management to the Church. "Our approach focuses on developing the relationship between the parish and their parishioners and not just on recording and storing data," Brunelle said. "Gabriel makes it easy to communicate with parishioners and allows pastors and administrators the ability to track parishioner interactions to better serve the people."
There was an extensive two-year product market research process, and a panel of volunteers comprised of parish-level users, pastors, technical advisors and diocesan leadership to make the decision to contract with Gabriel.
"We are beyond excited, and know that our decision will lead to simplistic contribution and data management at parishes, so that pastors and parish administration will have more time to focus on ministries and parish life," said Shannon Tran, assistant director of development, appeals and operations for the Diocese of Burlington.
Previous desktop software had presented data management challenges as well as the need for additional parish-level platforms to manage other areas of ministry including online giving; that meant more cost and more work.
"We needed to search for web-based software, a market with very few options, unless we're deciding to move out of the Church sector, which again leads to limitations on management and logistics," Tran said. "Gabriel Software is a Catholic Company, with a substantial understanding of the diocesan and parish organizational model."