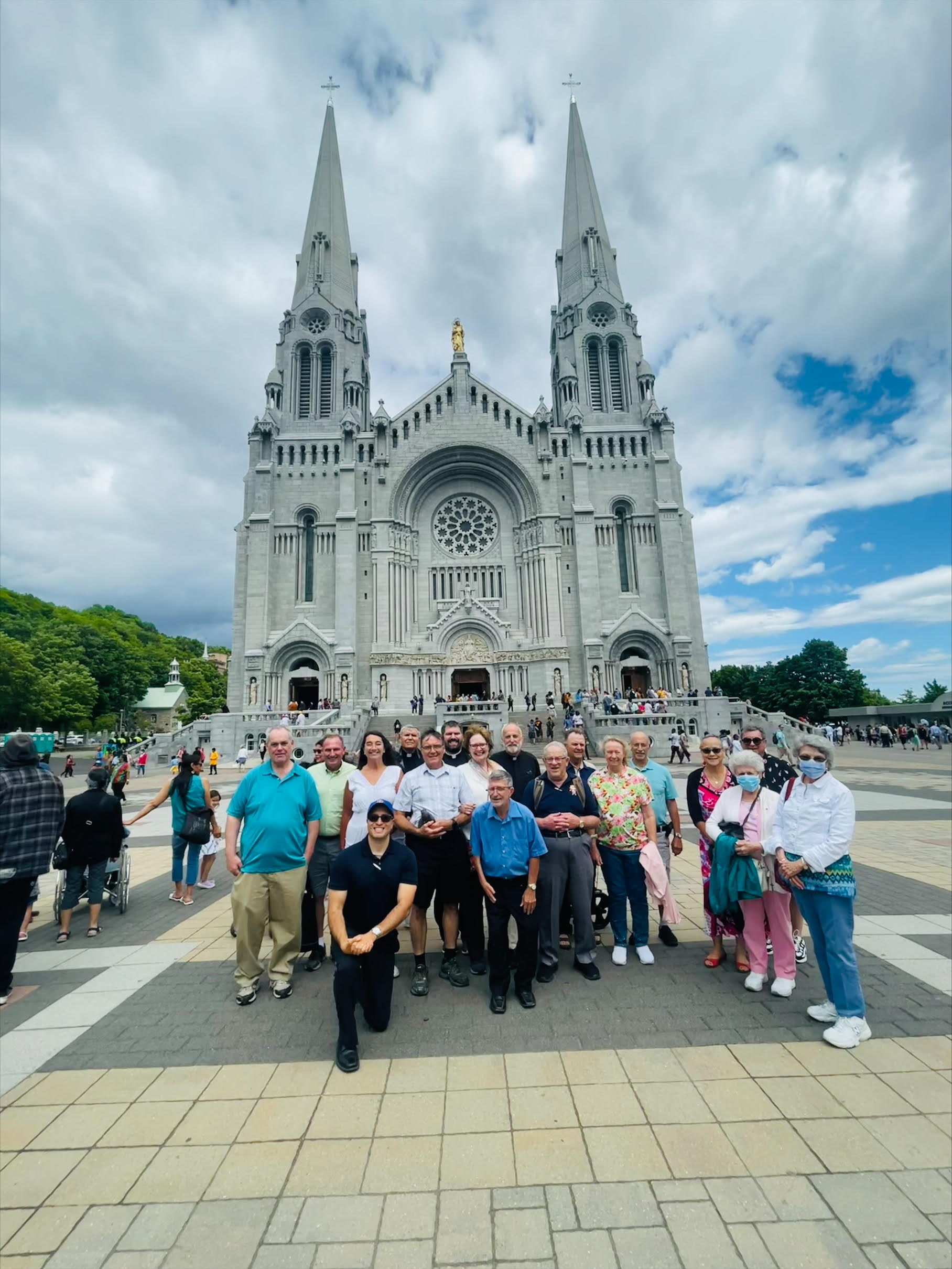 Pilgrimage to Canada
On July 25 a party of 18 individuals embarked on a religious pilgrimage to Quebec and visited four shrines: St. Anne de Beaupre in Beaupre, Our Lady of the Cape in Trois-Rivières and St. Joseph's Oratory and The Basilica of Notre Dame in Montreal.
The pilgrimage leader was Bill Greenwood, and there were three priests on the pilgrimage: Father Jerome Mercure of Fairfield/East Fairfield; Msgr. Joseph Mirro of Long Island, New York, and Knights of Columbus Vermont State Chaplain Father Timothy Naples of South Burlington.  Many Knights of Columbus also participated.
On July 25 they arrived at St. Anne de Beaupré where they observed two processions and walked around the inside and outside of the church. The Feast of St. Anne was on July 26th and the pilgrims attended Mass; the three priests with the group were concelebrants.  In the afternoon, Father Naples lead the Stations of the Cross.
At Our Lady of the Cape, the pilgrims visited the church and formed a rosary procession along the outdoor Stations of the Cross. At St. Joseph Oratory they visited the St. Andre Bessette's tomb.
The three accompanying priests celebrated a special Mass for the group; in his homily, Father Mercure spoke about pilgrims and being flexible because during a pilgrimage there is so much to learn, observe and reflect upon.
At the Basilica of Notre Dame, the pilgrims prayed and toured the interior.
"This was an awesome trip of prayer, reflection, getting to know others, deepening one's faith, learning about the various Churches, and being flexible as pilgrims," said participant Valdemar Garibay.
To view more photos, visit the Facebook page called Knights of Columbus Council #297.