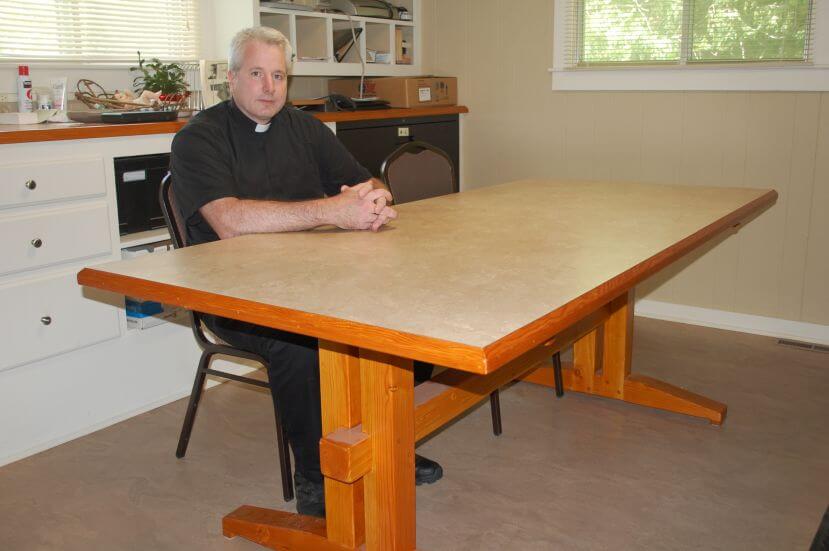 Pre-priesthood professions
Not every priest went from the family home to the seminary to the rectory. Many pursued other careers before answering God's call to priesthood.
Whether they worked in business, in government jobs, in the medical field, as a contractor or a teacher, for them, it was a major change in lifestyle and in work.
For example, Father Dallas St. Peter, pastor of St. Mark Church in Burlington, worked as an actuary, but after two years, he realized he "didn't want to work behind a desk at a computer" but wanted to work more directly with people.
But he didn't enter the seminary just them. He got involved in education first as a teacher's assistant in public schools then as a teacher at St. Francis Xavier School in Winooski.
While he was teaching, he debated about going back to school for a teaching degree or entering the seminary. "I was ready to go back to school," he said.
He chose the seminary because although he enjoyed teaching, he was drawn to the priesthood.
Like Father St. Peter, other priests of the Diocese discerned their call to priesthood while working. They include:
Father Karl Hahr
Father Karl Hahr worked for his father, the late Edward Hahr, at Hahr Construction as a contractor in New Jersey and in the St. Johnsbury area. They built houses and commercial buildings.
He began working in the business when he was 11 and learned about carpentry, putting in sidewalks and working with steel and concrete.
By the time he graduated from Lyndon Institute in 1986, he has worked is way up from laborer to skilled laborer and a few years later worked as a carpenter.
"I'm a jack-of-all-trades, but master of none," said Father Hahr, pastor of All Saints Church in Richford and several other area churches. He has experience in plumbing and electrical work and can operate a crane.
The construction work helped to foster his vocation to the priesthood. "The crew I mostly worked with were all good Catholics which made for an atmosphere conducive and supportive of living a good Christian life," he said.
He has done some roofing (which he does not like to do), put in a floor at St. Anthony Church in Sheldon and poured a new cement sidewalk at All Saints with the help of a seminarian. He has done renovations at the rectory, including construction of a chapel; sometimes his brothers (who worked with their father too) or parishioners help him. When the parish office needed a large table, Father Hahr built one; when a friend in Boston needed a tabernacle for a convent, he built one and lined it with marble, adding a carving of the Sacred Heart on the front.
"There is something about seeing the result that is satisfying," he said about working with wood.
Through his work as a contractor and carpenter, Father Hahr learned patience and perseverance.
Carpentry has always been a part of his life, but though it still is, the priesthood is his focus. "I can't take on something that takes me away from my ministry," he said of building projects.
Father Chris Micale
Before his ordination, Father Christopher Micale worked in occupational therapy and mental health counseling and as administrator of recruiting for Dartmouth College football.
While at Dartmouth he had a reawakening to the Catholic faith and was asked to consider the possibility of a priestly vocation by his parish priest and another parishioner. "I think I was becoming increasingly unfulfilled over the years with my work experience, and when I was confronted with this possibility, I began to see that the work I had done up to that point was in preparation for serving the Church in a more formal way," he said.
He had been on his own, working and living independently, so living in a house of formation with about 70 other men, praying and sharing meals together would be quite a change. "Then returning to a rigorous academic program after being out of school for years was also quite a challenge," he said. "This was six-year commitment, a frightening thing for someone who was entering middle age at the time."
He managed the change through prayer and a strong commitment that God had asked him to do this.
Now administrator of St. Thomas Church in Underhill Center and St. Mary of the Assumption in Cambridge, Father Micale's pre-seminary work required good interpersonal skills and the ability to analyze and integrate through observation of human behavior both physically and psychologically. "The positions I held over the years gave me an understanding of the emotional and physical needs of the human person, his or her development and function," he said. "This was a perfect foundation for the spiritual work God would ask of me as a priest."
Also, his office administration background was helpful in running a parish. "You start with God's vision and then through the organizational and interpersonal skills the priest can follow through on what Christ wants for His people at the local parish," he said.  "Every parish has its own identity and its own history within the greater culture. It's a balance in which the priest must express the love of God to the parish and local community especially when difficult decisions must be made."
Father Lance Harlow
Father Lance Harlow was a radiologic technologist (X-ray technologist) when his vocation to the priesthood emerged. "God was calling me from a profession to a vocation," said the rector of Cathedral of the Immaculate Conception and St. Joseph Co-Cathedral parishes in Burlington. "Generally speaking, a profession is a work one does as a means to fulfill a greater good or lifestyle," he said, adding that his career as an X-ray technologist was a beautiful profession, and taking care of the sick is a noble end in itself, but my life was empty outside of work."
A vocation, he continued, fulfills the fundamental need a person has for meaning and purpose and appeals irrevocably to the very core of one's nature, talents and aspirations. "As a calling from God, a vocation enables one to be fulfilled in the will of God which leads one to a recognition of something far greater than happiness; it leads one to peace."
The discernment process from his profession to his vocation was the most difficult
decision he has ever made because he enjoyed my colleagues and worked hard in his profession. "I had to abandon both in an act of faith guided only by the restless search to hear God's voice."
It took a year of vocational discernment with his pastor at St. Francis of Assisi Parish in Windsor.
He was the first priest ordained in Vermont by Bishop Kenneth A. Angell.
Apart from the changes that occur with maturation over time, Father Harlow said that the most significant change in his life since my professional days has been a marked sense of "gravitas," feeing the weight of the world. "As an X-ray technologist, I saw a lot of sickness and suffering, but it was within the controlled environment of a radiology exam room or hospital room. As a priest, I confront human suffering on a daily basis, and people look to me to take it away. That is weight."
—Originally published in the Fall 2017 issue of Vermont Catholic magazine.