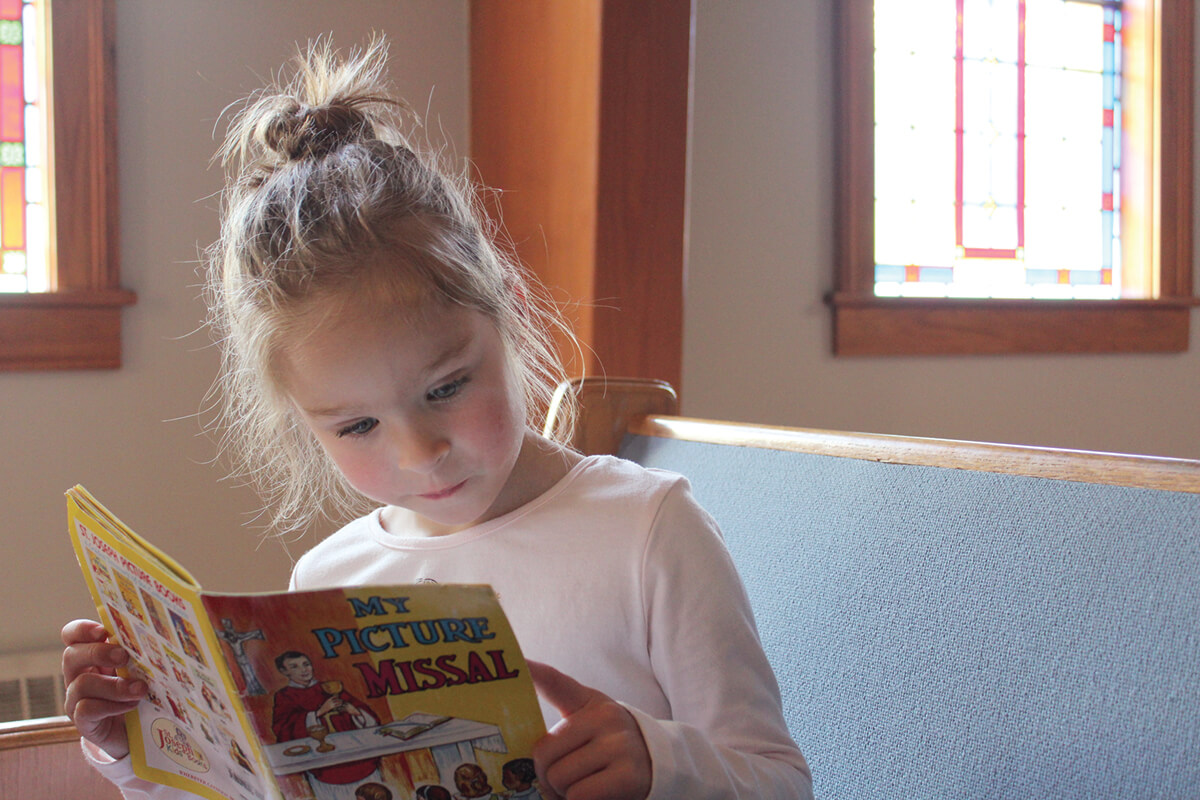 Providing welcoming spaces in worship places
Christians speak frequently about Jesus' call to welcome the stranger (Mt 25) but sometimes neglect focus on providing welcoming atmospheres for those already in our midst. Hospitality is a key theme throughout Jesus' ministry and much of the New Testament. Here are a few ways that Vermont parishes strive to make visitors and members feel right at home.
Greetings from the pastor
Edmundite Father Fred McLachlan, pastor of at Our Lady of Mercy Parish in Putney and the West River Missions, and Msgr. Michael DeForge, pastor of St. Catherine of Siena in Shelburne, are known to approach new faces in the pews with a welcome and introduction. Parishioners often follow suit.
Many pastors, like Herald of Good News Father Lourduraja Simeone, administrator of St. Raphael Parish in Poultney, and Edmundite Father Charles Ranges, pastor of the Essex Catholic Community, greet people at the church doors, sometimes handing out bulletins or inquiring about families' participation in upcoming events.
Coffee after Mass
St. Francis Cabrini Parish in West Pawlet and St. Raphael Parish regularly offer coffee and other refreshments after Sunday Masses. For St. Raphael's, whose weekend Mass attendance nearly doubles in the summer due to its proximity to Lakes St. Catherine and Bomoseen, it is a way for year-round residents and summer visitors to catch up with one another. The coffee hour in Poultney is hosted by a different parish group each month, including the parish council, ladies' guild, religious education program, choir and liturgical ministers. People can learn more about the hosting group and join their ministry if interested.
Expressions of appreciation
Fathers Simeone and Ranges regularly express appreciation at the end of Masses for those involved in preparing the liturgies, including the choir, musicians, lectors, altar servers, ushers and deacons. Additionally, St. Raphael Parish hosts a summer picnic at Lake St. Catherine with food, fun and games to thank every parishioner for being a part of the Church family. The Essex Catholic Community hosts an annual volunteer appreciation dinner in December.
Intentional inclusion of young people
Many parishes encourage young people to participate in Mass as liturgical ministers and to get involved in various parish committees. Audrey Dawson, now a student at Smith College, served as a lector and volunteer on the "Green Committee" for Holy Family-St. Lawrence Parish while in high school. She currently serves as vice president of the Catholic Club at Smith.
St. Raphael Parish organizes several youth Masses throughout the year during which the children serve as lectors and ushers, bring up the gifts and sing as a youth choir. Young people at St. Raphael also take part in annual events outside of the Mass, including a living Nativity performed outside the rectory each December and a shadow Stations of the Cross during Lent.
Support for families
Practical support for families with young children can make participating in Mass or attending parish events significantly easier for them.
St. Jude Parish in Hinesburg stocks Picture Missals in each pew along with missalettes and hymnals, encouraging little ones to follow along with the liturgy.
The Essex Catholic Community offers childcare during their twice-annual Serve Our Neighbor Day.
Children who are old enough to serve at volunteer sites are encouraged to do so with their parents, but babies and toddlers who are too young to assist with projects can stay in the parish hall with designated caretakers.
Parishes with changing tables in the restrooms provide a safe and functional space for parents to change diapers. This is especially helpful during long events or for families with very young infants.
Just as St. Paul urges members of the Church in Rome to greet his coworker Phoebe and "help her in whatever she may require" (Rom 16:2), we must "welcome one another … for the glory of God" (Rom 15:7). This looks different in each parish depending on the members and their particular needs, but something we can all do to create welcoming spaces – pastor or parishioner, event volunteer or participant, elder or young person – is to ensure that all know their presence is valued by making intentional efforts to enable their active participation in parish life and the Catholic community in Vermont.
—Originally published in the Summer 2019 issue of Vermont Catholic magazine.