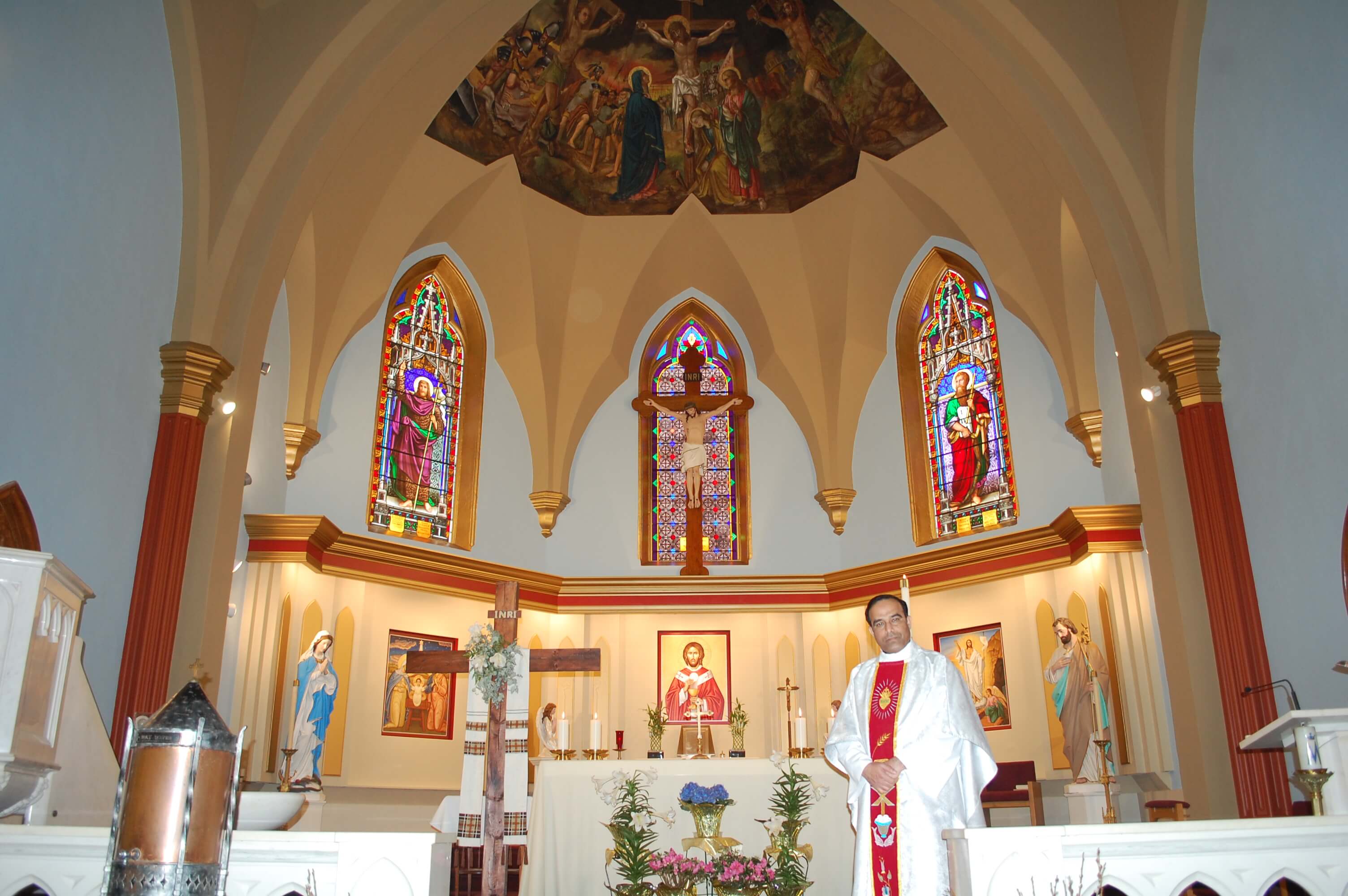 Restoration, renovation at Our Lady of Seven Dolors Church
When Vocationist Father Antony Pittappillil, pastor of Our Lady of Seven Dolors Church in Fair Haven, thought about restoring and renovating the church, he had more in mind than paint and carpeting: He wanted the finished work to be a teaching tool.
Three new icons in the sanctuary make his message clear: "Jesus was born, He died on the cross and became the Bread of Life, and by receiving the Eucharist and other sacraments we share in the promise of eternal life proven by the Resurrection."
The corresponding icons in the sanctuary depict the Incarnation, Jesus as the Bread of Life and the Resurrection.
Also new to the sanctuary is a new tabernacle, to be blessed by Burlington Bishop Christopher Coyne during a visit to Our Lady of Seven Dolors Church April 22.
The renovation/restoration project that began about five years ago also included work on the sanctuary, creation of an Adoration Chapel, interior painting, new carpeting, the addition of crown molding in the sanctuary, cleaning and polishing pews and stencil work on walls.
The $120,000 project was paid for by gifts and fundraisers like the "Change for A Change" coin collection.
The church, built in 1873, had last been painted in the 1980s, said parishioner Mary Bird; the interior walls had become stained and dusty.
The recent work made the church "very uplifting, bright and friendly," she said. "It helps you focus on God."
Said Father Pittappillil: "When you come here and you sit and meditate on these devotions [depicted in the icons], you take them to your heart and you go out and proclaim that Jesus is the Lord."
Click to scroll through photo gallery.