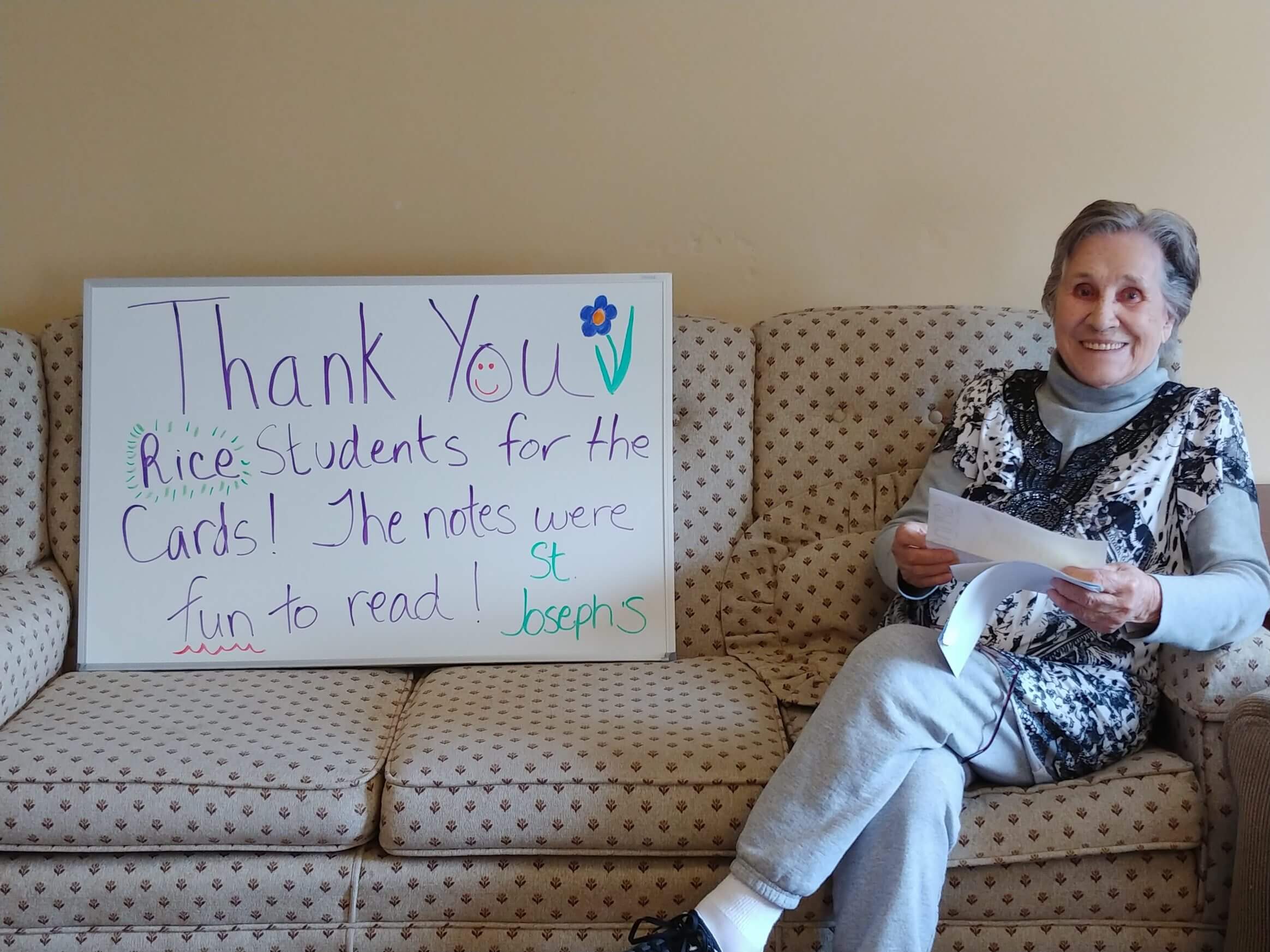 Rice students reach out to eldercare home residents during pandemic
A group of students from Rice Memorial High School in South Burlington is reaching out to residents of Vermont Catholic Charities' four eldercare homes, reminding them at a time of social distancing that they are remembered.
At least 30 students are writing notes of encouragement and including printed activities, like a crossword puzzle or word search. "Some of them have been very creative with their cards," said Elisabetta Anelli, Rice campus minister.
The idea came independently from a parent and two students.
Many of the students had service activities planned for the rest of the school year that they are no longer able to do — like running sports camps for younger Catholic school students and volunteering in after-school programs.
"Many students have the desire to do something to help during this time, but circumstances being what they are, there's not much any of us can do," Anelli said. "This letter-writing initiative has been a blessing both to enable our students to complete their service hours in a safe way and also to give them the opportunity to help."
There are also students involved who don't need school-required service hours but are looking for a way to help and do something positive. "It is especially helpful during this time when it is easy to become overwhelmed by what is going on to think of others," Anelli said. "Service can help us get outside our own fears and anxieties and bring a sense of gratitude, joy and peace — not to mention connectedness."
Students earn a half hour of volunteer service credit per card or letter that they send.
"I know that everyone is in a rough time in their lives, and I thought that by writing letters to the people who are unable to see their family members, it might bring joy and happiness to them," said Emma Petralia, 17, a  junior, who has written and mailed 40 letters.
"Jesus teaches us to help those who can't help themselves," commented junior Hannah Cawley, 17. "I saw this as the perfect opportunity to fulfill this calling. These people [in eldercare homes] are in extreme need and are incredibly vulnerable to Covid-19."
She wrote 40 letters, each with a unique drawing, and her mother mailed them.
Theresa Strouse, 16, a Rice junior, has completed six letters and is working on more. "I had run out of printing paper for crossword puzzles and was waiting on more paper," she said.
Each of her cards contains a poem, a message to a resident and a crossword puzzle.
"I agreed to participate in the letter project as a way to give back to my community and to provide support to people who could use a message of hope and love during this pandemic," she said. "For elders who are at a higher risk for COVID-19, the fear of leaving their house is increasingly present, especially for those in eldercare homes who are forced to stay in with no outside company."
She said she is lucky to be surrounded by her family, but she knows many are not as fortunate. "Something as simple as me taking time out of my week to write cards can help someone feel less alone and connected to the larger community."
Theresa said the project fits in with what she learns at Rice about Christian charity. "We are taught to always look for ways, big or small, that you can lend a helping hand to others inside or out of your community. By participating in this project, I am giving back to those who are feeling isolated and lonely in this difficult time and helping, along with many of my classmates, to strengthen our community by looking out for one another, especially the most vulnerable."
According to Anelli, this project is an opportunity for students to serve others and experience the connectedness of God's Church. "As Rice is a diocesan Catholic School it is so great that we are able to partner with Catholic Charities," she said. "This is the Body of Christ living together and serving one another. Some of our students have family members who are residents in these homes or have family members who work there. We really are more connected than we realize!"
The letter project will last as long as social distancing is necessary, but it could continue beyond. "Our primary hope is for students to be able to do service in person, but sometimes that is not possible," Anelli said. "This could be a good initiative to keep going, not to replace in-person service, but in addition to it."