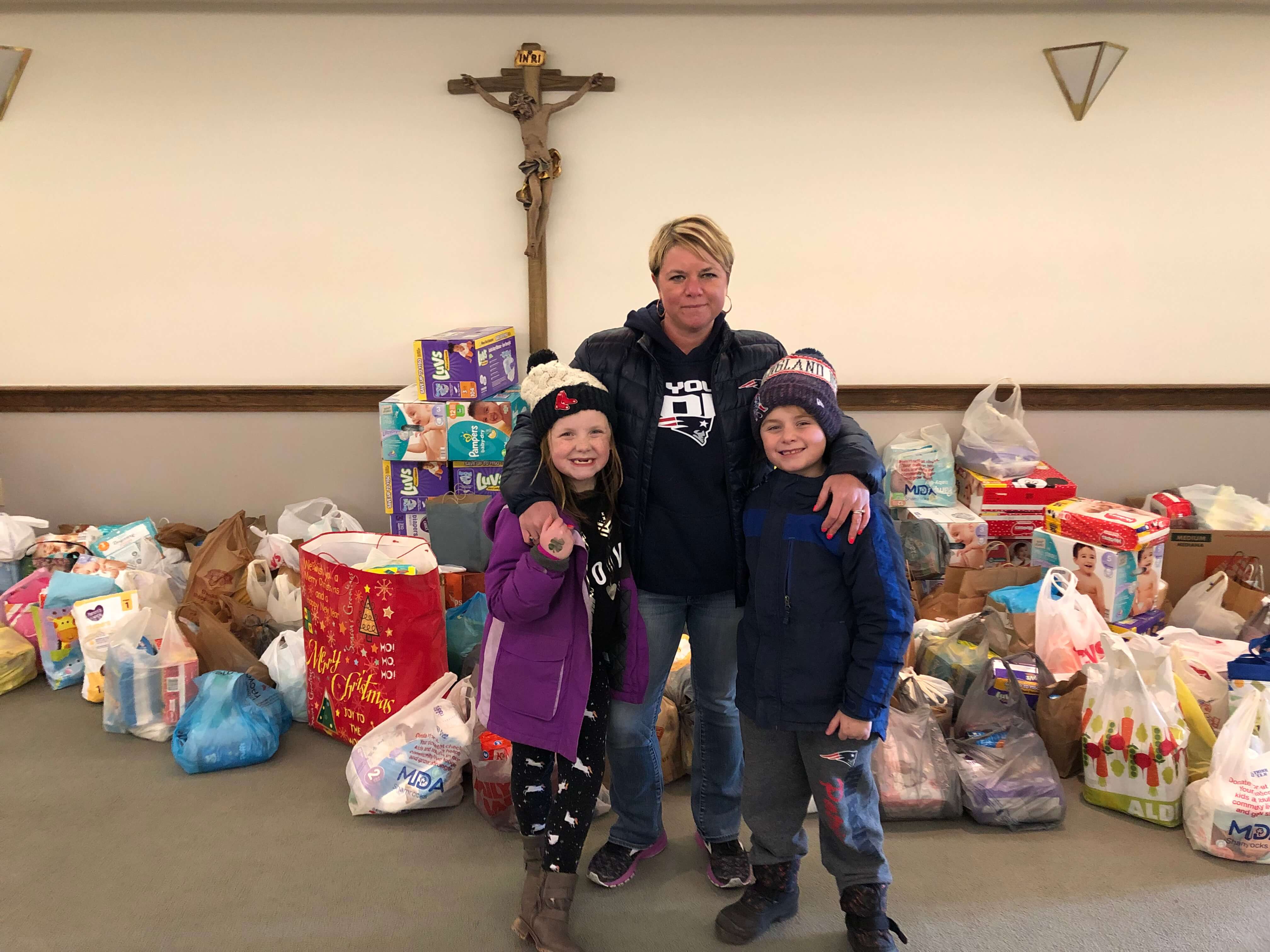 Rutland-area parishes work together to support parents in need
Members of the Rutland-Wallingford Catholic Community donated $3,000 worth of baby items and $1,000 in cash to help mothers and their young children in a new project called Pampers to Preschool Drive.
As a pro-life community, the Catholic Church "must always fight abortion on legal and political grounds, but we must also take care of those who decide to have their children, many of whom are poor," said Msgr. Bernard Bourgeois, pastor of Christ the King and Immaculate Heart of Mary churches in Rutland and St. Patrick Church in Wallingford. "This was a way for us to show support to mostly young mothers in desperate need to take care of their babies. The price of pampers and baby food is extremely high. We need to help in any way we can."
He came up with the idea of the drive to help mothers and their babies and children after the successful fall Stuff-A-Bus community food drive. "I wanted another major drive in the spring and had been told some of the same organizations were in great need of baby items," he said. Among the items collected over two weekends were baby food, formula, diapers, baby bottles, pacifiers, baby wipes and shampoo.
During Mass, the priest invited those with donations to come forward at the offertory with their gift. "It harkens back to the early Church when the parishioners would bring food and other items to the priest to distribute to the poor," Msgr. Bourgeois said. "There is a deep connection between the Eucharist and taking care of the poor."
The donations were divided between Bennington Rutland Opportunity Council and the Community Cupboard food shelf.
Tom Donahue, CEO of The BROC Community Food Shelf, said the drive demonstrated an appreciation for the lives of young children and a recognition by the local Catholic community of the challenges faced by parents who receive low-incomes while raising children. "Our clients — local families of low-income or living in poverty — are incredibly grateful for the donations. They are relieved when they see this on the shelves and appreciative of this type of support for their young families from the kindness and generosity of the parishioners."
"Food, water, clothes, visits and welcome. It is required by each of us that we give these to those who need them," Msgr. Bourgeois said. "Jesus makes it abundantly clear that anyone who follows him must be generous with what he/she has. To be a true Christian, we must reach out to others in love. It's not enough to talk about it; giving must physically happen."
Churches play a vital role in the success of local organizations that help people in need. Rutland Community Cupboard, for example, works with more than 10 churches in the area that support it financially and physically through weekly donations. "I can genuinely state that it would be extremely difficult for us to do what we do every day for the community without the support of local churches in our region," said Daniel Warneck, executive director. "This drive was special because it not only brought together three separate churches in the area for one cause, it also readily prepared our baby section for at least the next four to six months."
The donations that came in were more than he was expecting. "This drive absolutely took away the stress of being able to prepare young families that struggle with the supplies that they need for their growing children, and that is what makes it so special," he said.
Msgr. Bourgeois was pleased with the project shared by his three parishes. "These three parishes have come together in so many ways in the last three years. This is just one example," he said. "We have come together in prayer, religious education and in outreach. I have Liturgy and Outreach Committees that take in people from all three parishes. We took up the collection in all three parishes, and parishioners from each work together to make it happen.
Rutland is not alone in recognizing the benefits of parish collaboration. Similar successes have been found by parishes across the state, including Essex, Hinesburg, Charlotte, Shelburne, Bennington, and others.
"The days of each parish acting as a silo is no longer feasible," said Msgr. Bourgeois. "Parishes need to work together."
—Originally published in the Summer 2019 issue of Vermont Catholic magazine.