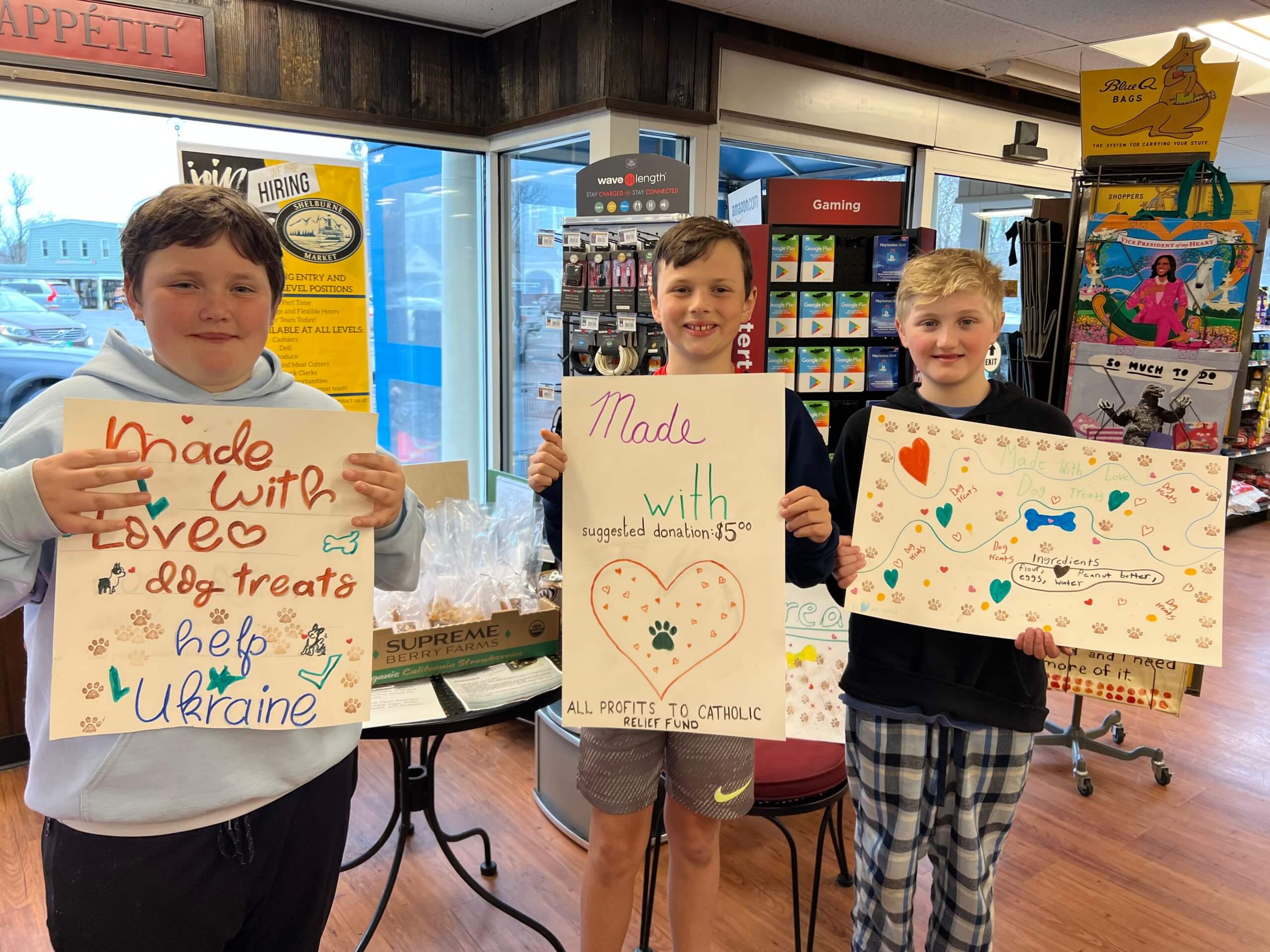 Shelburne youth raise funds for Catholic Relief Services
Youth from St. Catherine of Siena Parish in Shelburne raised $800 for Catholic Relief Services by making and selling dog treats.
"A friend had given me homemade dog treats a few months ago, and I thought what a great idea for a fundraiser; with Covid some folks still don't want to buy bake sale items but may be more inclined to get a treat for a dog or friend's dog," explained Ashley Prout McAvey, a religious education teacher at St. Catherine's who assisted the youth.
The project was open to the very young to teens to those in their early twenties; 13
participated. Parents assisted with the project: Sheila Bisanzo, Amy Guidice and Molly O'Brien.
They made about 600 treats in various shapes and put four or five (depending on size) in 120 treat bags. The suggested donation was $5 per bag; some people could only give $1 and some were able to give $25.
The dog biscuits were sold at the Shelburne Market and after Masses at St. Catherine's earlier this month.
"I really enjoyed doing this because I knew we were doing something good for the world," said Reid McAvey, 11, a fifth grader from St. Catherine of Siena Parish.
Half of the proceeds will go to CRS for use where most needed and the other half to CRS in war-torn Ukraine.
Catholic Relief Services carries out the commitment of the bishops of the United States to assist the poor and vulnerable overseas. Ashley Prout McAvey explained that CRS was chosen as the recipient of the proceeds from the fund raiser because of its "amazing work around the world and in particular in Ukraine now."
The project showed participants that "even though it is a small and simple thing, it's so easy to do something for others," she added. "Also, when terrible things happen around the world, we can pray and do something. It showed the kids that their efforts matter, and it's a very concrete way to help those in need by raising funds for them through such a great organization."
Holly Thayer, Catholic Relief Services diocesan director for the Diocese of Burlington, said the participants in this fund raiser "inspire us to seek how our own passions can be translated to help our brothers and sisters in Christ throughout the world. They demonstrate how everyone's skills, young and old, can be used to help the local community while also having a much wider impact through the support of CRS."
Their generosity exemplifies the theme of unity during the Year of Communion through their act of charity, she added.
St. Catherine Parish opened the dog biscuit project to youth outside the parish as a way to bring them together to do good. "This was a wonderful element that we hope to expand on — to invite other kids to come together with kids of the parish to help those in need," Ashley Prout McAvey said.