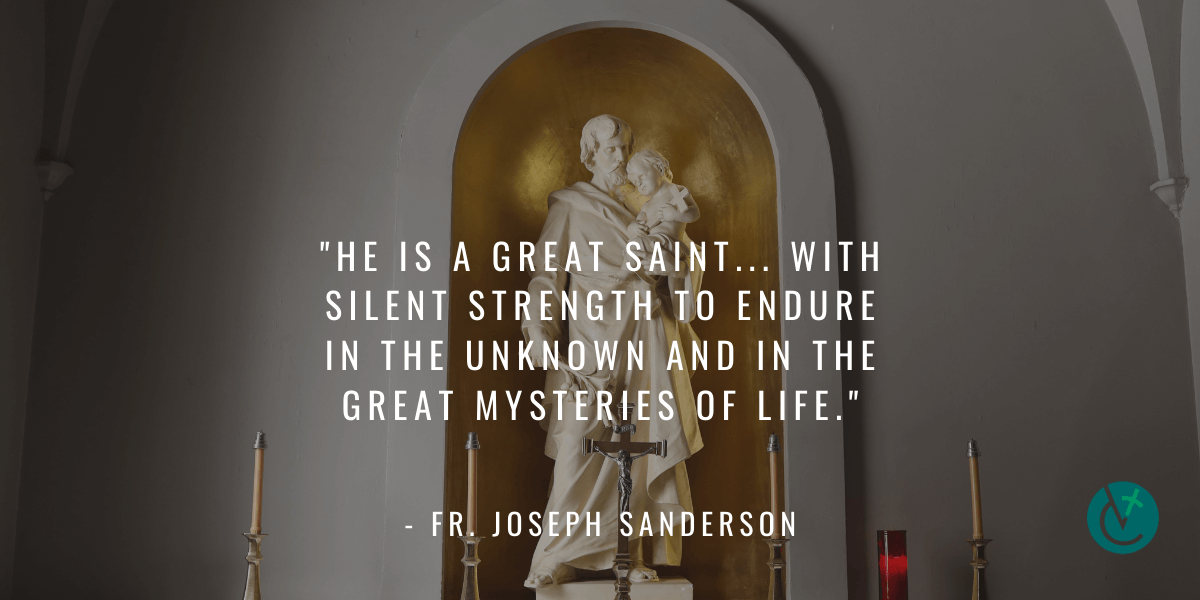 St. Joseph has special meaning to Father Joseph Sanderson
For Father Joseph Sanderson, his name — Yosef in Hebrew, which translates to "may God add or increase" — brings special meaning to his priesthood. "I hope and pray that through me God may increase in all those whom I may encounter throughout my life," said the parochial vicar of St. Francis Xavier Church in Winooski.
Named after his great grandfather, Joseph Dundon, Father Sanderson asks for St. Joseph's help when he finds his prayer life dry or difficult. And sometimes when he is celebrating Mass, he tries to imagine Mary and Joseph beside him, especially during his favorite prayer when the priest washes his hands before consecration: "Wash me O Lord from my iniquities and cleanse me of my sins."
For one of the youngest priests of the Diocese of Burlington, St. Joseph is the model of silent strength and utmost humility, a pillar of authentic masculinity and a man of strong faith and utmost trust in God's plan. "In spite of doubt and a myriad of questions, he chose to believe in the impossible and the incredible promise that his wife would bear God's only Son. He spent his life protecting and providing for Mary and Jesus," said Father Sanderson, 30.
Born in Middlebury and raised in Orwell, he is the eldest of the three children of Jennifer and John Sanderson. "Reciting the rosary together as a family played the biggest role in my journey to the priesthood," he commented.
He entered the seminary after his graduation from Fair Haven Union High School, attending Our Lady of Providence Seminary and Providence College in Rhode Island and St. John's Seminary in Boston.
Burlington Bishop Christopher Coyne ordained him at St. Joseph Cathedral in Burlington in 2017.
"I chose to be a priest for the Diocese of Burlington because Vermont has always been and will always be my home," Deacon Sanderson said.
For him one of the most beautiful aspects of diocesan priesthood is never really knowing what a new day will bring. "A phone call could be anything — a house blessing, communion call visit, sacramentals to be blessed, a confession needed, baptism request, prayers requested for a sick or loved one and so many more possibilities," he said. "Even with the uncertainties of Covid-19 there is a rhythm of life here at the parish level."
Two daily Masses at St. Francis Xavier Church are the center of his day, and on Tuesdays he visits St. Francis Xavier School and celebrate Mass for the students. On Thursdays he visits Rice Memorial High School in South Burlington, then has Adoration of the Blessed Sacrament in the evening. Every other Sunday evening hears confessions and celebrates Mass at Norwich University in Northfield.
Asked what can be learned from St. Joseph, the saint with whom he shares a name, he replied, "How do I protect Christ and the holiness of his name? Am I mindful of my speech? Do I use the name of Jesus with reverence and not in vain? How can I with wisdom and prudence better protect and safeguard my faith? Can I give more honor to Our Lady through a more habitual practice of the rosary?"
—Originally published in the Spring 2021 issue of Vermont Catholic magazine.