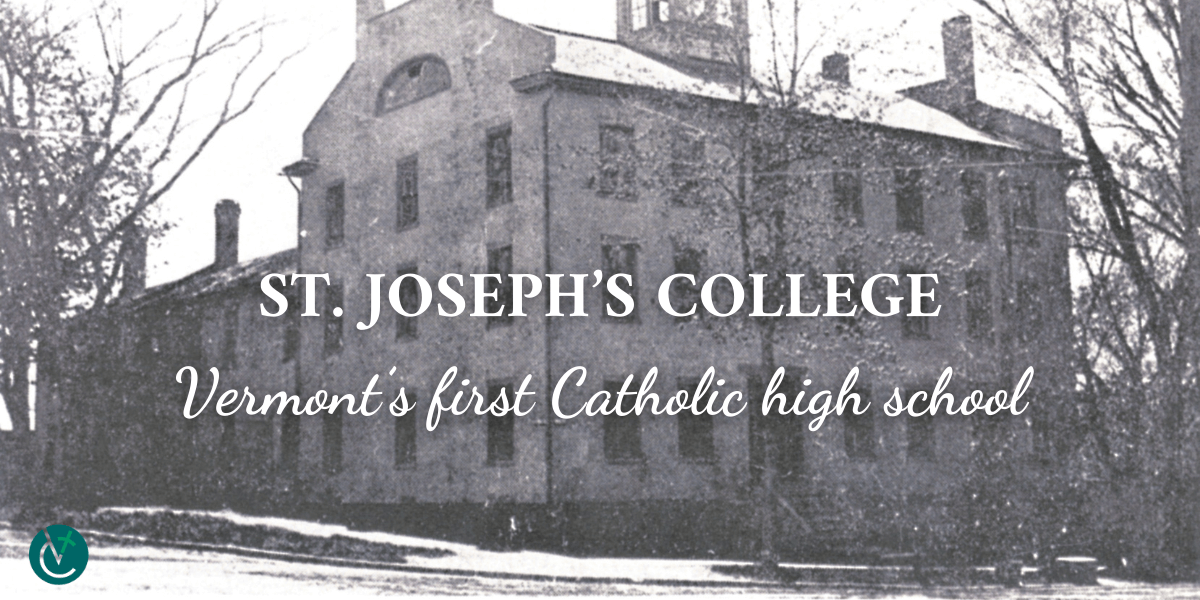 St. Joseph's College – Vermont's first Catholic high school
In the 30 years following the creation of the Diocese of Burlington, Bishop Louis deGoësbriand and the growing number of priest and religious serving Catholics in Vermont continued the work of building parishes throughout the state.  With many of these new parishes came the opportunity to create parish schools to provide children with Catholic education, generally through the eighth grade.
The case for creating St. Joseph's College in Burlington was the result of a rather persuasive letter from a young diocesan priest to the bishop of Burlington. A unique concept for this Diocese, St. Joseph's College was not a college in the sense of a university, but an institution designed with an advanced, high-school curriculum for older boys and young men.
A man with a plan
Father Daniel O'Sullivan, called "Father Dan" by many, was born in Winooski in 1853.  Recognized as an intelligent child by Bishop deGoësbriand, the 12-year-old Daniel was sent to study at the College de Montréal in 1865, where he was enrolled in the classical and philosophical studies for eight years.
He completed his theological studies for the next three years at the Sulpician Seminary in Montreal and was ordained to the priesthood by Bishop deGoësbriand in 1876 at St. Francis Xavier Church, his home parish in Winooski. Between the time he was ordained in 1876 and the summer of 1882, he served as curate in Brandon and the lakeshore towns of Addison County, then as pastor in White River Junction and its missions in Woodstock, Ely Mills, Wells River and Windsor.  He toured Europe, North Africa and the Holy Land in the fall of 1882 after health issues forced him to resign this pastorate. He was briefly assigned as curate in Montpelier upon his return in 1883 and transferred to the Cathedral of the Immaculate Conception in Burlington.
In an undated letter to Bishop deGoësbriand, Father O'Sullivan expressed his concern over the lack of "higher education of the Catholic boys of this city and Diocese," noting that it was "moreover time that as our own people see their priests gradually thinned out by death or disease, they should ask themselves, whence are their successors to come?  Is not the answer from families of the land?"
His vision encompassed ideas like "a more extensive and practical secular education than is generally imparted to them in our parochial schools … to impose and exact such discipline and religious habits as are becoming not merely to educated men, but to pious Catholics."  Ideally, this new school would foster an environment conducive for the discernment vocations to the priesthood.  Bishop deGoësbriand welcomed this idea and approved this proposal.
The plan in motion
The building previously serving as the first St. Joseph's Orphanage (on the corner of Pearl and Prospect streets) purchased by Bishop deGoësbriand in 1854 was vacant; the Sisters of Providence and the orphanage's residents had just relocated to a new, much larger building on North Avenue in Burlington.  A talented orator, Father O'Sullivan traveled to parishes throughout Vermont for several weeks to raise funds, recruit faculty and generate student interest for this new diocesan institution.  The old orphanage was renovated into a school with offices, a chapel and dormitory space.
Bishop deGoësbriand's diary entry for Sept. 2, 1884, read, "Opening of St. Joseph's College.  Deo Gratias."  Father O'Sullivan, founder and president of St. Joseph's College, opened the new school to 75 students – 46 boarders and 29 day students.  Two full courses of study were offered in the classical and commercial departments, which consisted of "ordinary English branches inclusive of rudiments, arithmetic, bookkeeping, algebra etc., sciences, classics, Latin, French and Greek, history – sacred and profane, advanced course of Christian doctrine, plain chant, church ceremonies – music optional." Tuition for 10 months of enrollment was $150 for boarders and $40 for day students.  Laundry services cost an additional $10.  Optional music and medical expenses were each charged accordingly.
Good things come to an end
Enrollment rose steadily, reaching a peak in 1887 with 116 students and an average of 100 by 1891.  This volume became physically burdensome to an already old building.  St. Joseph's College was also faced with serious financial troubles.  Shortly after the beginning of the 1889-90 school term, Father O'Sullivan wrote to Bishop deGoësbriand requesting to transfer financial management of the college to either the bishop or a board of auditors.  The college lacked the ability to be a self-sustaining institution.  Father O'Sullivan resigned as the college's president in 1889 and was assigned as permanent rector at Immaculate Conception Parish in St. Albans, where he remained until his death in 1918.
The college opened in the fall of 1890 with Father McHugh of New Hampshire as president.  During that school term, Bishop deGoësbriand recognized the need to eventually close the school.  He called upon a religious order, the Brothers of Christian Schools, to continue educating students and attend to the school building; diocesan priests were needed to attend to Vermont's parishes.  Enrollment was limited to day students to decrease the stress on the building.  St. Joseph's College was renamed St. Joseph Academy, and the brothers continued with curriculum established by Father O'Sullivan.  The brothers withdrew from St. Joseph Academy by the end of the 1895-96 term due to financial issues, and the school was closed permanently.  The building was left vacant, consequently falling into disrepair.  It was demolished in 1903.
Although Father O'Sullivan's experience in Montreal during his 11 years of studies is not accessible, it left him with a deep and valuable impression – this much is known from his letters advocating for such an institution to educate young men here in the Diocese of Burlington.  After spending his early priesthood in Vermont parishes, he proposed a school – an educational model evidently like what he had experienced himself.  The school's closure was surely devastating to Father O'Sullivan, but he was comforted that he had "been instrumental in establishing in Burlington the good school for boys." His school did indeed encourage discernment to vocations to the priesthood and to professional careers grounded in the teachings of the Catholic faith.
Sources:
O'Sullivan, Father Daniel J. Rev. Daniel O'Sullivan to Bishop d Goësbriand. Letter. Burlington, Vermont. Archives of the Roman Catholic Diocese of Burlington, Bishop Louis deGoësbriand Papers, 1878-1899.
O'Sullivan, Father Daniel J. Rev. Daniel O'Sullivan to Bishop de Goësbriand. Oct. 8, 1889. Letter. Burlington, Vermont. Archives of the Diocese of Burlington, Bishop Louis deGoësbriand Papers, 1878-1899.
deGoësbriand, Bishop Louis. Diary of Louis de Goësbriand, first Bishop of Burlington, 1853-1899 Sept. 2, 1884. Burlington, Vermont.  Archives of the Diocese of Burlington.
Couture, SSE, Father Joseph.  Vitae: Priests Ordained in the Diocese of Burlington between 1853 and 1893, vol. II, p 222-3. SSE Manuscripts. Colchester, Vermont. Father Joseph Couture, SSE Collection, 1937-1987. St. Michael's College Archives and Special Collections.
Blow, David. "St. Joseph's College, 1884-91." Chittenden County Historical Society Bulletin 2, no. 4 (1967).
—Kathleen Messier is the assistant archivist for the Diocese of Burlington.  For more information, email Archives@vermontcatholic.org.
—Originally published in the Fall 2021 issue of Vermont Catholic magazine.