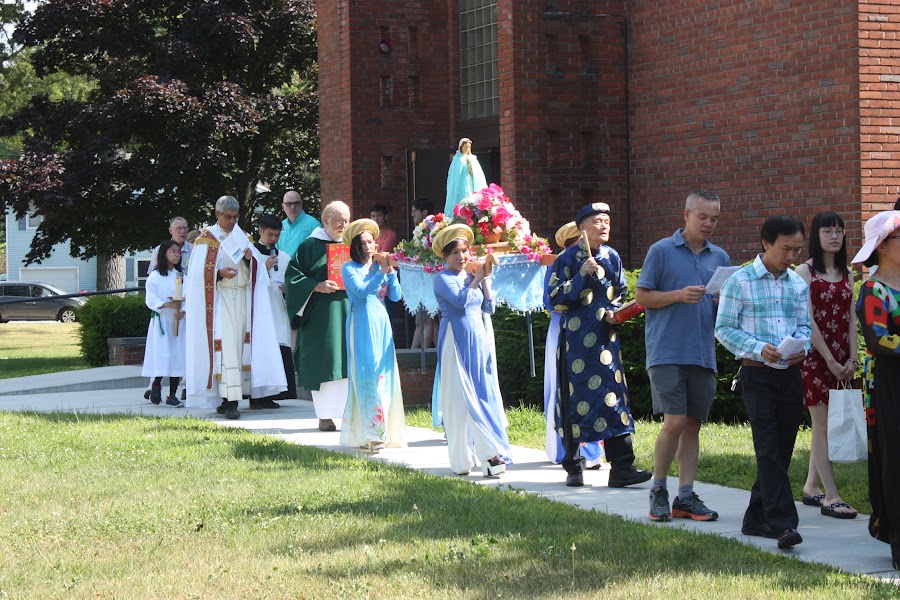 St. Mark's Culture Day
St. Mark Parish in Burlington recently celebrated its first Culture Day with a spotlight on Catholic Vietnamese culture.
The festivities began with games and a barbecue in the afternoon. This was followed by a Marian procession, in which Mary was paraded around the grounds of the church on a wooden platform beautifully decorated in flowers while parishioners followed behind saying the rosary in both Vietnamese and English.
Mass was then celebrated by Father Dallas St. Peter, pastor, with Deacon Tim Gibbo and Vietnamese seminarians assisting. Hymns and readings were in Vietnamese, and Father St. Peter's homily was translated.
Mass was followed by a feast of Vietnamese cuisine and a presentation on the history of the Catholic Church in Vietnam.
"As Catholics it is good for us to remember the universality of our faith and tradition. We are open to all people of all times and places. Celebrating our Vietnamese families and sharing in their culture and traditions deepens our true identity as the universal Church," Father St. Peter said.
In addition, it gives parishioners the opportunity to appreciate the rich faith tradition that inspired many Vietnamese martyrs and brought courage, grace and strength to many Vietnamese immigrants who sought refuge in the United Stated from the persecution of a communist regime in Vietnam. "As we know, 'The blood of martyrs is the seed of faith.' Persecution, challenge and personal struggles remind us all of our human weaknesses and the uncertainties of this world," he said. "It is in these times especially that our faith becomes our strength, consolation and peace when we abandon ourselves to the mercy, love and grace of Jesus. Our Vietnamese brothers and sisters help to show the beauty and power of our Catholic faith through their witness in overcoming persecution, trial and distress by their reliance and trust in God."