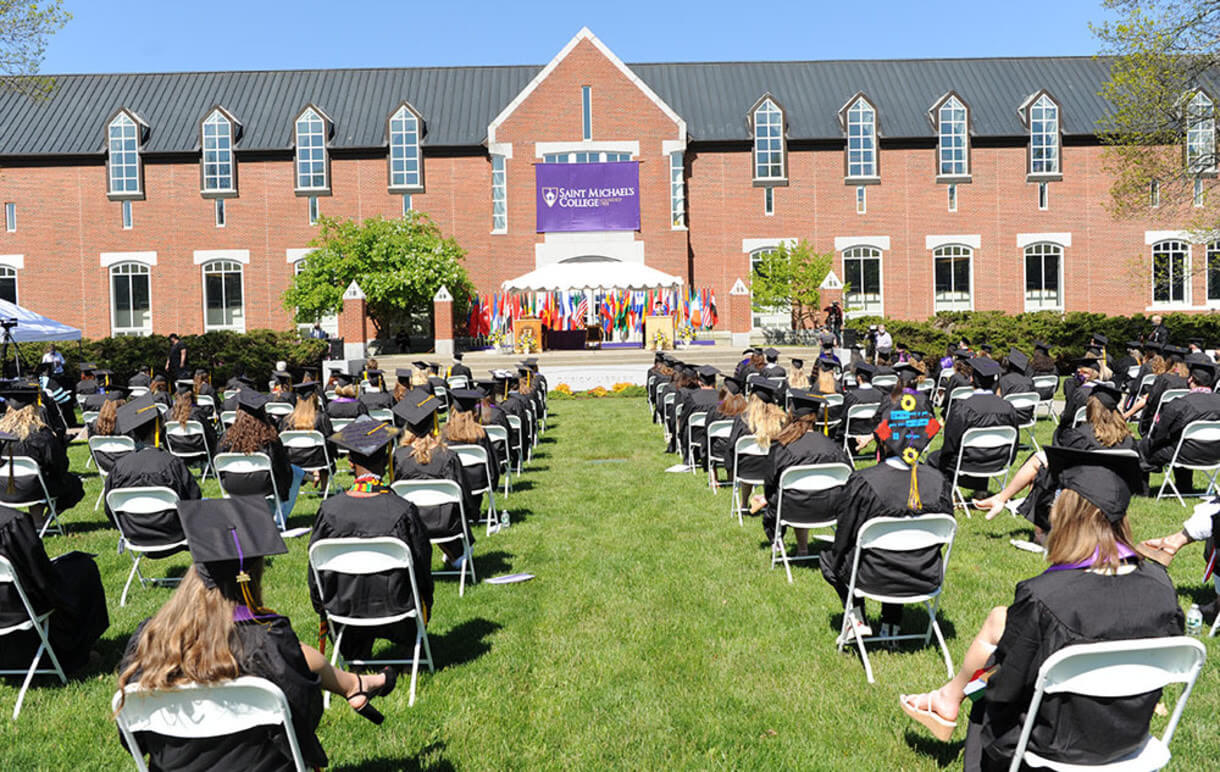 St. Michael's College graduation
St. Michael's College in Colchester welcomed several hundred vaccinated and distanced guests as nearly 300 members of the still-larger 437-member Class of 2021 graduated during separate morning and afternoon ceremonies to meet state Covid-19 safety guidelines.
The graduates' perseverance through a pandemic was a recurring theme in remarks from speakers at the two nearly identical 90-minute ceremonies. The 10 a.m. ceremony May 13 was for those receiving bachelor of arts degrees; the 1 p.m. ceremony was for bachelor of science and master's degree recipients.
The Registrar's Office reported that, including August/December 2020 graduates, degrees conferred to the Class of 2021 at the college's 114th commencement include 91 masters, 151 bachelor of science and 195 bachelor of arts.
Of those, 305 were expected to attend the two Thursday ceremonies — both of which were livestreamed so families or non-present graduates could watch via a college website link. Several hundred signed in to watch each livestream.
Last year's 2020 commencement at the height of the pandemic was entirely an online ceremony.
College leaders who spoke said they were pleased to be able to celebrate its 114th commencement in person. These plans were announced to students on April 14 as a result of changes the State of Vermont has made in its health and safety guidelines.
St. Michael's President Lorraine Sterritt, the day's main speaker in the absence of a more traditional invited commencement speaker, said, "To have been a college student during this year — to have achieved your degree — demonstrates that you have developed the courage and the concern to pursue your own goals while remaining steadfastly committed to others, to keep your community safe and healthy, to make the very best of our common efforts to change the world for the better."
—Courtesy St. Michael's College