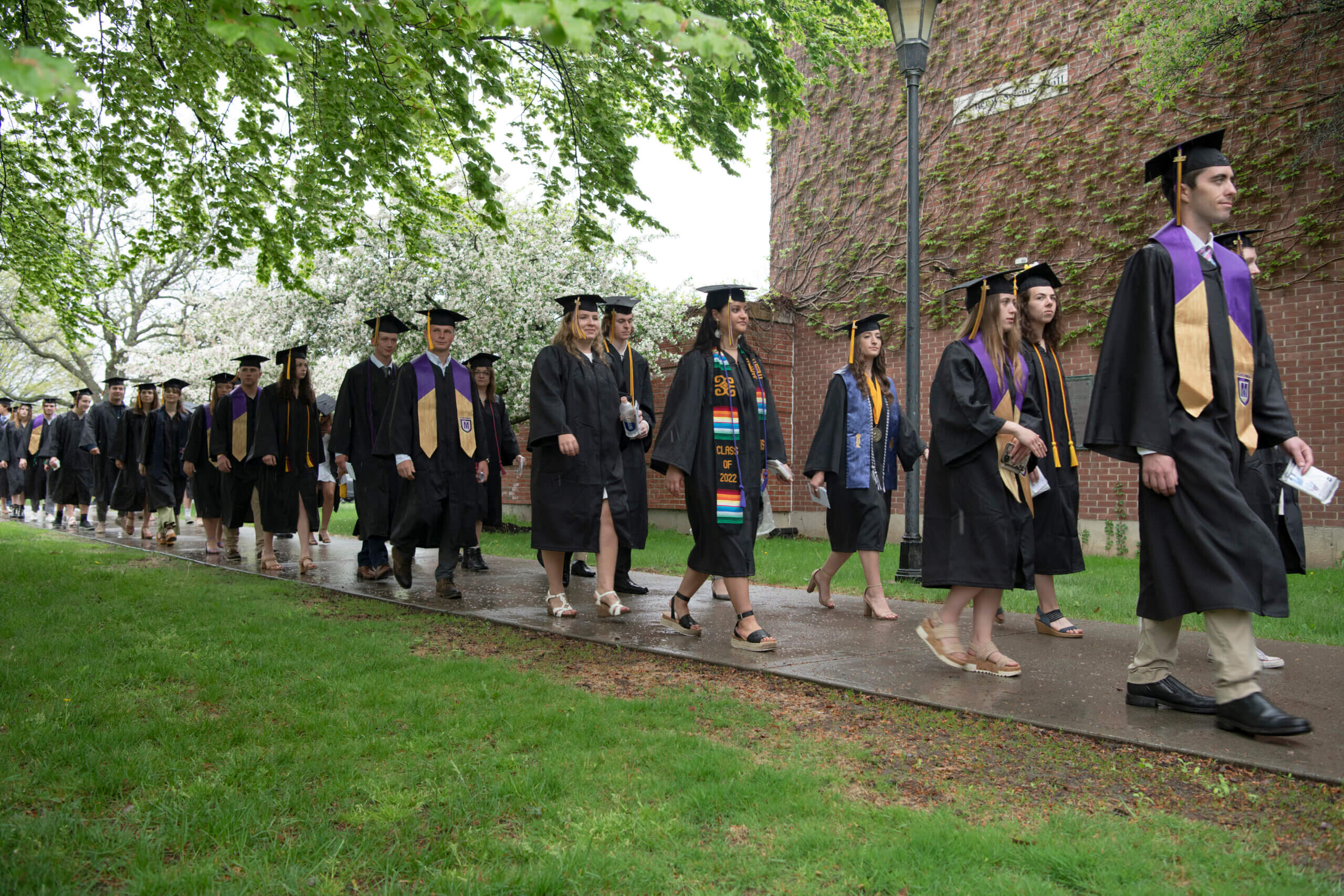 St. Michael's College graduation
A spirit of deep gratitude and joy should animate each person joining the overwhelming but urgent work of tackling climate change, a leading Catholic environmentalist told nearly 480 St. Michael's College 2022 graduates on a rainy Sunday morning for the College's outdoor 115th commencement May 15.
"We must all do our part to save the Earth from our own selfishness and our own foolishness," said Dan Misleh, founder of Catholic Climate Covenant and longtime activist to address global warming.
He reminded graduates and their families, mostly soaked or under college-provided waterproof ponchos on the lawn in front of Durick Library for the 10 a.m. commencement, that they already had come unexpectedly through two years of pandemic and even a rainy march to this ceremony — "no small matter" in either case — demonstrating true grit and promise for future perseverance.
Marnie Owen, registrar and assistant dean for academic affairs, said earlier in the week that 409 undergraduates and 73 graduate students expected to participate as "walkers" in Sunday's ceremony. Receiving an honorary doctorate along with Misleh was Mary-Kate McKenna '80, a successful professional in the finance field and a dedicated volunteer for the college, including three terms on the St. Michael's Board of Trustees, two as chair. She was Alumna of the Year in 2005.
While rain was steady-to-heavy prior to and during the procession from Alliot Student Center to the ceremony — led by bagpipers through a gauntlet of cheering faculty by the chapel and then family members and stuff — thunderstorms stayed away, allowing a full program to proceed. Colorful umbrellas could be seen everywhere during the procession, but were not allowed at the ceremony in order to preserve sightlines for all attendees.
St. Michael's President Lorraine Sterritt said near the start of the ceremony that the environment needs some rain anyhow — and since the day's speaker was an environmentalist, "we arranged to have some today." Sterritt said she had a message for that rain: "You can rain all you want but you will never dampen the spirit of the Class of 2022!" By the time the last graduate strode across the Durick Library steps serving as the dais about two and a half hours later, the sun was shining, observed the president.
Sterritt told the graduates that by persevering through all they have come through, they are well prepared by St. Michael's to take on the world: prepared to think, to think for themselves, to think of new solutions, to think of others, to think about the environment, to think about faith. She said they also are prepared to learn from others and from new experiences and to care about outcomes, others and for and about themselves. "Continue to think, to learn and to care," she said.
As ever, academic achievement was front and center. As the day's top prizes, the Katherine Fairbanks Memorial Award and the Father Prevel Memorial Award annually go to students "who demonstrate commitment and achievement related to the intellectual, spiritual, moral and social values of St. Michael's College." The Fairbanks winner this year was Alexyah Dethvongsa, a first-generation student form Laconia, New Hampshire, majoring in international relations and public health with a peace and justice minor. She studied in Nepal to examine health care inequities, did a virtual internship in Vietnam advocating for developmentally disabled children and was active in many clubs, organizations and internships.
The Prevel Award went to James Downs, a triple major in English, history and religious studies from Winchester, Massachusetts, who carried a 3.99 GPA and was inducted into Phi Beta Kappa. He was a cross-country varsity captain, active in campus ministry and admissions and a writing and math tutor. He has a job as a copy editor with National Journal in Washington, D.C., beginning soon.
Catholic Climate Covenant that the commencement speaker, Misleh, founded is a partnership of 20 national Catholic organizations engaged in a serious and sustained conversation about climate change, focused on promotion of the common good, protection of the poor, and the exercise of prudence. The Covenant's outreach, organizing and advocacy efforts have attracted more than 30,000 Catholic groups and individuals to support and carry out its mission. The group also provides educational materials to youth, young adults, parishes and other Catholic organizations.
Misleh recalled his own graduation 40 years ago form Xavier University in Ohio and shortly after heading to Alaska with the Jesuit Volunteer Corps.
"Every decision we make about what we buy, how we move, how we keep ourselves cool or warm or make a living impacts the future of our planet and its people," he said, adding that we must "fully embrace the scientific fact that we are a part of creation, not apart from creation." He quoted naturalist John Muir on how all things in the universe are connected. He told the class they have a lot of tools from their education, but he stressed the importance of the attitude that they bring to their climate change work or other enterprises, quoting Pope Francis from his environmental encyclical "Laudato Si'" that we must "sing as we go."
"The more you appreciate life and family, and especially this vulnerable earth," he said, "the easier it is to be grateful" — for flowers, gentle rain, children's laughter. He told them to thank people, from their parents to those cleaning their vacated rooms or feeding them and "be kind" since we never know others' stories.