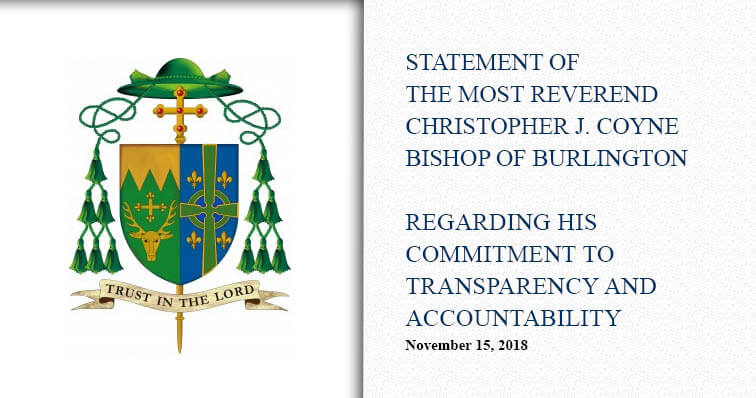 Statement from the Most Reverend Christopher J. Coyne, Bishop of Burlington, Regarding His Commitment to Transparency and Accountability
The recent decision to delay the vote at the United States Catholic Conference of Bishops on several proposals to confront the clergy sexual abuse crisis, in particular bishops accused of covering up abuse or being guilty themselves of sexual abuse, misconduct and impropriety and abuse of power, will not delay my commitment to transparency and accountability to the people of Vermont and the Catholic community that I serve. In keeping with this, I offer the following:
+ The lay task force formed to examine all clergy files that contain any allegation of the sexual abuse of a minor has met and is beginning its work. I plan on meeting with the members as soon as possible when I return to Vermont. On completion of their work, I will publish a list of all clergy who have had a credible and substantiated allegation of sexual abuse of a minor made against them.
+ As part of my promise to protect children in our care and pledge to heal those who have experienced abuse by our clergy, a website has been created and will be continuously updated to ensure that our Diocese is transparent about our handling, prevention and response to the sexual abuse of minors: vermontcatholic.org/promise.
+ As the Diocese has done so for the past 16 years, we remain committed to a zero-tolerance policy when it comes to child abuse and neglect and the full implementation of the Charter for the Protection of Children and Young People adopted in 2002. There are no priests in ministry who have had a credible and substantiated allegation made against them.
+ Beyond these fundamental steps — which are still in place today — the Diocese continues to be focused on outreach to all survivors of sexual abuse by clergy.